The Melbourne Theatre Company's new production of The Father is at different times humorous, gut wrenching and disturbing.
If true, it could also be enlightening – showing the confusion and torment dementia sufferers may experience.
Written by Frenchman Florian Zeller and translated by Christopher Hampton, The Father  tells of André,  a widowed retired engineer living with his daughter in Paris.
During the 95 minute play we learn how he ended up living there and watch as his grip on reality slowly disappears. He repeatedly loses his prized watch and becomes more and more confused about his surrounds and those close to him.
As a result of his confusion he also strikes out at those trying to help him, particularly his daughter Anne. It's Anne who has to cope with the trauma of her father's inability to keep carers. She also has to deal with his mood swings and changing personality.  At times he's confident, playful and charming at other times he's hurtful, angry, confused and frightened.  Numerous short scenes highlight his changing circumstances and grip on reality.
While such a storyline may sound quite depressing there are quite a few humorous moments.
The other great joy of this production is watching John Bell in action as André. It's a masterful performance thanks to his ability to display André's  ever changing mood and personality. The last scene is particularly emotionally exhausting.
Anita Hegh also gives an outstanding performance as Anne, André's caring but overwhelmed and conflicted daughter. Both Bell and Hegh are ably supported by Marco Chiappi as Anne's frustrated husband Pierre and Faustina Agolley as one of André's carers. Glenn Hazeldine and Natasha Herbert play several roles – with Herbert sharing that last unforgettable scene with Bell.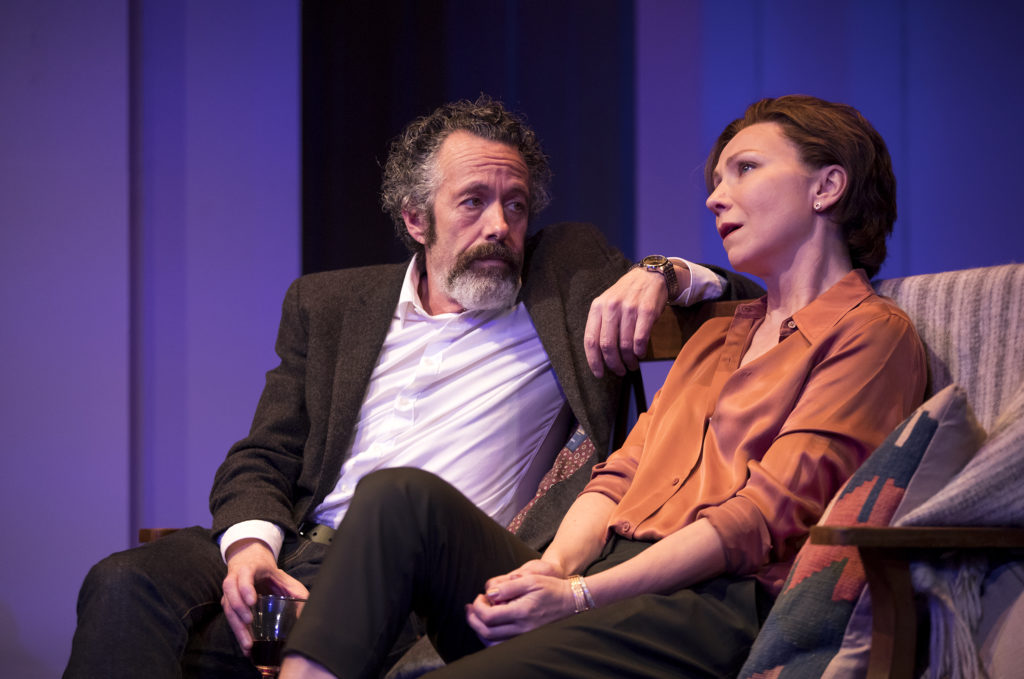 Listening to the audience leaving the theatre on opening night there seemed to be many discussions about parents, their ages and state of their health. Given André's condition is one many are set to face as the population ages, the issues raised in the play, together with the performance of the cast, ensures The Father is a thought provoking, brilliantly acted theatrical experience.
The Father is playing at Arts Centre Melbourne's Fairfax Studio until 16 December.  Visit the MTC  website  for more information and tickets.
Jenny Burns attended the opening night of The Father as a guest of the MTC.
Photo credit: Philip Erbacher.
Visit travelswithjb.com.au-live shows for more show reviews.
live shows

,

Melbourne Theatre Company

,

review
Subscribe to my e-mail newsletter to receive updates.
We respect your privacy.
Unsubscribe at any time.