The scenic beauty of Australia's Top End is the star of a new IMAX nature film, Australia: The Wild Top End 3D.
But special mention should also go to Jodi Rowley, the Australian Museum's curator of Amphibian and Reptile Conservation Biology.
Anyone who strolls around at night in a terrain full of snakes and crocodiles, guided only by a head lamp, in search of new frog species, is most definitely a star!
Her enthusiasm for the frogs she discovers on her walks is palpable.  And, as she explains, there are probably many more species to be discovered.
A special mention must also go to the film's director, Nick Robinson, and his crew who spent 100 days camping in far northern Australia to ensure the documentary's stunning vision.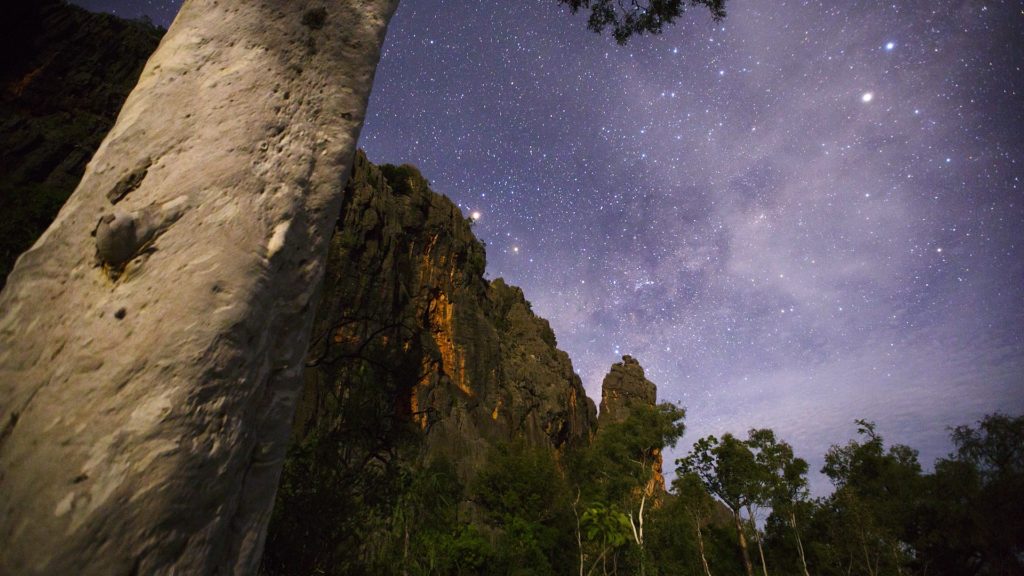 It seems there were numerous challenges, including losing an $80,000 camera to a hungry crocodile.
Needless to say his sacrifice and that of the crew, living in what must have been very trying conditions, have paid dividends.
Narrated by Indigenous elder Balang T.E. Lewis, the 45 minute long documentary spotlights the scenic attractions, wildlife and Indigenous culture of the Northern Territory and Far North Queensland.  Unfortunately, Lewis passed away before seeing his final contribution to the documentary.
Shots taken above gushing waterfalls and below in crocodile and shark infested waters are among the many highlights of the film, which features the Kimberley coast, Arnhem Land, and the world's oldest rainforest at Cape York.
Much of the documentary is spent exploring the history and life cycle of the huge salt water crocodiles who call this part of Australia home.
Through Balang T.E. Lewis's narration we also learn about the Indigenous culture and land management of this huge area.  We see Indigenous paintings and discover the importance of fire as a land management tool.
While Australia: The Wild Top End 3D will no doubt encourage many to visit this part of Australia, there may also be a few who decide it's far safer to appreciate its beauty on the big screen.  That way you don't have to worry about running into huge crocodiles or deadly snakes which the documentary highlights so effectively!
Australia: The Wild Top End 3D opens at IMAX Melbourne on September 12. Visit the IMAX website for more details.
*Photo credit: Wild Pacific Media.
Subscribe to my e-mail newsletter to receive updates.
We respect your privacy.
Unsubscribe at any time.