One Flew Over The Cuckoo's Nest, playing at Southbank's Lawler Theatre, provides a great opportunity to see this rarely performed stage play.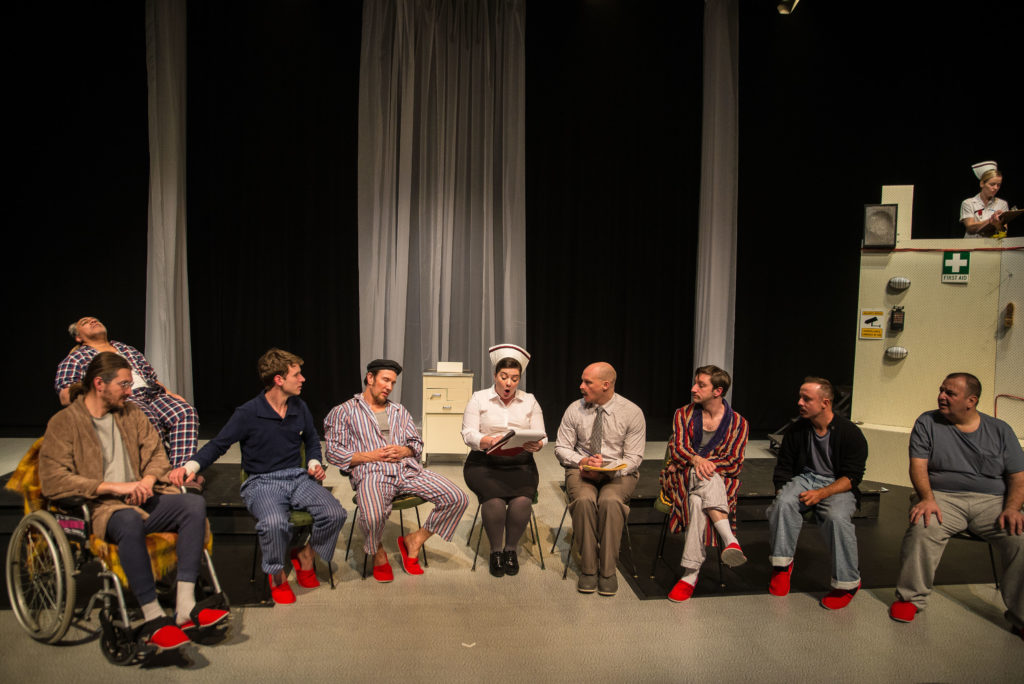 While the film of the same name, starring Jack Nicholson, is well known (winning five 1975 Academy Awards), the stage play is not.  Yet the play preceded the film. Written by Dale Wasserman, it premiered on Broadway in 1963 with Kirk Douglas, Ed Ames and Gene Wilder in the lead roles.
Both the stage play and film are based on the 1962 novel by Ken Kesey, who worked as a night attendant in a hospital's psychiatric ward in Oregon in the early 1960s.  Needless to say what he saw, at times, was horrific.
Monster Media's new stage production relives the rebellion, tragedy and occasionally humorous side of life on Nurse Ratched's ward.
The story centres around Randle P. McMurphy, a brash and rebellious rogue, who has chosen a stint in the mental institution rather than face prison in the belief that it will be easier. He decides to liven up the lives of those in the ward by breaking the rules – rules such as no gambling, partying or basketball matches. The problem – the rules have been set down by the domineering  Nurse Ratched. She controls any disobedience through threats such as the removal of privileges, electric shock treatment or worse a lobotomy.
Needless to say there is a major power struggle between provocative McMurphy and manipulative Ratched with the other patients on the ward pawns in their tragic power play.
Mike Robins is very believable and energetic as Randle P. McMurphy while Catherine Glavicic is outstanding as Nurse Ratched. While obviously a bully,  Glavicic's Ratched also comes across as someone who does believe she is trying to do the right thing by at least a couple of her patients.
Eddie Muliaumaseali'l portrayal of the tortured American Indian Chief Bromben and Nicholas Denton as the stuttering, mother dominated Billy Bibbit also give strong performances as do the other 12 supporting cast members.
While at times uncomfortable to watch, this production is engrossing thanks to the performance of the cast and the story-line.
One Flew Over the Cuckoo's Nest is playing at Southbank Theatre, The Lawler until June 11.  Visit The Southbank Theatre website or ring 8688 0800 for tickets.
Jenny Burns attended the opening night of One Flew Over the Cuckoo's Nest as a guest of the producers.
Photo credit: GW Photography.
Visit travelswithjb.com.au-live shows for more live show reviews.
live show

,

Melbourne

,

reviews
Subscribe to my e-mail newsletter to receive updates.
We respect your privacy.
Unsubscribe at any time.