Director Emerald Fennell's stated aim for her latest offering, Saltburn, provides an apt description of the movie.
As she explains: "I wanted to make a modern Gothic Romance (and horror since they're one and the same), precisely the kind of British country house gothic found in The Go Between, Brideshead Revisited and Rebecca. A place where class, power and sex collide.
"The British country house is one of our most enduring cultural exports, and I wanted to explore our fetish for them, and the sado-masochistic relationship with the things we want but can't have."
Saltburn tells the story of Oliver Quick (Barry Keoghan), a`scholarship student' who arrives at Oxford University in 2006.
He is keen to impress, having bought a college scarf and read every book on the English literature reading list. However, he quickly discovers what you know has no impact at Oxford, it's who you know. It seems everyone around him bar one other student are all connected thanks to their upbringing and money.
One of those students is Felix Catton (Jacob Elordi) who is the complete opposite of Oliver. Extremely handsome and wealthy, Felix attracts friends and lovers easily and is the unofficial leader of the `in-crowd'.
A meeting over a punctured bicycle wheel sees the two form an unlikely friendship which results in Felix inviting Oliver to Saltburn, his palatial English estate complete with its own meadow, lake and maze.
Here he meets Felix's father Sir James (Richard E Grant), ex-model mother Elspeth (Rosamund Pike) and his sexy but damaged sister Venetia (Alison Oliver).
Other guests include the family's cousin and Oliver's Oxford antagonist Farleigh (Archie Madekwe) and Pamela (Carey Mulligan), a fragile friend of Elspeth's.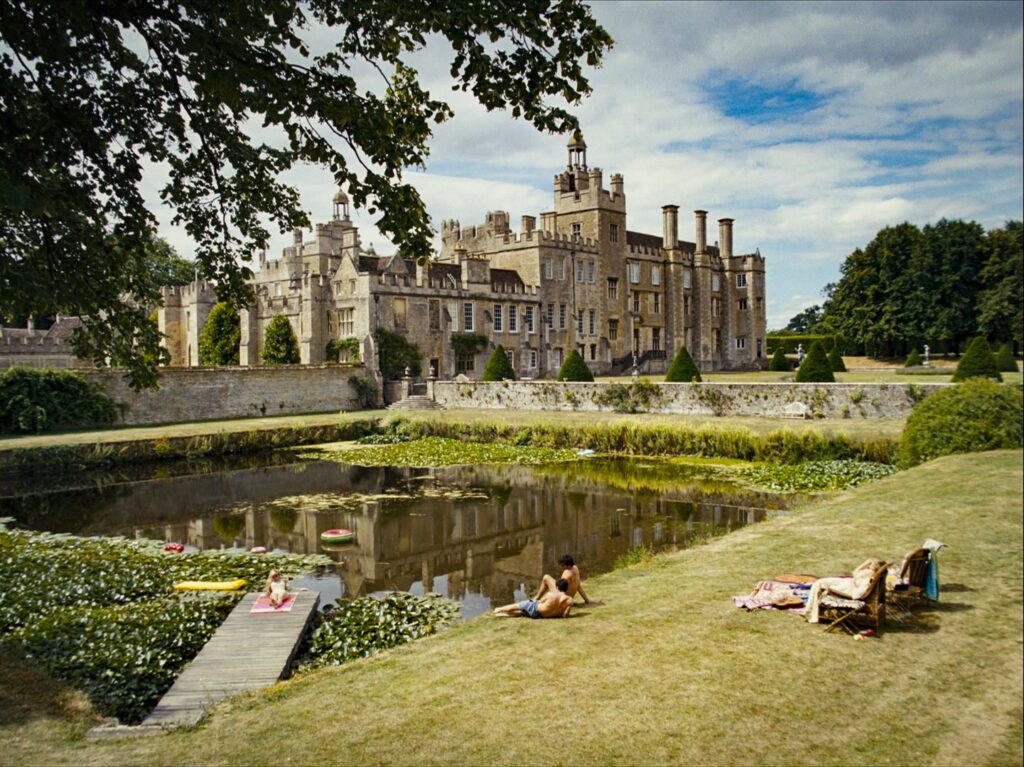 It's at Saltburn that Fennell (who won a screenplay Oscar and a director's nomination for Promising Young Woman) creates a place where class, power and sex collide. It's also the place where the movie is at its funniest and most cynical and provides the greatest shocks.
The laughs come from the attitudes and actions of the clearly out of touch super wealthy.
Oliver provides the greatest shocks. To say more would give away a storyline which has seen the movie being compared to the Talented Mr Ripley, Knives Out and Triangle of Sadness together with Brideshead Revisted.
Needless to say there are plenty of twists and turns, many of which ensure Saltburn isn't for the prudish. Fennell correctly predicted some of the excesses of the movie would result in plenty of media and audience attention.
Thanks to the work of its stars Saltburn offers plenty for those who want to watch some great acting. Leading the way is Keoghan. The role requires him to present a range of emotions, from shy and vulnerable to confident and manipulative, often in the same scene, which he does brilliantly.
Pike and Grant are a delight to watch together. Pike's delivery of some of the movie's most cutting and shocking lines is a highlight of the movie. While only playing a small role Mulligan steals every shot she's in.
Given the nature of the storyline and some of its scenes, Saltburn isn't going to be for everyone, but for those who aren't easily offended and enjoy a dark comedy-cum-psychological thriller with some great acting it is well worth considering.
Saltburn opens in cinemas around Australia on November 16.
*© Amazon Content Services LLC
Subscribe to my e-mail newsletter to receive updates.
We respect your privacy.
Unsubscribe at any time.