Visit South Melbourne's 2018 Night Market, held every Thursday during summer, and there's an excellent chance you'll make several new discoveries.
For example, we learnt that corn pops better in Melbourne than in Darwin.  We also found out that Bendigo makes some delicious peanut brittle!
As has been the case over the past few years, market management invited the media to explore some of the 150 food, shopping and musical treats on offer at this year's night market. Our media tour took us to a number of the market's 50 restaurants, bars, food trucks and carts.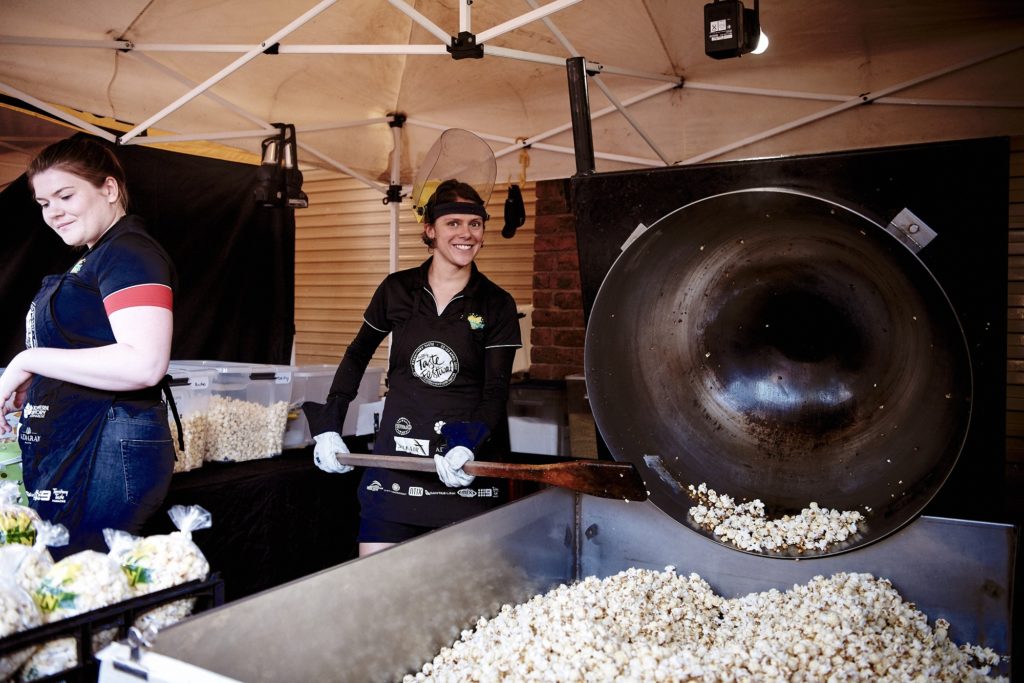 At Katja's Delicious Popcorn, owner Katja explained the difference between popping corn in Melbourne compared with popping it at Darwin's night markets – her usual venue.
"We use the same corn from Queensland but for some reason it pops better in Melbourne than in Darwin," she enthusiastically explained.
We also learnt the ins and outs of making delicious chocolate at Atypic Chocolate.  While the Bendigo Brittle people were run off their feet and had little time to chat, their product was just as tasty.
Similarly the people at The Real Jerk, Ink-redible Calamari and Poke Time were a little too busy to chat, but needless to say their offerings were delicious!
In between eating and drinking, there were a number of clothing and general stalls to visit. New discoveries this year included Hew and its range of unusual men's clothing. Designer and founder Ema Hewitt works with local artists to curate the aesthetics of the textiles she uses, ensuring clothing that's very different to the usual mass produced offerings.
While we were a little too occupied eating and shopping to stop and listen to the music, we did walk past a couple of stages where the artists seemed to have an enthusiastic audience. Later we also discovered there's a kids' club offering art and craft activities.
Making these new discoveries is one of the joys of the market. Eating some great food is most definitely another!  Just ensure you arrive early and allow plenty of time to savour the food and overall atmosphere.
South Melbourne's Night Market is located on the corner of Coventry and Cecil Streets, South Melbourne. It's open on a Thursday evening from 5.30 to 9.30pm until February 22. Visit the market's website for more information.
*Photo credit: Simon Shiff
Jenny Burns attended the opening night of the night market as a guest of the South Melbourne Market.
Subscribe to my e-mail newsletter to receive updates.
We respect your privacy.
Unsubscribe at any time.