Peter Dewar and his family venture to Victoria's  Mornington Peninsula to explore the RACV's newest resort at Cape Schanck.
From a distance, the curved structure looks like an alien spaceship, rusted after eons of galactic travel, has landed and now balances on a hilltop ledge.  The otherworldly vibe is fitting: like an older sibling on the Great Ocean Road, Torquay, the RACV Cape Schanck Resort transforms an otherwise routine beach getaway into a rarefied experience.
Who would've thought a Victorian institution with RACV's reputation for conservatism was capable of such adventure: reimagining that sacred Aussie staple of sea, sand and surf with an architectural leap of faith, city-standard cuisine and resort pampering.  Makes sense really … if you think about it: the location for a touch of luxury should be a mere hour from Melbourne in our southern seaside playground.
There's no getting away from the fact that the real hero is the Mornington Peninsula itself.  An eighteen-hole golf course encircles the resort.  Portsea and Sorrento tourist attractions — surf beaches, hot springs, dolphin-cruises, wineries — are not far down the road.  And nearby national parks and rugged coastline are truly breathtaking.  RACV's latest resort iteration merely enhances a trip to a coastal haunt familiar to Melburnians.
Our getaway begins with a visit to Cape Schanck Lighthouse Reserve.  We decide to forgo a tour of the heritage buildings and lighthouse, established in the early days of colonial settlement, for an athletic stroll along boardwalks snaking down towering cliffs.  The reward is a grandstand view; rolling swells, conjured way beyond the blue horizon, smashing into rocky monoliths below us; and dark clouds, resembling foreboding mist, moving in from the sea, delivering rain.
The coastline is dotted with many walking tracks to explore.  We spend an entire morning meandering along a trail shrouded by tea-tree shrubbery, home to chatty bird life.  On one side is lush farmland, and the other — views of Bass Strait crashing into Victoria.
RACV Cape Schanck Resort opened in August.  And while following a similar formula to the Torquay property, it's brighter, sharper, although much more compact.  Located a greater distance from the coastline, views from rooms may overlook a handsome golf course, but are not as scenic.  No-one seems to be complaining — too busy enjoying the inspiring decor, modern cuisine, pool and spa.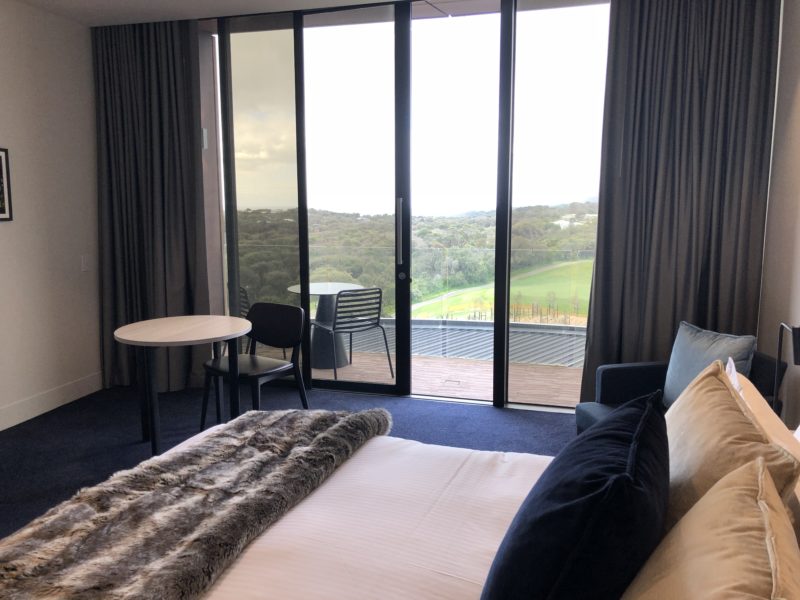 I admit an hour in a Middle Eastern steam room doesn't sound like the most hairy-chested, macho way to fill in an afternoon.  And yes, I feel guilty walking past the swimming pool and gym to One Spa … but the idea of a traditional Turkish bath encounter — hammam bathing — is a curiosity that just has to be satisfied.  And, at around the cost of a main course, why not?
Our resort's version of the bathing ritual has me showering then entering a circular-shaped steam room and laying on a huge, wet marble slab alongside other spread-eagled guests.  Looking up, rainbow-coloured tiling sparkle: it feels like peering into a kaleidoscope.  From time to time warm mist sprays down from the ceiling.  To escape the heat, it's customary to relax in one of the spa pools in the adjoining room and later re-enter the steam area.
The experience isn't so much transcendental as physically demanding.  Can't account for the reason why, but I need a few moments in the quietness of a relaxation area sipping herbal tea to muster the energy to make it back to our room.  Some enjoy a massage treatment afterwords, but my body is far too heavy and lame to sustain further healing.  And there is dinner to think about.
Reservations are recommended at Cape, the fine-dining restaurant.  The two-course option at $55 seems reasonable value.  We share mains of: steamed wild Hapuka with bonito dashi, calamari and Japanese mushrooms; and parsley risotto with aged pecorino cheese, broad beans, sugar snap peas and mint.  For dessert, adventures of chocolate, coffee and hazelnut; and Main Ridge goats' cheesecake with blueberry meringue, rosemary and honey, blueberry sorbet top off the meal.
The following day we discover Mantellina, the hotel's more relaxed, all-day restaurant.  We are so impressed with the quality of meals, it becomes our eatery of choice for the remainder of the stay.  Char-grilled prawns, beef burger with chips and steamed mussels are more than enough to satisfy us.  As for parents wanting a little peace and quiet to enjoy their wood-fired pizza, a children's adventure playground complete with flying-fox is directly outside.
Seems we've moved on from the time when peeling skin, carload of sand and a longing for decent food were the hall mark of a trip to the coast.  There are minor blemishes in our two-day getaway at RACV Cape Schanck Resort; I am told a boardwalk is under construction, so guests will then be able to stroll around resort grounds without fear of being hit by a stray golf ball.
Still, when you're finding yourself cranky about waiting times at reception or the dinner restaurant, you can be sure expectations of a holiday down the peninsula have changed forever.
For more information on RACV Cape Schanck visit the resort's website.
*Photo credit: Peter Dewar.
Peter Dewar, and his family, visited the RACV Cape Schanck Resort at his own expense.
accommodation

,

Melbourne

,

reviews
Subscribe to my e-mail newsletter to receive updates.
We respect your privacy.
Unsubscribe at any time.