There was action a-plenty on the opening evening of South Melbourne Market's first Thursday night market of the year.
Judging by the accents, there was a good mix of locals and international visitors keen to sample the many delights on offer. These `delights' included great food from permanent restaurants and numerous hawker-style food vans, interesting goods at various market stalls and free live entertainment.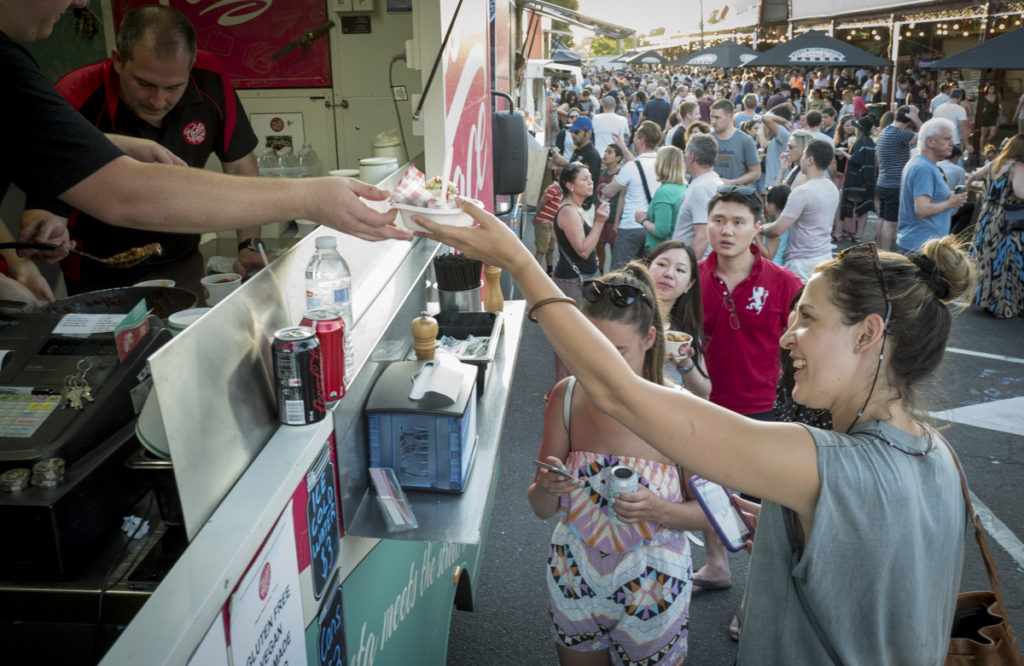 Now in its ninth year, the market has improved and expanded over time and, according to organisers, this year it's the biggest it has ever been.
Coventry Street has been closed to traffic to accommodate up to 14 food trucks while the market's Centre Aisle is open for the first time. About 30 permanent stalls are located in the aisle, although not all were operating on opening night. Those that were open were selling fashion, homewares, artisan goods and local produce (including very delicious strawberries from East Gippsland's Boisdale Best). They were joined by several artisans and designers who are only participating in the night market. Their offerings included clothing, accessories and jewellery, vintage and collectibles, artisan wares and art.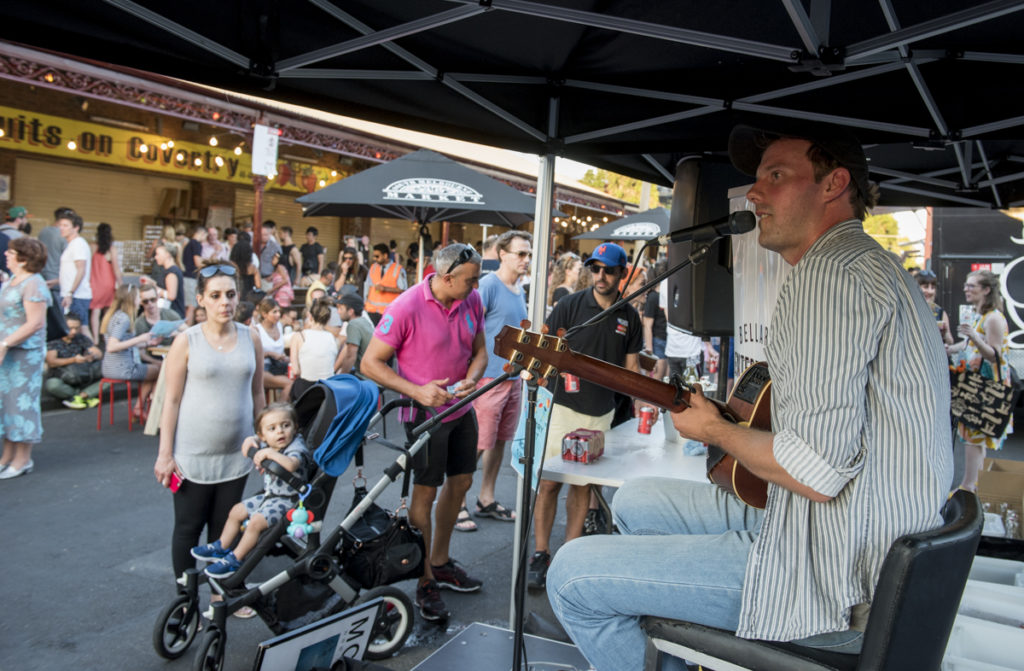 Entertainers and musicians were performing on four acoustic stages (Coventry Street, Cecil Street, York Street and SO:ME Space), showcasing emerging talent as well as crowd favourites.
Media attending the opening night of the market were given suggested stalls to visit, ensuring we experienced the excellent variety of food and stalls on offer.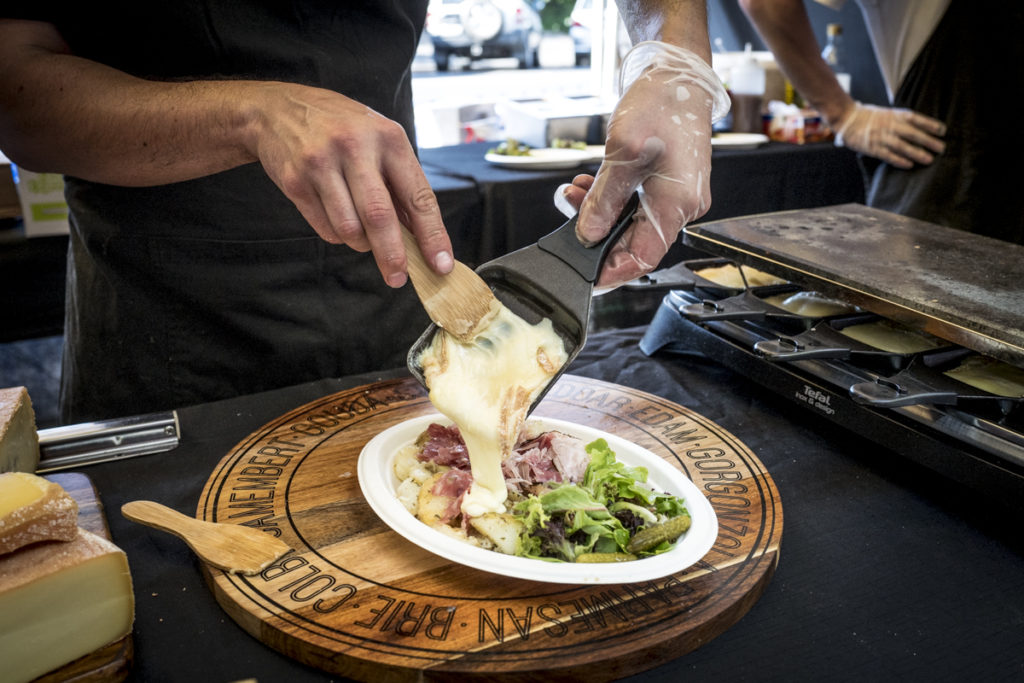 As a result we ate paella from Simply Spanish (awarded the World's Best Paella Outside of Spain this year at the 56th Concurs International De Paella Valenciana); a calamari, lettuce and lemon mayo bun from Sliders on Tyres; and a traditional French raclette fondue poured on sautéed potatoes, with fresh charcuterie pickles and salad at Frencheese.
We also tried hand-made gnocchi with slow-cooked Tuscan beef ragu from Pasta Face, a Nutella crepe from social enterprise Crepes for Change (who are helping to alleviate youth homelessness), and green tea gelato from Bibelot.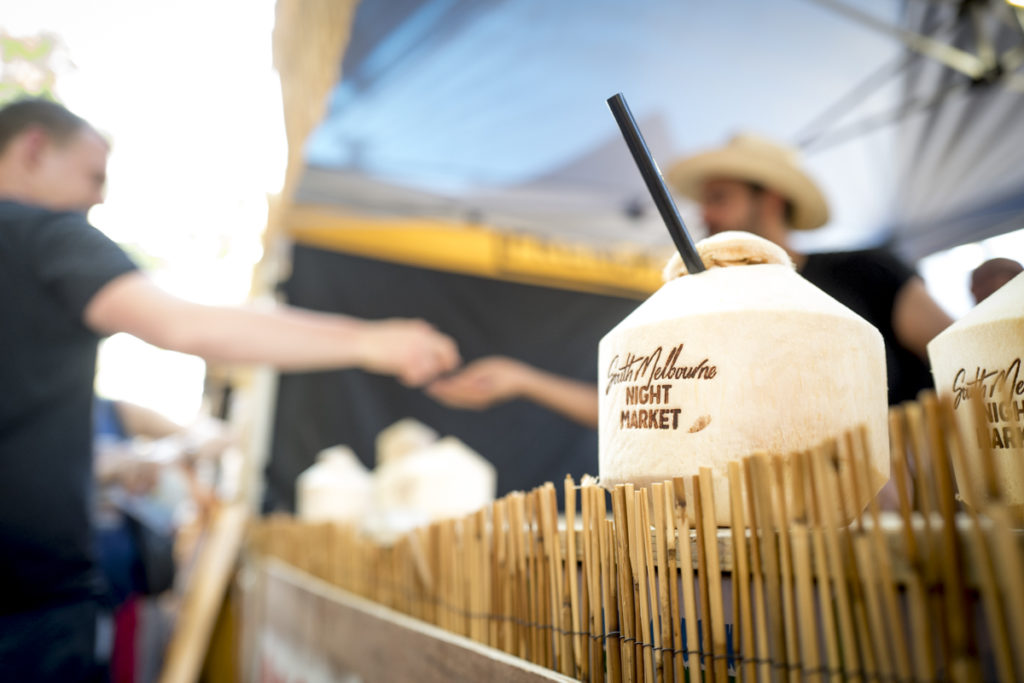 On the `drinks front' there was coconut milk from Cocofix and either a craft beer or cider from Colonial Brewing Co.
Needless to say we didn't leave the market hungry! While the food was great, as the evening progressed so did the queues. Thus it's probably a good idea to go and eat early before exploring the other stalls and enjoying the music.
South Melbourne Market is located on the corner of Coventry and Cecil Streets, South Melbourne. It's open on a Thursday evening from 5.30 to 9.30pm until February 23. Visit the market's website for more information.
*Photo credit: Jesse Marlow.
Jenny Burns attended the opening night of the night market as a guest of South Melbourne Market.
Subscribe to my e-mail newsletter to receive updates.
We respect your privacy.
Unsubscribe at any time.