Military Wives is typical of movies where the ending is never in doubt, but getting to the final scene is still an enjoyable journey.
Indeed, as the opening credits explain, the movie is inspired by (although not based on) the formation of the first Military Wives Choir in the UK in 2010.
Spouses of two Scots Guards at Catterick Garrison in North Yorkshire formed a choir and then approached English celebrity choirmaster Gareth Malone for his assistance. He helped kick-start several new choirs. A hit single and a live performance at the Festival of Remembrance at the Royal Albert Hall followed. There are now more than 2000 women with a military connection in 74 choirs based across the UK and in British military bases abroad.
In Military Wives, the driving forces behind the choir are two very different but strong women – Kate (Kristin Scott Thomas) and Lisa (Sharon Horgan).
Both live on a military base with their husbands and many other families. Their partners are being deployed to Afghanistan for six months.
As the wife of the outfit's newly promoted staff sergeant, it's Lisa's job to raise the morale of the partners while the soldiers are overseas – but Kate can't help interfering.
Lisa is rather relaxed about this role but Kate, whose husband Richard (Greg Wise) is a colonel, is far more intense and uptight. She takes her role as a colonel's wife very seriously and is also dealing with the heartache of losing her only son in action. At the same time Lisa has her own challenges with her headstrong teenage daughter, Frankie (India Ria Amarteifio).
While Lisa is happy for the women to gather informally and socially, Kate wants something more structured. Eventually the women agree to form a choir. Once again there's conflict between Lisa who wants the choir to sing pop songs and Kate who favours hymns.  There's also conflict over who will conduct the choir.
Finding suitable choir members is also a challenge.  Ruby (Lara Rossi)is very keen but is tone deaf, Jess (Gaby French) has a beautiful voice but suffers from stage fright while Sarah (Amy James-Kelly) is dealing with her young husband's first deployment.
Watching how the women deal with the stresses of their husbands' pre- deployment, later losing communications with their loved ones in Afghanistan and an unfolding major tragedy provide Military Wives with its most interesting and tear-jerking scenes.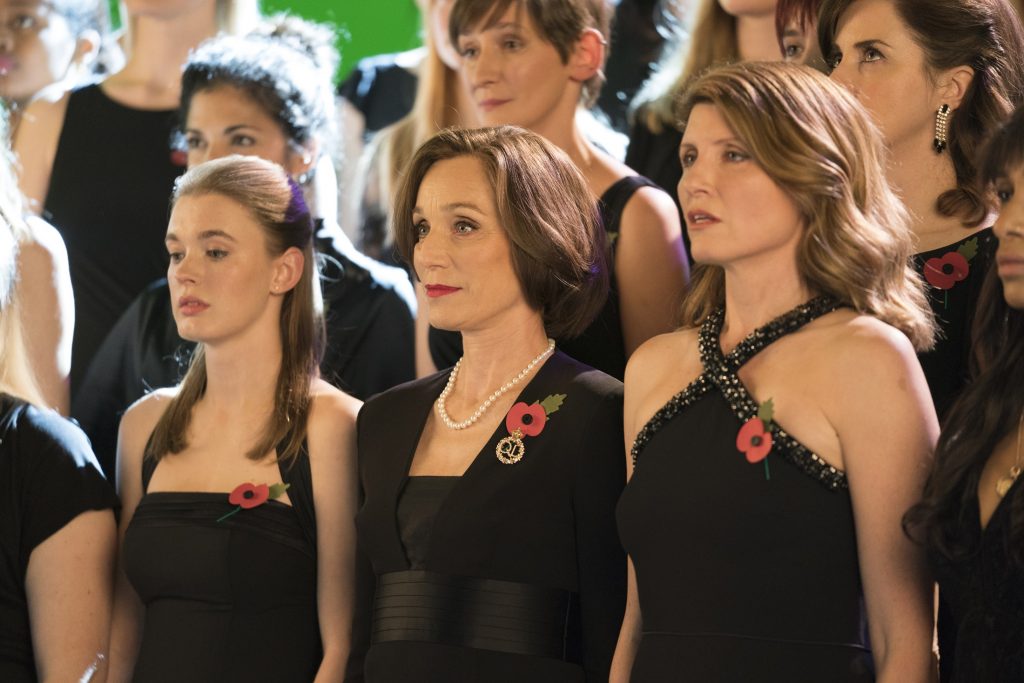 Watching Scott Thomas in action, especially in scenes with Hogan, is one of the movie's many delights, providing many of Military Wives best comic scenes.
While Military Wives is a feel good movie (the director Peter Cattaneo  also directed The Full Monty), the impact of war on the soldiers' wives ensures a number of poignant and thought provoking moments.
Military Wives officially releases in cinemas on March 12  although a number of preview screenings are currently being shown.
Subscribe to my e-mail newsletter to receive updates.
We respect your privacy.
Unsubscribe at any time.