There's something new and fresh yet familiar about Disney's latest animated movie, Raya and the Last Dragon.
New elements include the movie's hero Raya. She is a warrior, brave, clever and resourceful. Her nemesis, Namaari, is another equally skilled female warrior. Both are daughters of their respective States' rulers. Unlike many other movies featuring feisty, independent women there's not a prince in sight!
Also new is the setting. Raya and the Last Dragon is the first Disney Animation Studios film to have a Southeast Asian–inspired setting. The production team took its inspiration from trips to Cambodia, Indonesia, Laos, Malaysia, Singapore, Thailand and Vietnam. And most of the characters are voiced by Asian-Americans.
The action scenes, many of which have an Indiana Jones feel, also feature Asian fighting styles including lots of martial art moves. There are also plenty of sword fights.
Familiar elements of the movie include brilliant animation, stunning visuals, imaginative storytelling and cute and appealing 'non humans'. In this case it's a dragon called Sisu and a large armadillo type bug named Tuk Tuk.
And there's the common Disney themes highlighting love, friendship and family. The importance of unity, trust and togetherness are other key themes in this movie.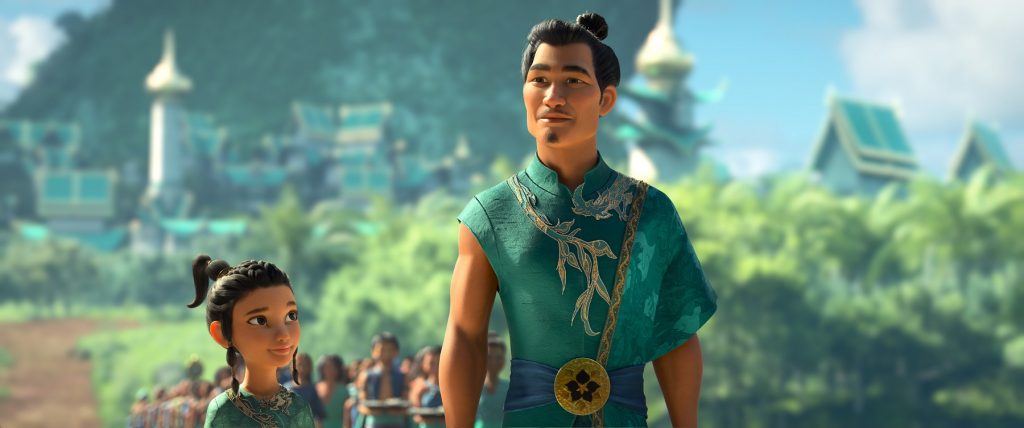 When we first meet Raya (voiced by Kelly Marie Tran) she's a young girl living in the mystical world of Kumandra. Here people used to live harmoniously protected by magical dragons. But then Druun, wispy toxic blobs, arrived turning living things to stone and defeating all but one of the dragons, who disappeared.
As a result the people of Kumandra were driven to war resulting in establishment of five separate nation-states, all named for parts of a dragon – Heart, Talon, Spine, Fang and Tail. The people who live in Raya's home state of Heart had been safe thanks to a precious gem left by the last dragon which stopped attacks by the Druun.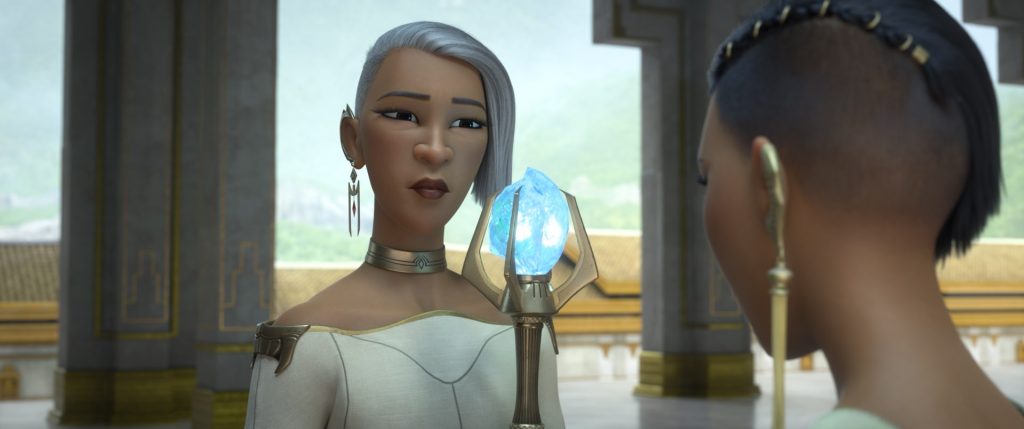 An attempt by Raya's father Benja (Daniel Dae Kim) to bring the other states together ends in disaster. The gem is shattered after Raya is betrayed by fellow youngster Namaari (Gemma Chan) daughter of Virana (Sandra Oh), the leader of Fang. The rulers from each of the territories escape with parts of the gem which results in the Druun attacking Heart and turning those in its path into stone, including Raya's father.
On discovering the last dragon could still be alive and could stop the Druun and reverse the damage done, Raya and Tuk Tuk, her only friend and transportation, set out to find it.
Her quest is eventually successful, however the dragon Sisu (Awkwafina) is, by her own admission, not the smartest or most talented dragon. But as we discover the self-deprecating water dragon is very funny, goofy, adventurous, can swim very quickly and is a great believer in trust and togetherness.
Agreeing to help Raya, the two travel to each of the territories to recover the shattered parts of the gem with the aim of making it whole again.
It's here the movie takes on an adventurous feel as each territory has devious and dangerous ways of protecting its part of the gem.
Along the way Raya and Sisu are joined by a number of `helpers' including Boun (Izaac Wang) a 10-year-old entrepreneur who runs a floating restaurant; a con-artist infant Little Noi (Thalia Tran) and her team of Ongis; and warrior Tong (Benedict Wong), the last soldier standing from the Spine province.
At nearly every turn, Raya is challenged by Namaari, who is as skilled a fighter as Raya. Needless to say good eventually overcomes evil and our two warriors learn the importance of working together and trust.
This moral to the story was one of the reasons my 10-year-old movie companion rated Raya and the Last Dragon 11 out of 10 (the highest score he has ever given!) The adventurous nature of the story was another reason.
While my score wasn't quite as high, I also found plenty to enjoy. And that's one of the joys of the movie –  it offers something for adults as well as kids thanks especially to the humour of Sisu – brilliantly delivered by Awkwafina.
It also looks beautiful and I was continually amazed by the ingenuity of those who thought up the story-line, the characters and the many challenges faced by our hero. Then there are the visuals including each of the States which are beautifully and imaginatively presented.
While Raya and the Last Dragon is available on the Disney+ streaming service it's one of those movies that lends itself to the big screen and fortunately in Australia at least, it is now showing in cinemas around the country.
*Photo credit: © 2021 Disney. All Rights Reserved.
Subscribe to my e-mail newsletter to receive updates.
We respect your privacy.
Unsubscribe at any time.