A world of dance, desire and decadence awaits audiences attending Opera Australia's new production of The Merry Widow.
Naturally great singing abounds while the leads also showcase their excellent dancing and acting skills.
Stunning sets and glamorous costumes add to the show's great appeal.
The production is based on Justin Fleming's new interpretation of Franz  Lehár's 1905 classic. As a result director and choreographer Graeme Murphy has moved his `Merry Widow'  to the art deco Paris of the 1920.
The language is more contemporary while sets of the three act operetta have a rich and decadent feel. The Pontevedrian embassy in act one features huge latticework while act two is framed against a Monet-inspired night garden painting. The famous Paris restaurant, Maxim's, is recreated in act three.
Jennifer Irwin's costumes are equally glamorous, capitalizing on the period with glittering gowns, sparkling jewellery and flapper fashions for the women and smart formal wear for the men.
What hasn't changed is the storyline.  The tiny state of Pontevedro is bankrupt. Its only hope of financial salvation lies in Hanna (Danielle de Niese), a beautiful widow who has inherited her husband's fortune. The Pontevedrians must convince her to marry a local, lest she take her fortune to foreign shores.
But she's has a history with the man they've got in mind, Count Danilo Danilovich (Alexander Lewis).
At the same time the diplomats within the Pontevedrian embassy also have their own `relationship' issues. Valencienne (Stacey Alleaume), the young wife of Baron Zeta (David Whitney), is only just resisting the charms of a young Frenchman, Camille de Rosillon (John Longmuir), unlike many other members of the diplomatic community.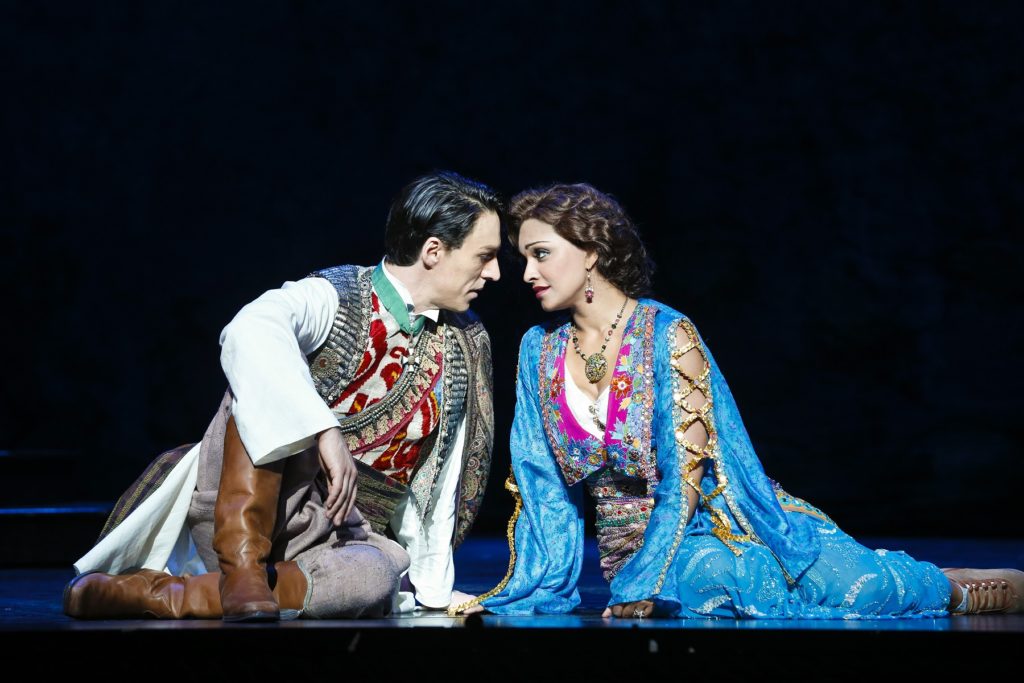 Both Melbourne-born soprano Niese and Australian baritone Lewis give wonderful performances as Hanna and Count Danilo.
While their vocal abilities came as no surprise their dancing and acting skills did. De Niese's role is especially demanding as she sings and dances everything from the waltz to the can-can.
Given Lewis' performance it comes as no surprise to discover, like Niese, he is in great demand on the world stage.
They are ably supported by other cast members with Longmuir and Alleaume ably demonstrating their vocal skills.  Benjamin Rasheed, who plays the efficient, all-knowing embassy secretary Njegus shows his strong comic abilities. His number in act three is a standout.
Joining the opera stars are 12 extremely talented dancers who perform everything from the can-can to the `Pontevedrian national dance'. This Balkans-inspired number, together with the Maxim's waiters dance, are amongst the stand-out routines.
Murphy's inventive choreography, together with the performance of the cast, the opulent costumes and sets and the music ensures this Merry Widow is a glamorous, highly entertaining and joyful night at the opera.
The Merry Widow is playing at Arts Centre Melbourne's State Theatre until November 25 and then at the Sydney Opera House's Joan Sutherland Theatre from January 2 to February 3 2018. Visit Opera Australia's website for more details.
*Photo credit: Jeff Busby.
Jenny Burns attended the opening night of The Merry Widow as a guest of Opera Australia.
Visit travelswithjb.com.au-live shows for more show reviews.
Subscribe to my e-mail newsletter to receive updates.
We respect your privacy.
Unsubscribe at any time.