Bendigo Art Gallery's latest exhibition The Costume Designer: Edith Head and Hollywood does more than showcase some beautiful movie costumes.
The exhibition also offers useful fashion advice such as: "Don't wear your clothes too tight. A dress should be tight enough to show you're a woman and loose enough to prove you're a lady." Other pearls of wisdom from Edith Head include: "Be dressed for what you are doing" and "Have the right accessories".
Head is considered the most significant costume designer in the history of cinema. In her 50-year career, first at Paramount Pictures and later at Universal Studios, the designer worked closely with many of Hollywood's most important stars on close to 1000 films.
The Costume Designer brings together more than 70 of her costumes, from the 1930s to the 1960s, gleaned from the archives of Paramount, the Collection of Motion Picture Costume Design and other private collections.
There are garments worn by Shirley Temple, Gloria Swanson, Veronica Lake, Olivia De Havilland, Jane Russell, Audrey Hepburn, Fred Astaire and Yul Brynner. Films highlighted in the exhibition include The Ten Commandments, Samson and Delilah, The Emperors Waltz, Sunset Boulevard, Vertigo and The Heiress. Head received eight Academy Awards during her career, the largest number ever won by a woman.
Interestingly despite numerous accolades in her lifetime, and those she received posthumously, the extent and significance of Head's talent is still debated. Her costumes are often compared negatively with the fashion of the day.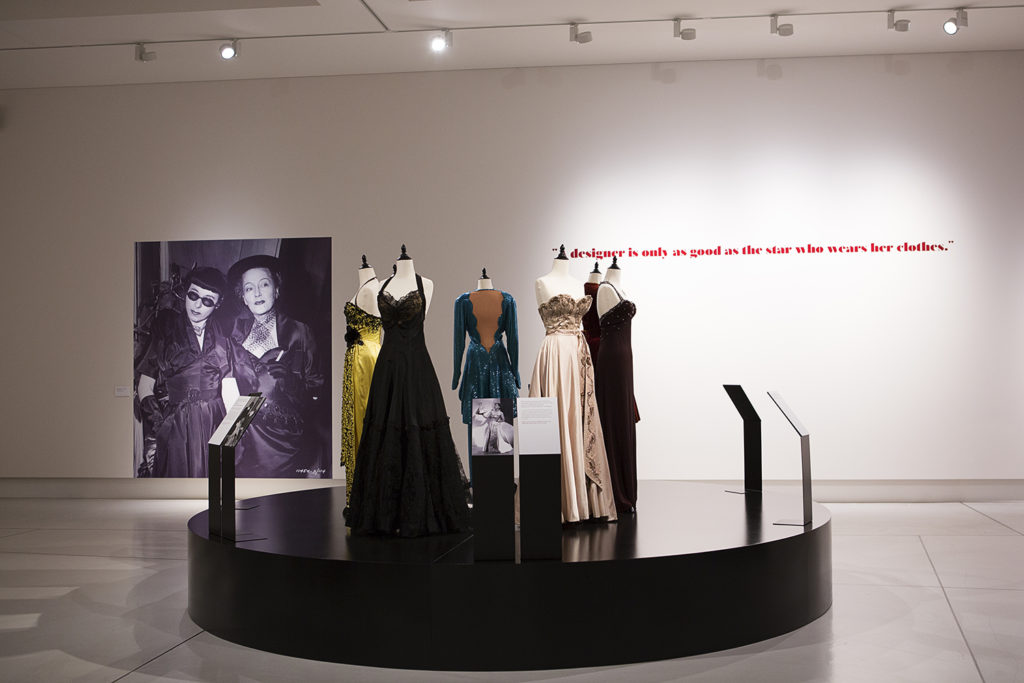 However, as the exhibition explains through both written word and a few fascinating audio visuals featuring Head, she believed audiences should never concentrate on a costume to the detriment of the actor or the storyline. She also had a fear of 'outdated fashion' dating a movie. Films were often released a couple of years after they were made, so including clothing that was the rage several years earlier was a no-no!
It seems Head's greatest skill as a designer was to recognise apparent 'flaws' in the bodies she dressed, using drape, cut and pattern to disguise imperfections and to highlight the wearer's 'assets'.  Given the small sizes of the dresses on display, large waists or big hips weren't a flaw for any of her actresses!
Her willingness to share her knowledge with the actors she dressed and to ensure they looked great resulted in many life-long friends.
Throughout her career Head also offered advice to the general public through popular Hollywood magazines. She received many letters at her Paramount office requesting assistance with the most suitable fashions for a particular body type. In 1945 a new promotion opportunity emerged with an invitation to participate in a new radio show – Art Linklater's House Party – during which she was to offer on-the-spot advice about how to dress to members of the audience.
Amazingly, as the exhibition reveals, Head (born Edith Posener in San Bernardino, California, in 1897) had no formal fashion training and actually `fudged' her skills to get her first Hollywood job as a sketch artist in 1924. She worked her way up from junior sketch artist to a dresser on B-grade films, and eventually to head costume designer at Paramount.
As she explained:"I knew that I was not a creative design genius. I was never going to be the world's greatest costume designer but there was no reason I could not be the smartest. When you can make an actress beautiful or an actor handsome, you can succeed in Hollywood, as long as you know the right people to please. That's why I have always said that I am a better politician than I am a designer, I know who to please."
One of the joys of The Costume Designer: Edith Head and Hollywood is the chance to decide for yourself about her skills as a designer. The costumes on display are another highlight. Then there's useful fashion advice which, like many of Head's designs, would seem ageless!
The Costume Designer: Edith Head and Hollywood is on at Bendigo Art Gallery until January 21 2018. For more information visit the Bendigo Art Gallery website.
Jenny Burns attended the exhibition as a guest of the Bendigo Art Gallery.
Visit travelswithjb,com.au-exhibitions for more exhibition reviews.
Bendigo Art Gallery

,

exhibition

,

review
Subscribe to my e-mail newsletter to receive updates.
We respect your privacy.
Unsubscribe at any time.