There's plenty of violent shaking, rocking and major malfunctions in First Man, the movie behind Neil Armstrong's historical moon walk.
But the troublesome actions are not caused by the movie's major characters. Indeed most of these individuals are generally devoid of any major emotions.
It's the space craft flown by the astronauts, especially by Armstrong, that are so badly behaved! When you discover the computers in our smart phones today are more powerful than the ones used to get spacecraft to the moon in 1969, such malfunction is understandable.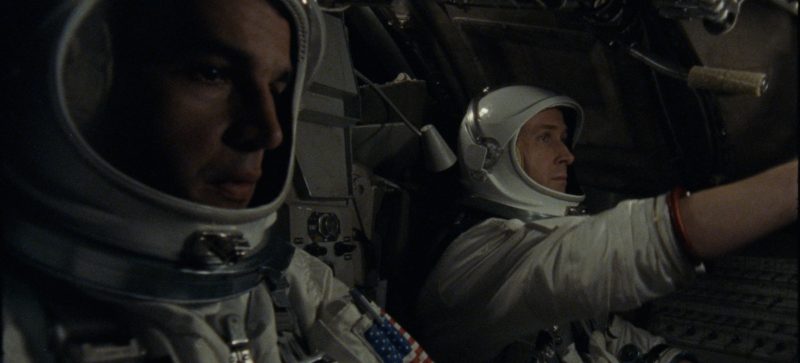 This knowledge also makes the achievements of Armstrong and his fellow astronauts even more remarkable.
Directed by Damien Chazelle (La La Land), written by Josh Singer (Spotlight, The Post) and based on  James R. Hansen's authorised biography of Armstrong,  First Man spotlights Armstrong's personality and his achievements as an astronaut.
Neil Armstrong, as portrayed by Ryan Gosling  is private, reserved, serious, emotionally closed, calm and clear-headed.
It's these traits which helped him survive such incidents as his near crash of a test plane over the Mojave Desert in 1961(the film's opening sequence) and the malfunctioning of a Gemini space craft, which we also experience in great detail. Such character traits also seem to have helped him deal with the death of some fellow astronauts, including one of his closest friends, Ed White (Jason Clarke) who, with two colleagues, died in a cabin fire in 1967.
The question the movie doesn't necessarily answer is: Was Armstrong always this way or did the death of his three year old daughter Karen, cause a change in his personality? Unfortunately, due to time restrictions, the movie doesn't cover the years before that near fatal crash in 1961, nor the years following Apollo 11. However it comes as no surprise to discover that Armstrong and his wife at the time, Janet (Claire Foy), divorced.
We also don't learn  much about the other astronauts involved in the project, apart from White and Aldrin (Corey Stoll) who comes across as being extremely confident and outspoken – traits totally opposite to Armstrong's.  The reason for Armstrong, Buzz Aldrin and Michael Collins being chosen for the Apollo 11 mission also isn't covered.
However, we do discover what happened at NASA between 1961 and 1969, firstly with Project Gemini and then with the Apollo mission. Every flight from the first Gemini mission to the moon landing was unprecedented and the impacts unknown. And it seems there were many major problems, which given how `basic' the space craft were, isn't surprising.
We also see the impact of the missions on Armstrong's family. This is brilliantly illustrated in a scene where Janet forces Neil to explain to his two young boys that he might not return from his moon mission.
Extremely tight close ups (you can literally see every pore and freckle on the actors' faces) illustrate these emotions.
The movie also touches on community and government angst about the moon project. Demonstrations and comments from politicians show that many felt the millions spent on putting a man on the moon could have been far better spent in improving American society.
While Ryan Gosling is most definitely the star of First Man, he's ably supported by Foy. There are also strong performances by Stoll and Clarke, together with Kyle Chandler and Ciarán Hinds as Armstrong's NASA bosses. Atmospheric music and some spectacular cinematography add to First Man's appeal.
However it's the chance to learn more about the process involved in the moon landing and something of Neil Armstrong's personality which makes First Man so interesting. I've now added James R. Hansen's book to my reading list with the hope of learning more about Armstrong before and after his NASA experience.
First Man opens nationally on October 11.
*Photo credit: Daniel McFadden
Visit travelwithjb-movie-reviews for more film reviews.
Subscribe to my e-mail newsletter to receive updates.
We respect your privacy.
Unsubscribe at any time.