Puss in Boots: The Last Wish offers something for a wide-ranging audience thanks to its stunning animation, cute characters and the voice of Antonio Banderas.
The 13-year-old in our group gave the animation 10 out of 10, the `cute cats' scored the perfect score from the six year old while for adults – well, who can resist Banderas' personality filled accent!
Returning to the screen after an 11-year break, Puss  (Antonio Banderas) is up to his usual swashbuckling adventures with little fear for his own safety. But then he is killed.  No worries: after all he is a cat so he has nine lives.
However, after a consultation with the local vet (Anthony Mendez), he realises he has used eight of his nine lives. In one of many humorous sequences we learn not all those deaths were in battle!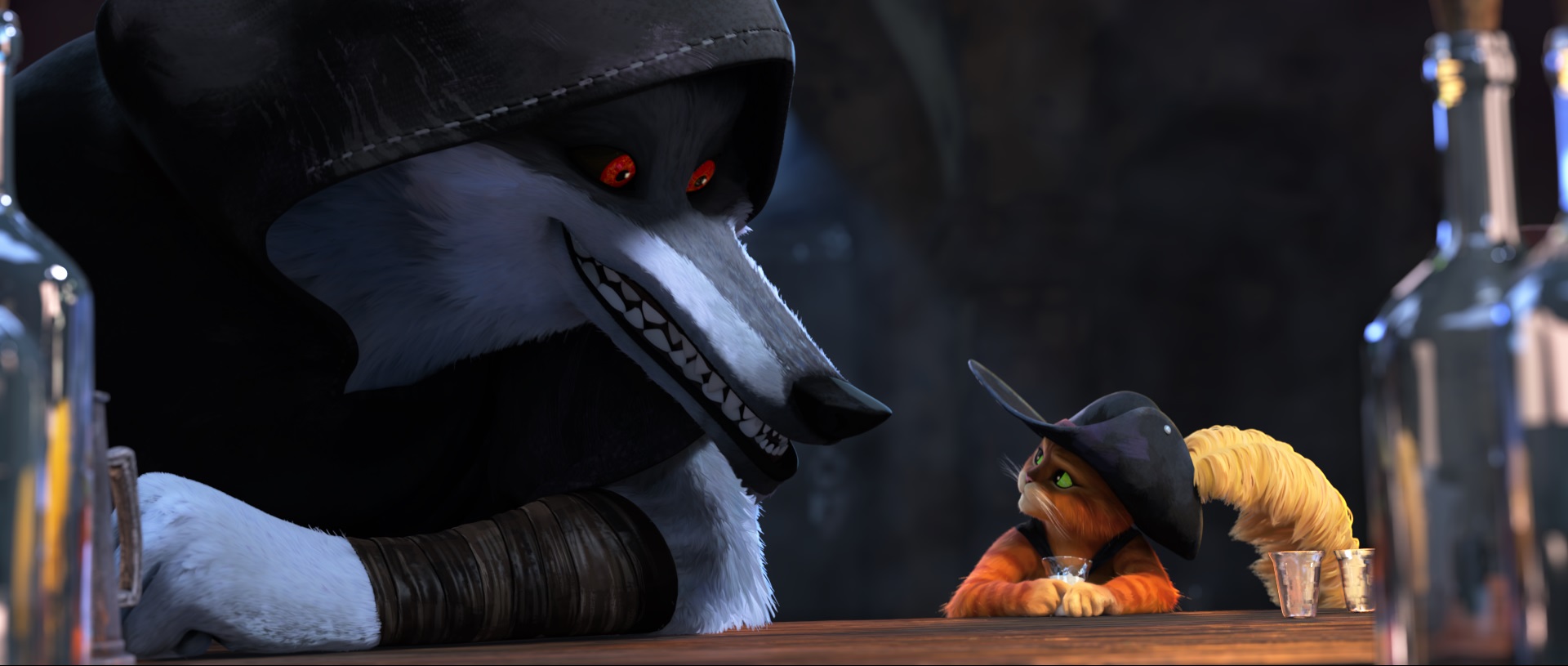 Further stressing Puss is the appearance of terrifying bounty hunter, The Big Bad Wolf (Wagner Moura), who is determined to take that ninth life.
Choosing safety over risking death by continuing his flamboyant and often dangerous ways, Puss takes himself off to a retirement home for cats run by Mama Luna (Da'Vine Joy Randolph). Here he lets himself grow old in both appearance and attitude as he becomes more and more institutionalised.
But then crime family Goldi (Florence Pugh), Momma Bear (Olivia Colman), Papa Bear (Ray Winstone) and the very large Baby Bear (Samson Kayo) come calling. They are in search of a map which will take them to a shooting star that has landed in the Dark Forest.  Whoever reaches the star first is entitled to a wish.
Puss realises if he gets to the star first he can get his lives back and so leaves Mama Luna's in search of the map. Joining Puss in his quest, initially against his wishes, is Perro (Harvey Guillén) a gentle, cheerful, talkative and rather ugly looking mutt who dreams of being a therapy dog.
Also searching for the star is Puss's former love interest and sometime rival Kitty Softpaws (Salma Hayek Pinault) and the good-boy-gone-bad Jack Horner (John Mulaney).  All have their reasons for wanting that wish.
In creating scenes featuring the search for the star director Joel Crawford and producer Mark Swift, (the creative team behind The Croods: A New Age) were inspired by the 1966 Sergio Leone classic Western The Good, The Bad and The Ugly, with different hardened criminals going after the same pot of gold.
It was the animation in these and the other action-packed scenes which appealed to the 13-year-old.  The six-year-old loved the cats and Perro.
For the adults a storyline about making the most of your life (and not hiding away to avoid death) caused some discussion as the theme here is a little darker than many animated movies aimed at younger audiences.  But Banderas caused far greater discussion! He perfectly illustrates the importance of having actors whose voices complement a character's on-screen animation.  Thanks to his and the other actors' work, Puss in Boots: The Last Wish scores 10 out of 10 in this department.
Puss in Boots: The Last Wish opens on Boxing Day around Australia.
*© 2022 DreamWorks Animation.
Subscribe to my e-mail newsletter to receive updates.
We respect your privacy.
Unsubscribe at any time.