Fun … that's the word three generations of film goers all used to describe The Grinch.
While there's no doubt the children in our party were more enamoured of this computer animated movie than their adult `chaperones', we all found something to laugh at.
The youngest in our group was taken by the Grinch's grumpy moods and the actions of his faithful dog, Max, while his older brother enjoyed the actions of a stray goat.The adults formed a soft spot for Fred, an obese reindeer.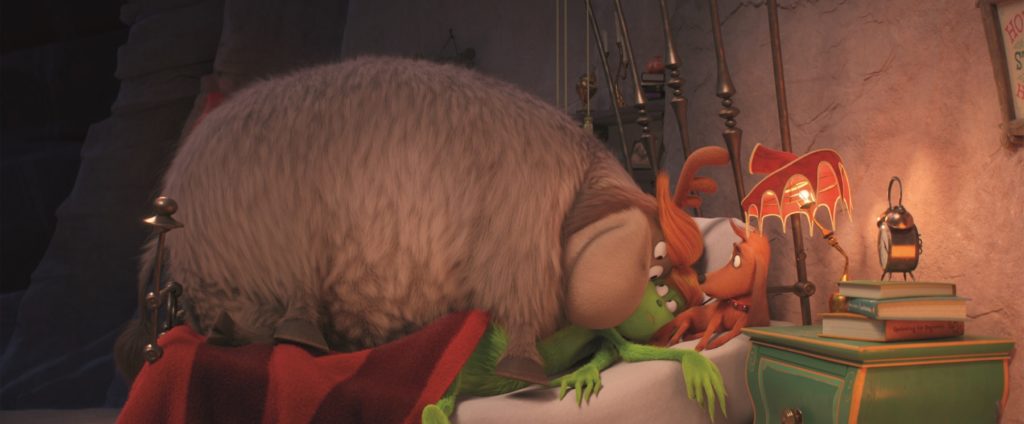 They also appreciated the very clever animation – the film comes from Illumination Entertainment, responsible for the Despicable Me and The Secret Life of Pets movies. The running time of 86 minutes was also seen as a plus!
The Grinch is generally faithful to Dr. Seuss' classic children's book How the Grinch Stole Christmas! with the addition of a back-story and a few extra characters.
The Grinch (voiced by Benedict Cumberbatch without an English accent) lives alone in a cave above the twinkling gingerbread village of Whoville. His only companion is Max, who also acts as his butler. As the narrator (Pharrell Williams) explains, he dislikes the happy community of Whoville and especially hates Christmas, for reasons explored during the movie.
When the town decides to have its biggest ever yuletide celebration, the Grinch feels the need to act. So he dresses as Santa and steals all the town's presents. While succeeding, a chance encounter with young Cindy-Lou (Cameron Seely), who wants to catch Santa Claus in the act to ask him to help her overworked single mom (Rashida Jones), brings a change of heart. He also realises the Whoville residents are still happy, even without their Christmas presents.
While this is very much a movie for young children, there's still enough for adults – especially those who grew up loving Dr Seuss stories – to ensure they don't leave the movie feeling like a Grinch!
The Grinch opens in Australian cinemas on Thursday November 29.
Visit travelwithjb-movie-reviews for more film reviews.
Subscribe to my e-mail newsletter to receive updates.
We respect your privacy.
Unsubscribe at any time.