The Production Company's latest offering, Brigadoon, is like the musical's storyline – it's come to life after being hidden for many years!
Judging by the standing ovation on opening night at Art Centre Melbourne's State Theatre, it's likely to be a triumphant re-awakening.
Brigadoon tells of New Yorkers Tommy Albright and Jeff Douglas who get lost on their holiday in the Scottish Highlands. They stumble upon Brigadoon, a mythical village which they subsequently discover only appears for one day every 100 years. Tommy, who on the surface has a very successful life in New York including a glamourous fiancé, falls in love with Fiona, a young woman from the village. But there's a problem- if Tommy is to stay with Fiona he must also stay in Brigadoon forever.
The Lerner and Loewe musical first opened in Broadway in 1947 and premiered in Melbourne in 1951. However, unlike other well-known Lerner and Loewe musicals, such as My Fair Lady and Camelot, there haven't been many commercial productions of the show over the years.
Production Company director, Jason Langley, has modernised parts of the musical for this new production. The boys, for example, get lost after relying on their smart phones for directions. According to Langley there's also a `darker sense of realism'. This `darkness' includes the death of one of the characters on stage.
However the production still features all the essential ingredients of a successful romantic musical. There are numerous great songs, stunning dance routines, comic moments and, of course, `happily-ever-after' romance!
Delivering all these components is an extremely talented cast led by Rohan Browne as Tommy and Genevieve Kingsford as Fiona. Both are a delight to watch. They sing brilliantly and have a great rapport on stage. Browne also expertly demonstrates his wonderful dancing abilities.
Luke Joslin provides much of the humour as the cynical Jeff. His scenes with Elise McCann, who plays the town's `flirt' Meg Brockie, are particularly enjoyable to watch thanks to their comic timing.
There are also eye-catching performances from Joel Granger who plays Harry, the only person who isn't happy living in Brigadoon and Matthew Manahan as Charlie, the bridegroom of Fiona's sister Jean (Stefanie Jones).
The `older' cast members also shine. They include Nancye Hayes who plays Mrs Forysthe, the town's wisest citizen, Stephen Hall (Mr Ritchie) and Sally Bourne (Mrs MacLaren).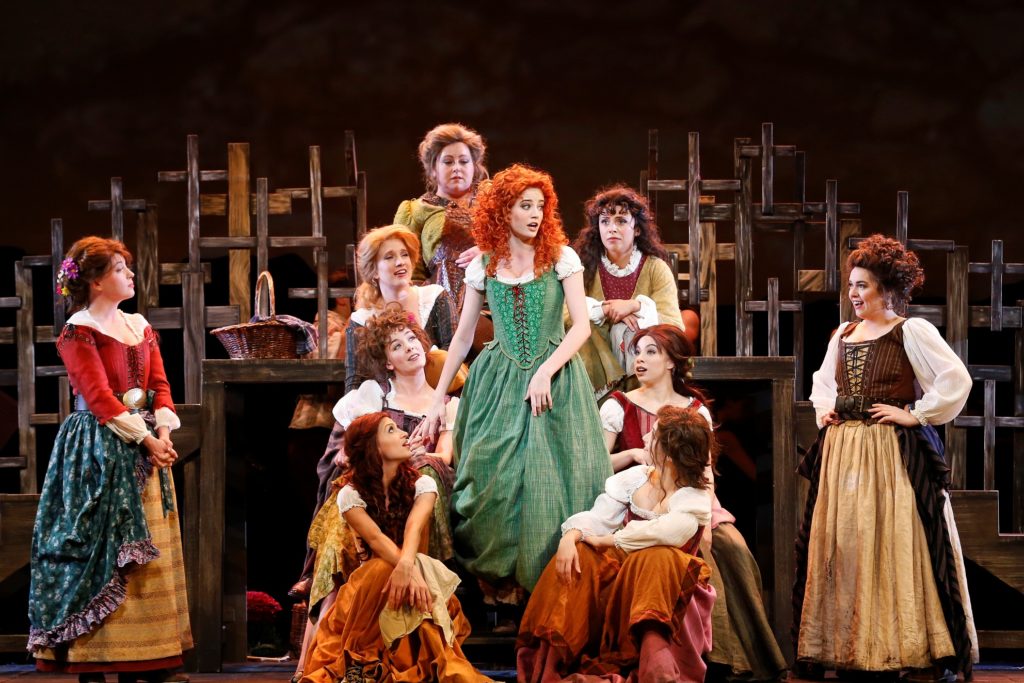 Both the leads and a large ensemble do a great job presenting the show's many very colorful and demanding dance routines.
A live orchestra and a piper playing the Scottish bagpipes add to the great appeal of this most colorful and entertaining production.
Brigadoon is playing at Arts Centre Melbourne's State Theatre until November 5.  Visit The Production Company website for more information and Arts Centre Melbourne's website for tickets.
Jenny Burns attended the opening night of Brigadoon as a guest of The Production Company.
*Photo credit: Jeff Busby
Visit travelswithjb.com.au-live shows for more show reviews.
live shows

,

Melbourne

,

review
Subscribe to my e-mail newsletter to receive updates.
We respect your privacy.
Unsubscribe at any time.