If you've ever wondered what makes a champion race horse then a visit to Living Legends may provide some of the answers.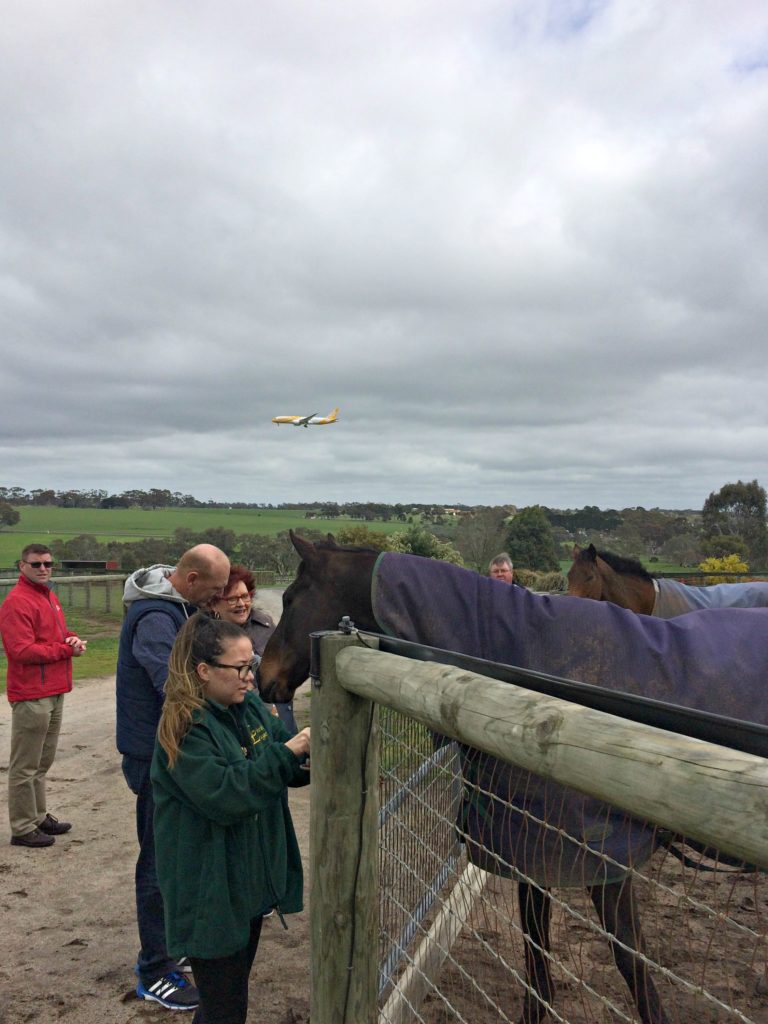 Located within Woodlands Historic Park at Greenvale (six minutes from Melbourne Airport), the property is home to 19 of Australia's finest retired champion racehorses. There are winners of the Melbourne Cup, Japan Cup, Caulfield Cup, Australian Cup and Cox Plate.
Join a tour and you'll get a chance to feed some of the horses and learn about their victories and very individual personalities. The property is also the final resting place for a number of deceased champions of the track.
Exploring Living Legends
There are several ways to explore Living Legends. You can pay $15 (less for children and concession holders) and follow the path beside paddocks where many of the horses are held. You can pay an extra $10 and join a guided tour which includes the chance to feed the horses. Or you can do as I did and join Melbourne Sports Tours' "Horses, Wine and Beer" tour.  MST's tour offers several benefits. It includes a morning tea of hot scones at Living Legends historical homestead, lunch and wine tastings at Gisborne Peak  Winery and beer tasting at Holgate Brewhouse in Woodend.
Having spent a number of years visiting Living Legends, MST tour leader Anthony Grace is extremely knowledgeable about the history of the establishment. Living Legends CEO, Andrew Clarke, happened to be present during our visit and he, like Anthony and the Legends' guide who showed us around, was a font of information.
The Horses
As a result our group learnt Might and Power (winner of the Caulfield Cup and Melbourne Cup double) is very determined, has a regal personality and makes instant judgements about people. If he doesn't like you, beware! Fortunately he seemed to like everyone in our group. Apache Cat is renowned for a splash of white, rather than a blaze, on his nose. While many love his appearance, one unlucky potential owner who could have purchased the horse cheaply didn't follow through. Apache Cat won more than $4 million in prize money!
Brew (Melbourne Cup) trained to be a police horse after he finished racing, but failed as he lacked the discipline to succeed. Zipping (Sandown Cup) and Efficient (Melbourne Cup) have been together since the beginning of their racing careers. While Zipping is well behaved, Efficient has a tendency to bite. Super Impressive is the only horse at Legends that didn't win at least two group one races, but had a distinguished career as a police horse. Rogan Josh (Melbourne Cup) is very relaxed.
Then there's Fields of Omagh to whom all the other horses at Legends owe a debt of gratitude. His owners established the property so they, and members of the public, could see the horse after his retirement. Like all horses here he is a gelding so there was no chance of his producing offspring!
Many owners still visit their horses. Indeed Andrew has numerous stories to tell of tearful reunions between owners, trainers and jockeys and the horses they were associated with.  While the horses are retired from racing, many still make public appearances during race meetings and on other special occasions.
Useful Information
As well as the chance to feed and learn more about a number of the horses – (those less well behaved are kept in paddocks away from the public)- our visit also included a detailed discussion about what makes an equine champion. Mental toughness and being relaxed seem to be key elements. So if you are looking to pick a winner on the racetrack, a visit to Living Legends may not only prove extremely enjoyable but financially beneficial!
*Jenny Burns visited Living Legends as a guest of Melbourne Sports Tours for a story in Melbourne Where magazine.
attractions

,

Melbourne

,

review
Subscribe to my e-mail newsletter to receive updates.
We respect your privacy.
Unsubscribe at any time.