After a highly successful tour last year, the cabaret show Velvet is back in Melbourne with some changes.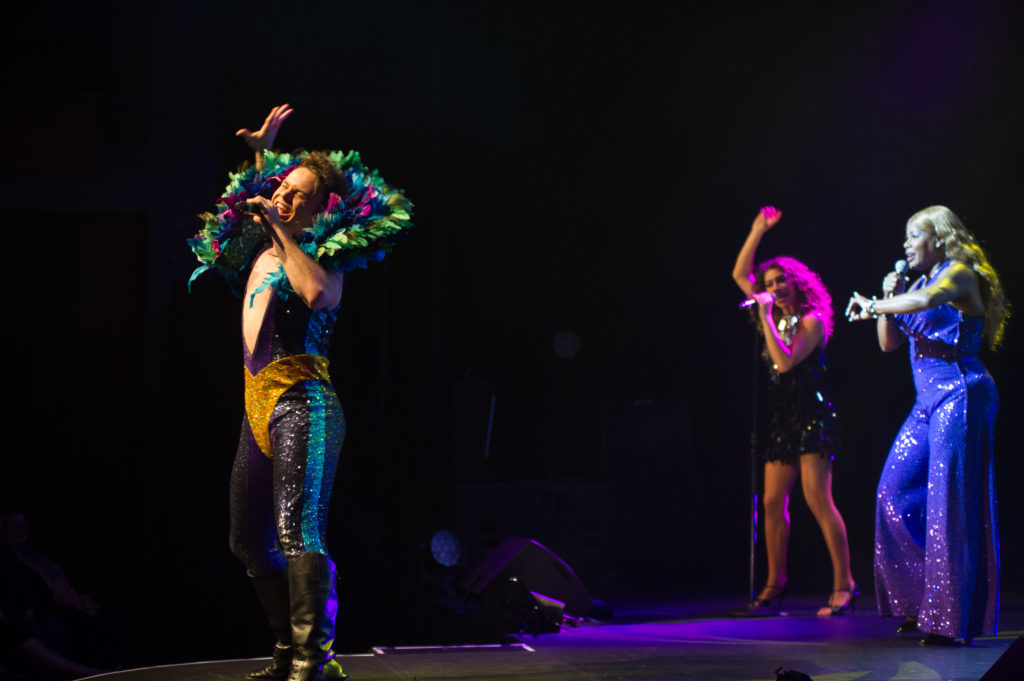 Tom Oliver has taken over from Brendan Maclean as the young man who is on a path of self-discovery while Kaylah Attard replaces Chaska Halliday as one of the hard working female singers. The venue has also changed  – from the Malthouse to The Palms at Crown.
The show has lost nothing with the changes. Like the rest of the cast, Oliver and Attard are skilled performers.  And The Palms is arguably a more apt venue for this high energy disco-burlesque-acrobatic show.
Having seen the show for a second time I could more recognise its said story-line of a young man arriving at a disco, loosely based on New York's famous Studio54, uncertain and confused. By the end of the show he is confident and aware of his sexuality. His transition is described through  disco hits such as If You Could Read My Mind, Never Knew Love Like This Before, It's Raining Men, No More Tears and Stayin' Alive as well as the performances of a talented cast of singers, acrobats and dancers.
Marcia Hines is back playing the diva who helps our young man's `self-discovery'. Kaylah Attard and Rechelle Mansour present some songs, provide back-up to others and dance up a storm – resulting in many costume changes. Musical director Joe Accaria again takes centre stage for several numbers.
The biggest cheer on the night came for Scottish hula hoop artist, Craig Reid thanks to his humorous facial expressions, costume and great skill.
My companion was impressed with the work of German born handstand acrobat Mirko Kockenberger who  gave an eye catching performance to open the show.  There were also plenty of cheers for the acrobatic and sensual performances (including an S&M scene) of Stephen Williams and Emma Goh.
As with the show last year, Velvet provides the perfect opportunity to relive the disco age and watch a number of talented performers `strut their stuff'!
Velvet is playing at Crown until July 9. For more information and tickets visit the Velvet website
*Jenny Burns attended Velvet as a guest of the show.
Visit travelswithjb.com.au-live shows for more live show reviews.
live shows

,

Melbourne

,

review
Subscribe to my e-mail newsletter to receive updates.
We respect your privacy.
Unsubscribe at any time.