Watch I Tonya and you're likely to experience a range of emotions.
At times you'll be sad, then outraged and then you'll find yourself laughing out loud and feeling guilty for doing so.
After all, I Tonya is based on a sad and rather depressing story. But such are the skills of the production team and actors that it's impossible not to find some parts of the movie very funny.
I Tonya tells the story of Tonya Harding, whose name is synonymous with one of the biggest scandals in sports history – a "hit" on rival figure skater Nancy Kerrigan.
The attack occurred after a practice session at the 1994 U.S. Figure Skating Championships. The injury forced Kerrigan to withdraw from the nationals, which Harding won, but both women were selected for the U.S. Olympic team. They competed in Lillehammer, Norway, seven weeks after the attack where Kerrigan won a silver medal and Harding came eighth.
The perpetrator, Shane Stant, was hired by Harding's ex-husband, Jeff Gillooly and his friend Shawn Eckhardt. Gillooly claims he never ordered a hit, instead wanting threatening letters to be sent to Kerrigan. Yet he, Stant and Eckhardt received prison sentences ranging from 18 months to two years for their actions.
Harding claimed she knew nothing about the attack until after it occurred but after competing in the Olympics she pleaded guilty to conspiring to hinder prosecution of the attackers. Consequently, the U.S. Figure Skating Association stripped her of her titles and banned her from professional figure skating for life.
Directed by Craig Gillespie from a screenplay by Steve Rogers, I Tonya is based on what we are told (via on-screen titles) are a series of "irony-free, wildly contradictory, totally true" interviews that Rogers conducted.
Interviewees appearing on screen include Harding (played by Margot Robbie), her mother, LaVona Fay Golden (Allison Janney), Gillooly (Sebastian Stan) and Eckhardt (Paul Walter Hauser). These interviews allow the main players to tell their stories and explain (and often defend) their actions although, as the title suggests, the story revolves around Harding's memories.
We learn LaVona, a poor waitress in rural Oregon, had great expectations that Harding would be a successful ice skater. She persuaded Harding's first coach, Diane (Julianne Nicholson) to teach her then four-year-old daughter. What followed was years of appalling physical and emotional abuse by the coarse talking, narcissistic LaVona.
In her teenage years Harding fell for Gillooly whom she married at the age of 19. He also frequently abused her but Harding continued to return to him as she felt he was the only person who ever loved her.
In her 30s, Harding turned to celebrity boxing to pay the bills. As she explains in one gruesome scene: "Violence is all I know anyway."
Harding also believed she was victimised by ice skating judges who didn't approve of her background, appearance or skating style.
It's easy to understand why Robbie has been nominated for an Oscar for best actress. Ageing from 15 to the mid-40s, she gives a wonderful performance brilliantly showcasing range of emotions (and ice skating skills). At times it's hard not to feel sorry for her character, but then she will say or do something and that sympathy evaporates.
Equally as impressive is Janney, who has already won a Golden Globe award for her performance and is also nominated for an Oscar. She expertly portrays a self-centered, foul mouthed, abusive, unfeeling woman who sees her daughter as meal ticket. However, at times her reaction to events is so horrible you just have to laugh, hence the guilt you may feel watching the movie.
Stan comes across as quiet and innocent one minute and horrible and abusive the next.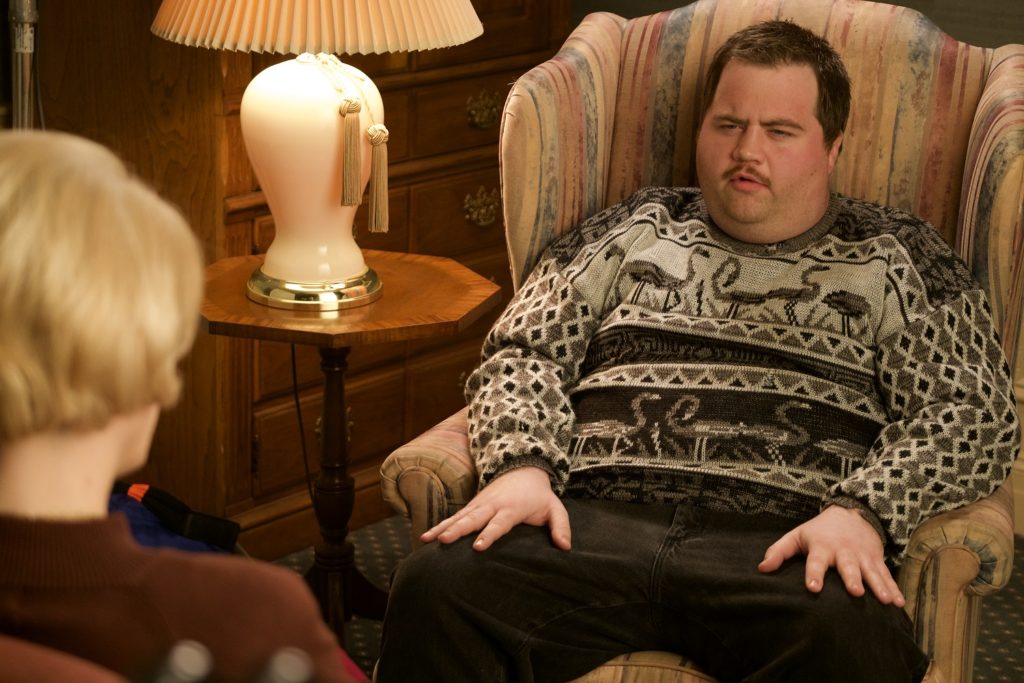 Paul Walter Hauser steals the scenes he is in as the imbecilic Eckhard who claims to be a counter terrorism expert operating out of his room in his parents' house.
His actions and words provide much of I Tonya's laughs even though what he did is no laughing matter. But then I Tonya is like the life of its star – an emotional roller coaster.
I Tonya is currently screening in cinemas around Australia.
* Photo credit: NEON
Jenny Burns attended a preview of I Tonya as a guest of Roadshow Films.
Visit travelwithjb-movie-reviews for more film reviews.
Subscribe to my e-mail newsletter to receive updates.
We respect your privacy.
Unsubscribe at any time.