Watching a new musical production of The Merry Wives of Windsor energetically presented by the Melbourne Shakespeare Company in a picturesque garden proved the perfect way to spend a  summer's evening.
The company has updated the Shakespearean comedy, thought to have been written around 1597, to the 1970s and is performing it in St Kilda Botanical Garden's Rose Garden.
While the Shakespearean dialogue is still present so too are many references to more recent times with a wheelie bin, for example, playing a starring role!
The plot has also been partly updated to reflect more modern times. Then there's the music which features numerous contemporary hits which blend perfectly with the storyline.  Songs include Bad Moon Rising, Annie's Song and Love Will Keep Us Together.
The Merry Wives of Windsor tells of Falstaff (Paul Robertson) who takes a fancy to two married women, Mistress Page (Amanda McKay) and Mistress Ford (Elle Sejean-Allen), who are said to control their own financial affairs and thus to be moderately wealthy. He writes identical love letters to them, hoping to swindle some money from them while also enjoying them as sexual partners. But the wives compare their letters and resolve to trick Falstaff.
The husbands of the women, Ford (Chris Broadstock) and Page (Tref Gare), hear of Falstaff's plot which particularly upsets the very jealous Ford who seeks to catch his wife with Falstaff.
A secondary plot centres on the wooing of the Pages' charming daughter Anne (Lucy May Knight). Doctor Caius (John Vizcay-Wilson), Slender (Sebastian Li) and Fenton (Sarah Clarke) are rivals for Anne's affection. All three suitors use Caius' servant Mistress Quickly (Bridget Sweeney) to argue their case to young Anne. Slender is favoured by Anne's father,  Mistress Page favours Caius while Anne loves Fenton (Sarah Clarke) who, in this production, is a woman.  Needless to say love wins out all around.
It's easy to see why the company, which was founded in 2016 by Jennifer Sarah Dean, has built a reputation for producing outstanding contemporary adaptations of Shakespeare's plays in relaxed outdoor settings.
Such performances no doubt create numerous challenges. However, thanks to the work of the cast and the setting, this production looks as if it belongs in the gardens as the players take full advantage of the hedges, paths and a rotunda. While occasionally some spoken words are hard to hear, the songs come across loud and clear.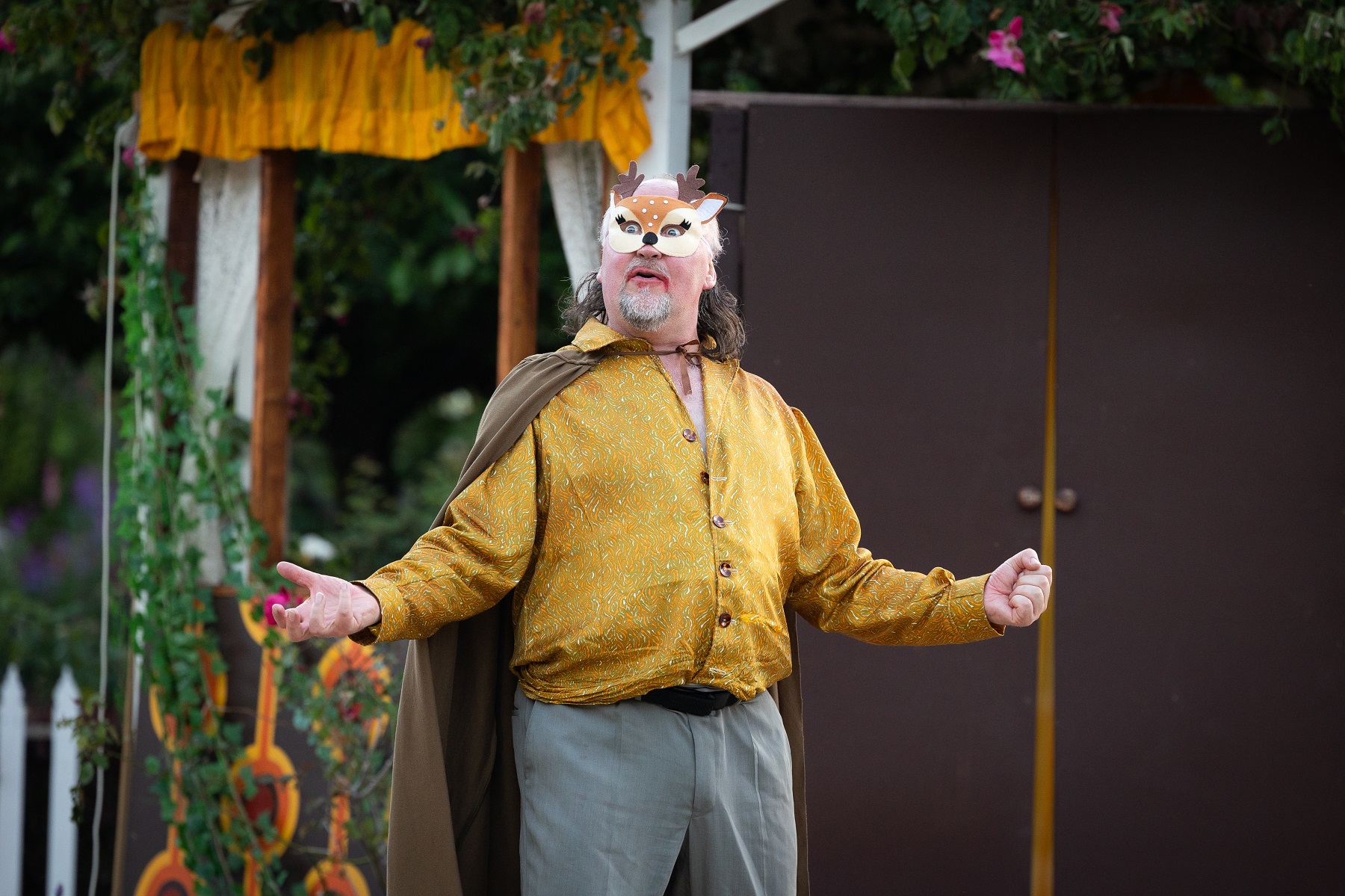 All the cast, which also includes May Jasper, Andrew Dang, Ellis Dolan and Alice Albon, look as if they are really enjoying themselves presenting the comic dialogue and the music. This is especially so for Robertson, Vizcay-Wilson and Broadstock who are a delight to watch.
The fun storyline, the music, the work of the cast and a running time of 90 minutes ensure The Merry Wives of Windsor is suitable for all ages. However, as the company does warn, there is no shade and as a Melbourne summer can get very hot sun protection is recommended for matinee performances.  Seating is provided and patrons are welcome to bring a picnic.
The Merry Wives of Windsor is on until December 24.  Visit melbourneshakespeare.com for more information.
* Photo Credit: Shae Khreish
Jenny Burns attended the opening night of The Merry Wives of Windsor as a guest of the production company.
live shows

,

Melbourne

,

reviews
Subscribe to my e-mail newsletter to receive updates.
We respect your privacy.
Unsubscribe at any time.