There are two ways to view the very entertaining Velvet, the disco-burlesque-acrobatic show playing at Melbourne's Malthouse Theatre.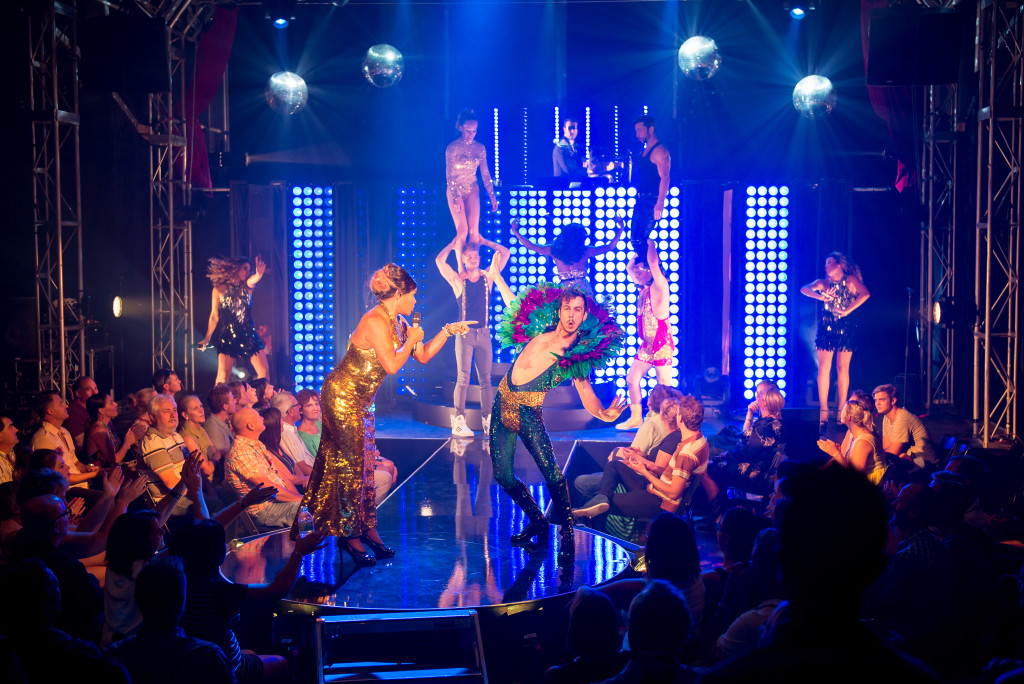 According to the show's creators Velvet is the story of a young man on a path of self-discovery and sexual awakening. He arrives at a disco, loosely based on New York's famous Studio54, uncertain and confused. By the end of the show he is confident and aware of his sexuality. However there is no dialogue.  His transition is described through disco hits such as If You Could Read My Mind, Never Knew Love Like This Before, It's Raining Men, No More Tears and Stayin' Alive and the performances of a talented cast of singers, acrobats and dancers.
Velvet can also be seen as  a 75 minute high energy stage show combining popular disco songs with some impressive circus style acts on a catwalk style set. Whichever way you look at it Velvet is a most entertaining show with some great performances.
Leading the way is  Marcia Hines who, if you are following the story line, plays the diva who helps our young man's `self-discovery'.  Brendan Maclean, the young man in question, also gives a great performance. Chaska Halliday and Rechelle Mansour present some songs, provide back-up to others and dance up a storm – resulting in many costume changes. Musical director Joe Accaria provides the musical support which includes a percussion solo.
German born handstand acrobat Mirko Kockenberger gives an eye catching performance to open the show. Contrasting with his physique is the most entertaining Scottish hula hoop artist, Craig Reid. There are also strong acrobatic and sensual performances (including a S&M scene)  from Stephen Williams and Emma Goh.
The music and sets provide those of `a certain age' the chance to relive the disco age and for those too young to remember an opportunity to see what all the fuss was about. The crowd on opening night in Melbourne tended to fall into the first category ensuring lots of boogying  which added to the show's already evident great energy.
Velvet is playing at the Coopers Malthouse until April 17. It then moves to the Queensland Performing Arts Centre from April 20 to May 15.
For more information and tickets visit velvettheshow.com.
Jenny Burns attended the opening night of Velvet on March 24 as a guest of the show.
live shows

,

Melbourne

,

review
Subscribe to my e-mail newsletter to receive updates.
We respect your privacy.
Unsubscribe at any time.