Disney's  Aladdin , now playing at Melbourne's Her Majesty's Theatre, sparkles in every way.
There's the sparkle created by the many sequined and gem-encrusted opulent costumes and extravagant sets. Then there are the performances by the cast. Add pyrotechnics, very colorful, brilliantly choreographed dance routines and even a flying carpet and you can see why Disney's Aladdin is described as one of the most lavish shows to tour Australia. It certainly has a 'no expense spared' feel about it.
The musical is based on the Disney 1992 film of the same name which in turn was based on a Middle Eastern folk tale written by a Frenchman, Antoine Galland.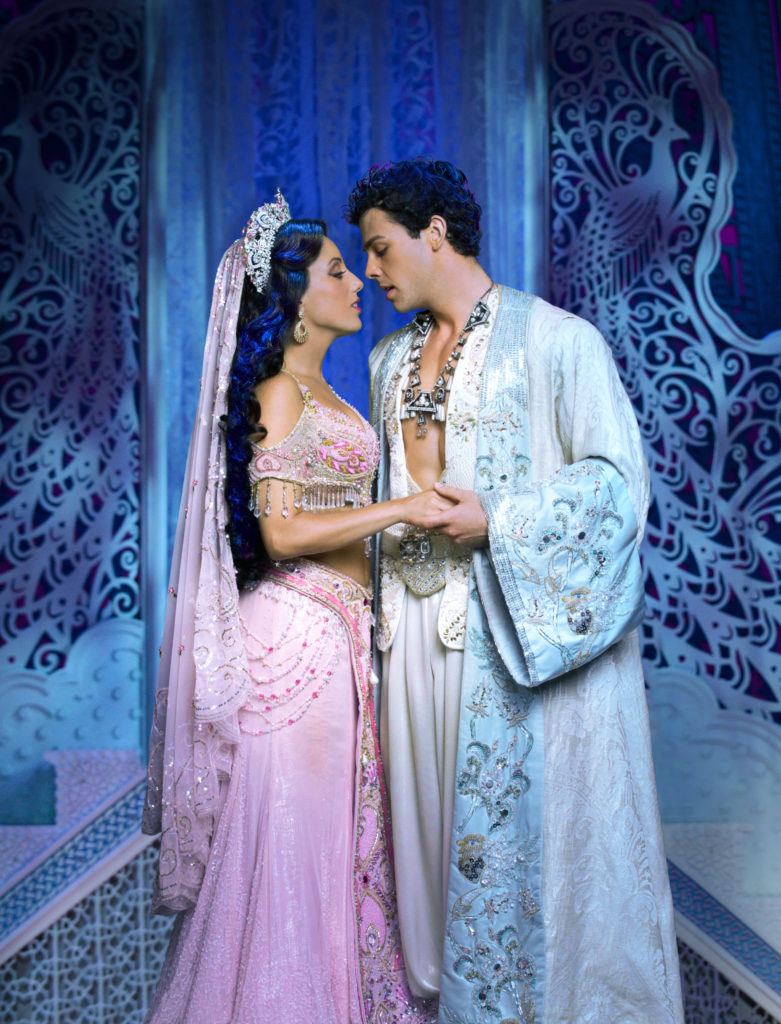 It tells of poverty stricken Aladdin (Ainsley Melham) who meets Princess Jasmine (Hiba Elchikhe) in the marketplace. Both feel trapped by circumstance – Aladdin by being poor and Jasmine by her lack of freedom of choice – and sparks fly.
Of course there are many barriers in the way of their love including the scheming and power-hungry vizier, Jafar (Adam Murphy) and his off sider Iago (Aljin Abella). But with the help of Genie (Michael James Scott) and Aladdin's friends Babkak (Troy Sussman), Omar (Robert Tripolino) and Kassim (Adam-Jon Fiorentino) true love prevails.
While there are some similarities between the movie and stage show, there are also major differences. The stage production features new songs, new cast members (as a result of people replacing animals), extended dance routines and references to such Australian delights as Vegemite and Tim Tams.
Several existing songs have also been extended including the wonderful Friends Like Me, which is performed within the Cave of Wonders. This is the show's most impressive number thanks to the spectacular set, the choreography of the many different dance routines and the show-stopping performance of American star Michael James Scott. While Scott's enthusiasm, acting abilities and connection with the crowd shines through throughout the show, his energy level in Friends Like Me is remarkable.
Like all the cast members he's perfect for the role he plays.
Ainsley Melham shows his great singing and dancing skills as well as an impressive six-pack which his costumes perfectly highlight! He has a great rapport with English actress Hiba Elchikhe, who also shows her many musical abilities. Their number, A Whole New World, is another of the show's memorable moments thanks to both their skills and a technically amazing `flying carpet'.
Adam Murphy and Aljin Abella are great as the scheming baddies with their evil laughs a highlight. Troy Sussman, Robert Tripolino and Adam-Jon Fiorentino show both their comic and musical skills. Their `swashbuckling' exploits in High Adventure is yet another show highlight.
The leads are well supporting by an energetic ensemble, who dance up a storm in a number of scenes.
It's this energy, together with the glitzy and glamorous feel of the show, many funny lines and continual colour and movement which ensures Aladdin offers something for all ages.
Aladdin is playing at Her Majesty's Theatre with tickets currently on sale up until October. Visit the Aladdin website  for more information and tickets.
*Jenny Burns attended a preview of Aladdin as a guest of the show's producers.
Visit travelswithjb.com.au-live shows for more show reviews.
live shows

,

Melbourne

,

reviews
Subscribe to my e-mail newsletter to receive updates.
We respect your privacy.
Unsubscribe at any time.