A satirical horror movie that isn't too graphic and highlights the challenges of parenting is rather unusual.
Yet M3GAN, the latest offering from two of the most prolific minds in horror — James Wan (Saw, Insidious and The Conjuring franchises), and Blumhouse, (The Black Phone and The Invisible Man) – is such a film.
There are plenty of scenes to satisfy horror fans: after all the movie is about a killer doll!
But with a PG13 rating in the United States and a M rating in Australia, M3GAN is tolerable for those who aren't fans of horrific violence on movie screens. And there are plenty of laughs.
The black humour is evident from the start with the movie opening with a commercial about the Funki toy company's PurRpetual Pet, a googly-eyed, troll-like furball that can talk and eat, as well as pass wind and poo. Unlike a real pet, it never dies!
Playing with one of the toys in the back of her parents' car is eight-year old Cady (Violet McGraw). The toy was a present from her aunt, brilliant toy-company roboticist Gemma (Allison Williams), who works at Funki.
Tragedy strikes and the single, career-driven Gemma suddenly finds herself the  guardian of her traumatised niece. Having little experience with children, especially one who has experienced such trauma, Gemma's interactions with Cady are at first strained and difficult to watch.
But then Gemma discovers Cady's connection to one of her college robotic creations, the Artificially Intelligent  (AI) Bruce. This connection further encourages Gemma to continue work on the prototype of new toy she is developing – M3GAN (Model 3 Generative Android) – despite some laboratory setbacks.
Gemma and her team are designing the 1.22 metre tall life-like doll to bond with the child that owns it, learning  from the  child's interactions. The ultimate aim is for the toy to become the child's friend, teacher, playmate and protector.
Desperate to help Cady and their relationship Gemma gives her niece the prototype of M3GAN. At first it's a great success, so much so that Gemma's boss David (Ronny Chieng) pushes company executives to immediately launch the toy commercially.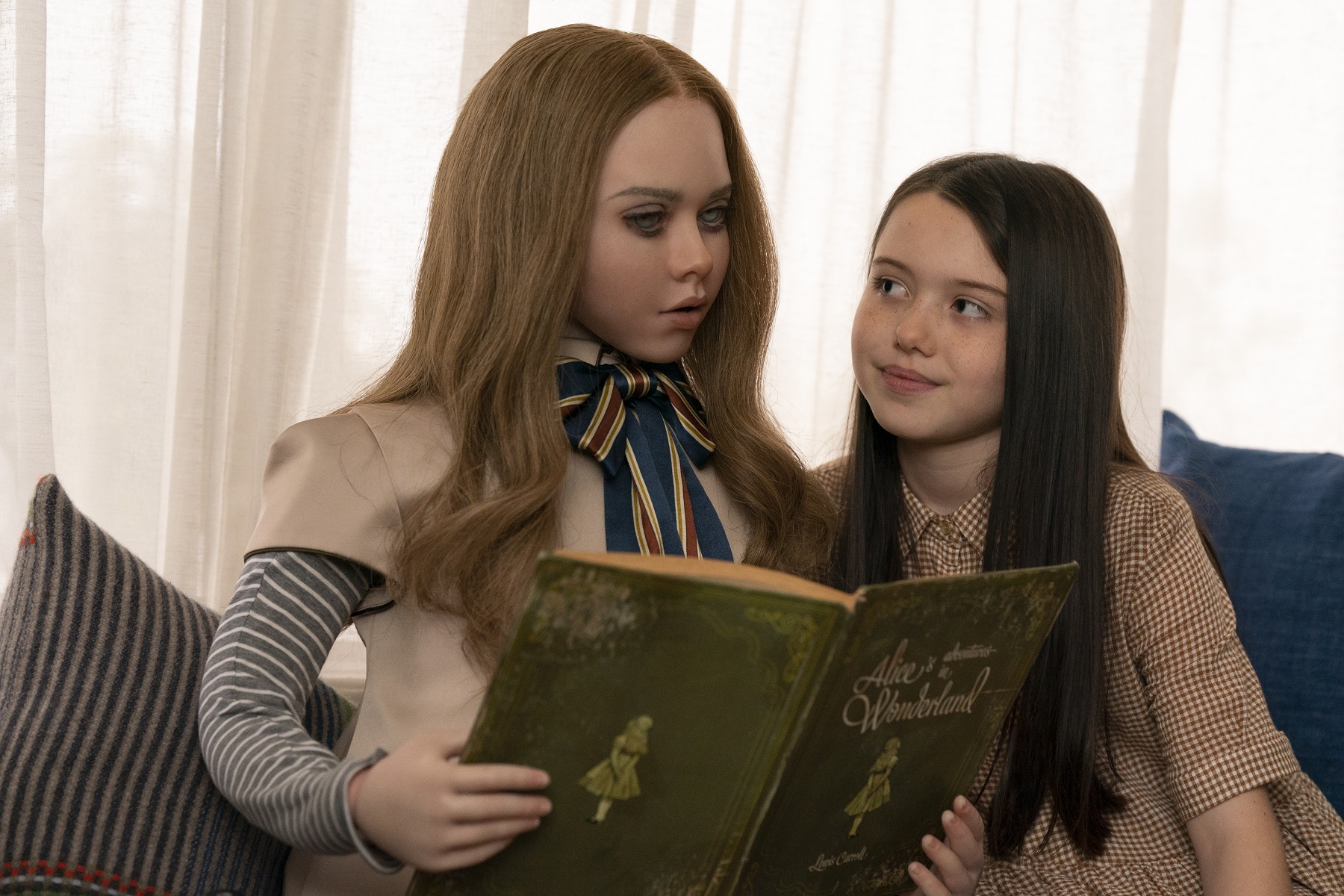 However as with all AI prototypes there are glitches. It's these glitches that provide the 'horror' component of the movie.  Upsetting Cady is not a good idea as the next-door neighbour and her dog, a boy who is a bully and certain executives discover!
Watching the highly intelligent, singing and dancing M3GAN, even when she's not on a murderous rampage, is rather disconcerting.  Much of the credit goes to the designers who used puppetry, animatronics and special effects together with the moves of dance performer Amie Donald and voice work of Jenna Davis to create M3GAN.
Williams gives a strong performance as the career-driven young executive who thinks she is doing the right thing but who slowly realises the monster she has created. Her fear of the actions of the increasingly dangerous and uncontrollable M3GAN is clearly evident.
McGraw is very believable as a grief-stricken and lost child in desperate search of a friend but who also knows what she wants, especially when it comes to M3GAN.
While the emphasis of M3GAN is on the horrors created when AI goes wrong, there is also an underlying theme which highlights parents' reliance on technology in raising their children and the impact of such technology.
One wonders how correct Gemma's initial assumption is that many parents would welcome such a toy as M3GAN albeit without the murderous glitches!
M3GAN is now showing in Australian cinemas.
*©2023 UNIVERSAL STUDIOS. All Rights Reserved.
Subscribe to my e-mail newsletter to receive updates.
We respect your privacy.
Unsubscribe at any time.