AAT Kings' Katherine Gorge Cruise and Edith Falls day tour from Darwin proved to be a very long but successful day.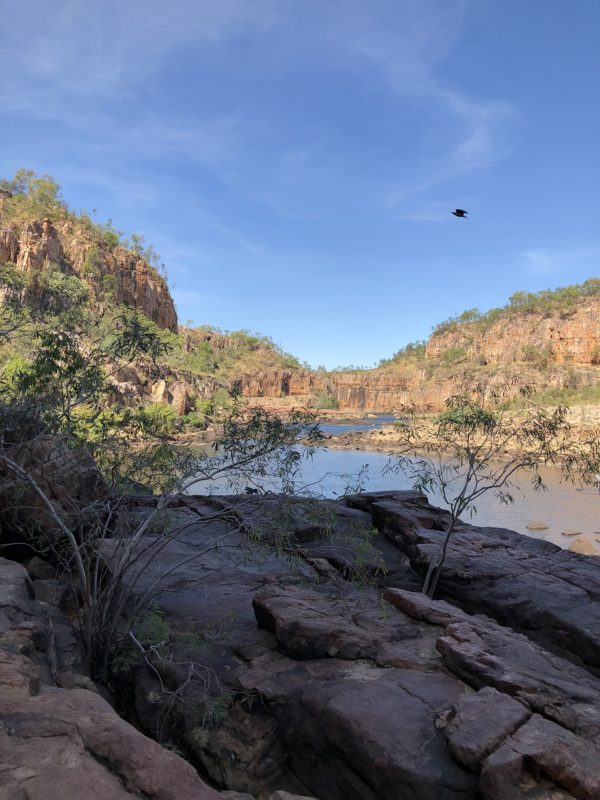 The pick-up from my Darwin hotel was scheduled for 6.10am (although the coach didn't come until after 6.30am) and I was dropped back at the hotel around 9.30pm.
Our itinerary included around 20 minutes at the very moving Adelaide River War Cemetery, a half hour stop at Leliyn (Edith) Falls, where several in our group enjoyed a swim, and a two hour cruise on Nitmiluk (Katherine) Gorge which took in two of the very picturesque gorges.
The tour also included a drive through Katherine and Pine Creek (no stops were made).
Along the way our driver/ guide, Sandy, pointed out the main attractions and explained the joys and challenges of living in Darwin and the Top End.
While most of our group of around 30 were rather tired at days' end, the general mood suggested it was a day well spent.  There was some frustration at the lack of time to fully explore the cemetery and Leliyn Falls . However given it's around a 700 kilometre return trip between Darwin and Nitmiluk Gorge, the itinerary's timings are understandable.
What: AAT Kings' day tour Katherine Gorge Cruise and Edith Falls
When: May 21, 2018
Who: Jenny Burns
How did it Rate
For more information on the tour visit the AAT Kings website.
Visit travelswithjb.com.au/Northern Territory for more reviews of Northern Territory experiences.
Subscribe to my e-mail newsletter to receive updates.
We respect your privacy.
Unsubscribe at any time.