Amanda Muggleton's one woman play, Coral Browne: This F***ing Lady, is likely to be an eye-opener for many.
Listening to audience members after the show, playing at the Brunswick Ballroom, it seems few knew about Coral Browne.  Yet this colourful and flamboyant internationally renowned Australian actress was a trend setter.
Born in West Footscray in 1913, Browne left Melbourne for England as a 21-year-old in the 1930s after a successful stage career with JC Williamson. Here she forged a reputation as a popular West End performer and later a brilliant classical actor with The Old Vic and The National.
She also had many memorable screen performances including roles in Auntie Mame, The Killing of Sister George, Dennis Potter's Dreamchild and Alan Bennett's An Englishman Abroad in which she played herself, touring to Moscow with Hamlet and encountering the British spy Guy Burgess. It earned her a BAFTA award for Best Actress.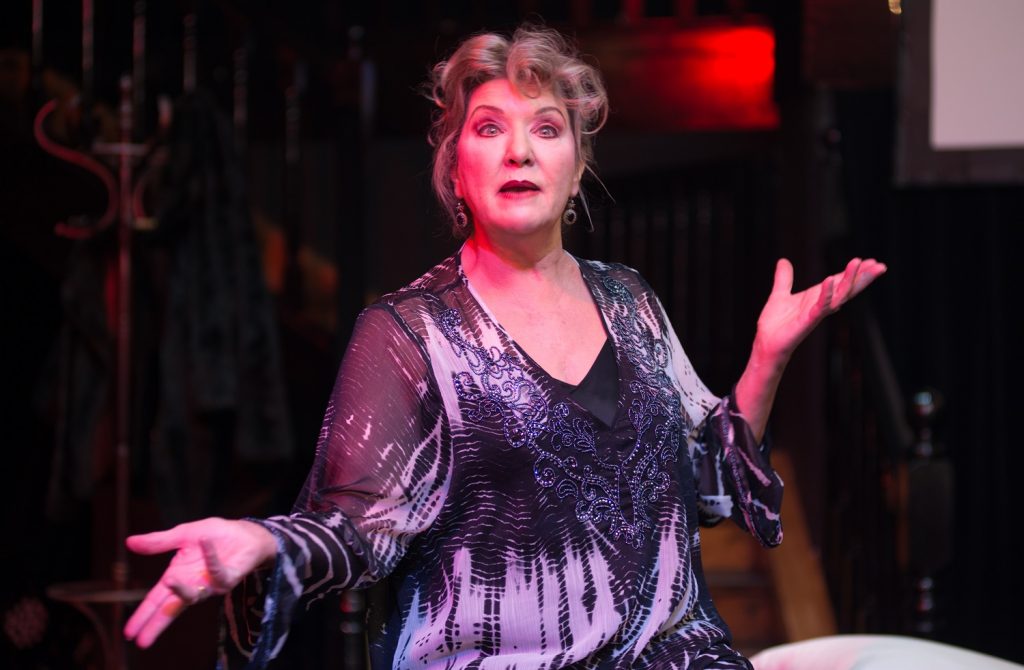 Off stage Browne, who died in 1991, was known for her wit, glamour and extremely colourful language which comes to the fore during this production. This isn't the show for anyone adverse to four letter words – as the title suggests!
She was equally well known for her numerous relationships with men and women. During the show we hear of her affairs with Paul Robeson, Jack Buchanan, Maurice Chevalier and Cecil Beaton and her happy marriages to homosexual actor Philip Pearman and horror movie icon Vincent Price.
Having seen a previous production of Maureen Sherlock's play several years ago I had some knowledge of Browne, but thanks to Muggleton's  excellent performance and the setting, this presentation provided a different perspective.
Given the play, directed by Nadia Tass, is on as part of the Melbourne International Comedy Festival, there are plenty of laughs as Muggleton's Browne explores in sometimes explicit detail, the highlights of her career and love life.
But there are also poignant moments. It's obvious Browne's fractured relationship with her mother had a long-lasting impact on her.  And she was aware of what was said about her philandering ways behind her back.
The set-up of the stage at the Brunswick Ballroom and the props ensures Muggleton has room to move while a TV monitor provides pictorial support to her words. As a result this 65 minute production, like Browne's story, is lively and entertaining.
Coral Browne: This F***ing Lady is playing at the Brunswick Ballroom on selected dates during April and May. Visit the Brunswick Ballroom for more information and tickets.
Jenny Burns attended the opening night of Coral Browne: This F***ing Lady as guest of the show
*Photo credit David Parker.
Subscribe to my e-mail newsletter to receive updates.
We respect your privacy.
Unsubscribe at any time.