National Theatre Live's screening of Amadeus provides yet another opportunity to experience a masterful English theatrical performance.
Lucian Msamati has understandably been hailed for his portrayal of Salieri in this new production of Amadeus, which played to sell-out crowds at London's Olivier Theatre earlier in the year.
Through NTL's filming a performance of the play, Australian audiences can see Msamati in action with screenings being held in selected cinemas from May 6.
Another highlight of the play is its staging with the 20-strong Southbank Sinfonia and six singers integrated into the action.
As a result, audiences hear and see excerpts of Mozart's best-loved masterpieces including The Magic Flute, The Marriage of Figaro and Don Giovanni being performed on stage.
First staged in 1979, Amadeus is playwright Peter Shaffer's dramatic fictionalisation of the imagined actions of Antonio Salieri (composer and director of opera to the imperial court in Vienna) to ruin the more talented Wolfgang Amadeus Mozart.
Salieri's reasons are complex – he feels personally betrayed by God for making Mozart a better musician than he is and he wants to punish both.  He also realises he is the sole person in Vienna capable of appreciating Mozart's genius.  Coming to the end of his life, Salieri explains how he successfully destroyed Mozart's life and career.
While Salieri is portrayed as a complex and unhappy man, Mozart (played by Adam Gillen) is, to put it politely, `a pain'! He is immature, rude, lacking in any social skills and overly-confident in his own ability. He is so busy showing off he fails to see how he alienates everyone around him, including his wife Constanze (played by Karla Crome).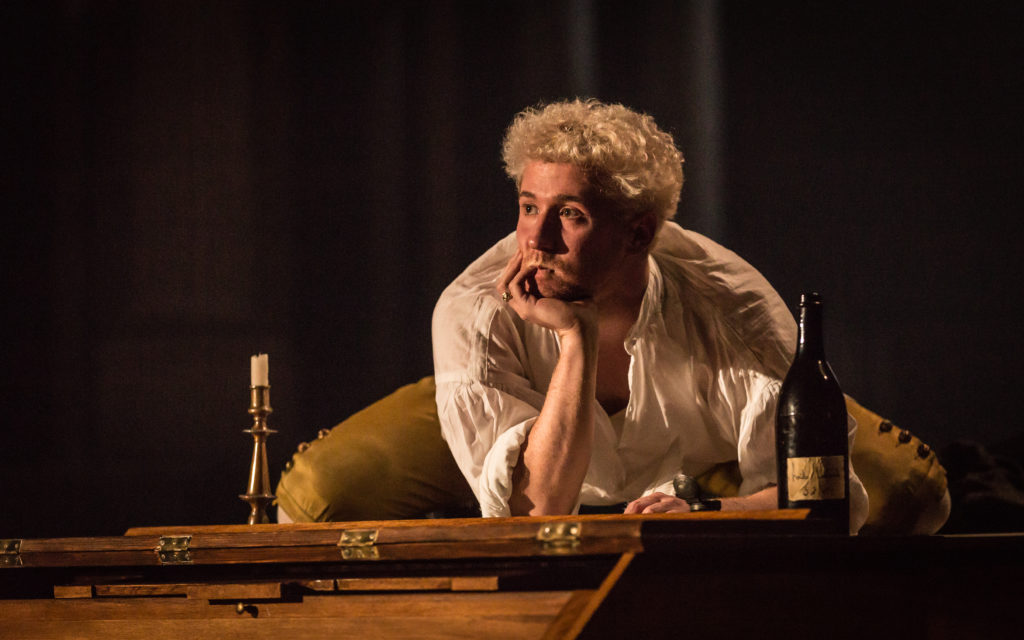 As well as including the Sinfonia on stage, director Michael Longhurst has also modernised certain parts of the play with donuts and contemporary mood music featuring in some scenes. This appeared to alienate a few around me . While it didn't worry me, I felt the play could have been a little tighter – it runs for about three hours. But thanks to the performances of the actors and the music, it was time well spent.
National Theatre Live's screening of Amadeus is playing at selected Australian movie cinemas from May 6. Visit National Theatre Live or Sharmill Films  for more information.
Jenny Burns attended a preview of Amadeus as a guest of Sharmill Films.
*All images by Marc Brenner.
Visit travelwithjb-movie-reviews for more movie reviews.
Subscribe to my e-mail newsletter to receive updates.
We respect your privacy.
Unsubscribe at any time.