Knowledge of Philip Pullman's fantasy books isn't needed to enjoy National Theatre Live's screening of the play The Book of Dust – La Belle Sauvage, but it helps.
As a `newbie' to Pullman's famous His Dark Materials series it took me a while to work out what was going on and, not being a fan, there are things I'm still unsure of.
However, that didn't stop my enjoyment of the play. And, as is the case with all NTL productions, it's great to see plays performed in English theatres in Australia albeit through the lens of a camera.
It's no surprise The Book of Dust played to audience and critical acclaim during its three-month run at Britain's Bridge Theatre earlier this year. The acting is excellent and the staging most imaginative.
The Book of Dust is the prequel to Philip Pullman's phenomenally successful His Dark Materials trilogy, set in a retro-futurist fantasy world where every human has a soul-animal called a daemon. The Book of Dust is also a trilogy. La Belle Sauvage is the first book.
Set 12 years earlier than His Dark Materials it tells of two teenagers, Malcolm Polstead and Alice Parslow, quest to save baby Lyra Belacqua (who grows into His Dark Materials' heroine).
Lyra is being hunted by the sinister Magisterium, a religious organisation which is tightening its authoritarian grip on the secular government. The Magisterium fears Lyra will eventually become a major threat to the organisation.
Lyra's mother, Mrs Coulter, is searching for the child, who is the result of an affair with Lord Asriel. The ruthless Mrs Coulter is a true believer of the Magisterium and is being aided by the organisation's secret police force in her search for her baby.
Violent and disgraced scientist Gerard Bonneville is also searching for Lyra in the hope of currying favour with the Magisterium. Lord Asriel is trying to protect his daughter believing a priory run by caring nuns is the safest place for her.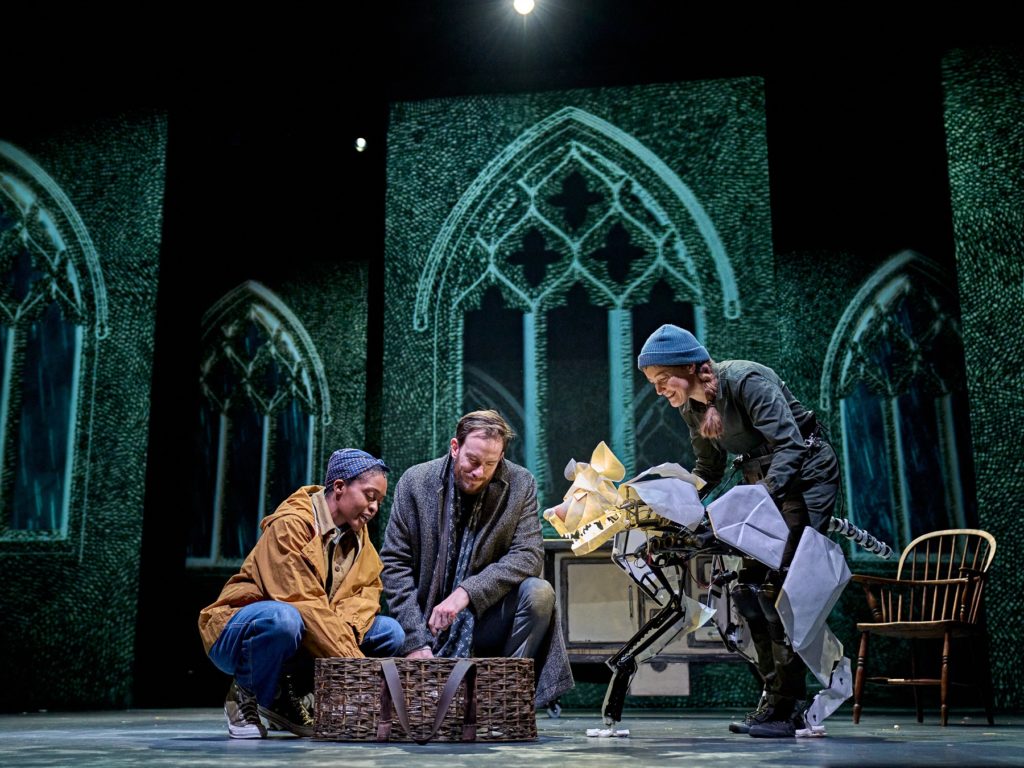 Lyra's safe haven is eventually discovered resulting in 12-year-old Malcolm and Alice embarking on a quest to save her from both the forces of evil and a flood of biblical proportions. Malcolm's canoe, La Belle Sauvage, plays a major role in the rescue.
At the same time a group of Oxford academics are trying to unravel the heretical enigma of Dust, cosmic matter associated with consciousness, and therefore with freedom of thought.
Adult actor Samuel Creasey gives a standout performance playing the cheeky, outspoken and earnest Malcolm. Ella Dacres is equally as impressive as the often prickly runaway teenager Alice.
Ayesha Dharker as the scheming Mrs Coulter, Pip Carter as the evil Bonneville and John Light as the dashing adventurer Lord Asriel also give great performances.
Generating far and away the greatest response from both the live audience and those watching the film was baby Lyra. As we learned from an interview with the play's director, Nicholas Hytner, three different babies were used (as well as dolls in scenes where it was more appropriate) and all loved the stage. This was certainly true of the baby we watched.
Other interviewees associated with the play's production explained the imaginative technology used to bring often challenging scenes to the stage, especially those which involved the massive flood. We also learnt more about the creation of the daemons that accompany every actor on stage.
Interviews with those associated with the production are always a highlight of NTL screenings. This was especially so in the case of this production given my lack of knowledge of Pullman's work.
The Book of Dust – La Belle Sauvage opens at selective theatres around Australia on April 30.
*Photo credit: Manuel Harlan.
Subscribe to my e-mail newsletter to receive updates.
We respect your privacy.
Unsubscribe at any time.