Seeing animals is a challenge on any wildlife cruise. After all there's lots of water to explore!
Fortunately our guides on Sorrento's Moonraker Dolphin Swim's 90 minute Adventure Cruise on February 27 had no such problems.
On more than one occasion they expressed their amazement at the number of dolphins we saw only minutes after leaving the Sorrento pier.
When we first saw the dolphins they seemed in a hurry, swimming at a great rate of knots. This, we were told, indicated they were busy feeding. Later they seemed slower and quieter. A dolphin calf happily jumped out of the water while there were plenty of dolphins swimming next to and under our 12.5 metre rigid-inflatable boat.
The sightings were especially rewarding for a couple of our fellow passengers who, on a previous cruise, didn't see one dolphin.  They joined our cruise as part of Moonraker's offer of a free return trip if no dolphins are seen.
While most of our cruise was spent watching the dolphins we saw plenty of other wildlife.
At Pope's Eye Marine Park we cruised past hundreds of Australasian Gannets and several other bird species while at Chinaman's Hat there were plenty of Australian Fur Seals to observe.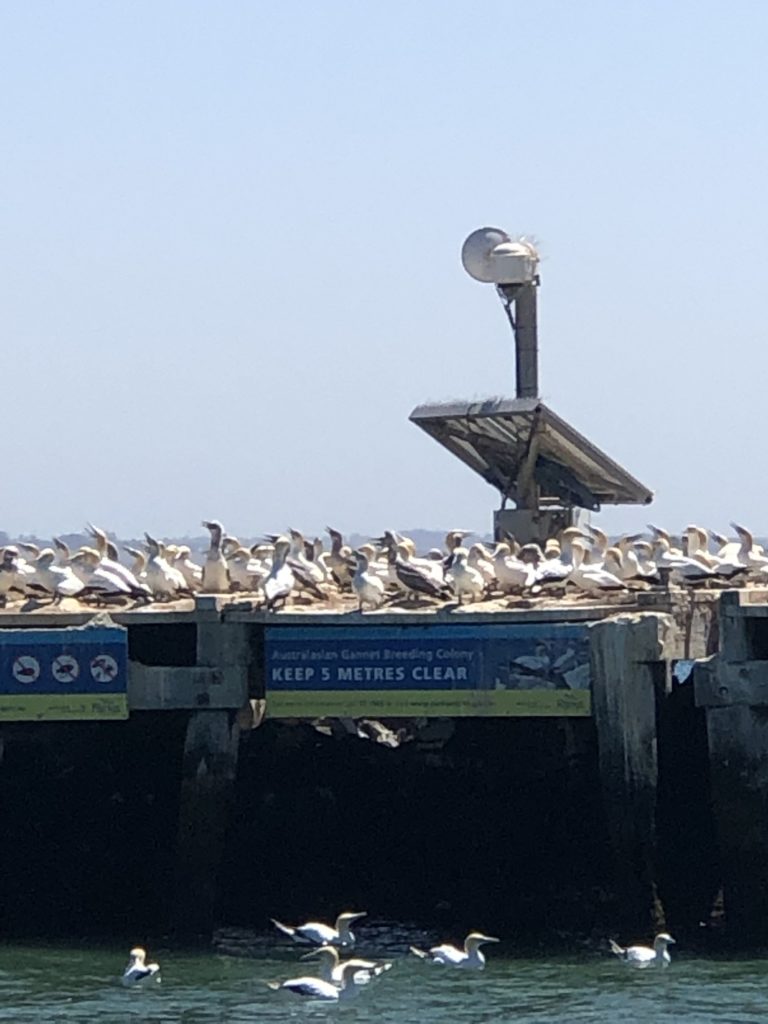 As was the case with the dolphins, the seals also looked like they were having great fun in the water. The many sleeping on the man-made structure seemed rather grumpy!
Our knowledgeable guide and captain, together with a recorded commentary, ensured we were experts on the behaviours of all the wildlife we saw.
The commentary also highlighted the owners of some of the most spectacular houses along the stretch of coast between Sorrento and Portsea (information which seemed a little lost on the international visitors on our tour!)
We also learnt more about Point Nepean National Park and the Quarantine Station.
However given the smiles from my fellow passengers seeing dolphins was definitely the highlight of the cruise.
For more information on Sorrento's Moonraker Dolphin Swim's 90 minute Adventure Cruise visit the company's website.
cruising

,

dolphins

,

Mornington Peninsula

,

wildlife
Subscribe to my e-mail newsletter to receive updates.
We respect your privacy.
Unsubscribe at any time.