The Production Company's new adaption of Jerry's Girls  highlights the songs of Jerry Herman and the wonderful talents of some of Australia's top female stage performers.
The show was conceived in the 1980s to pay tribute to Herman's greatest show tunes for women. The creator of such hits as Hello, Dolly!, Mame and La Cage aux Folles, Herman is regarded as one of the music theatre's most successful composer/lyricists.
The production originated with three leading ladies but subsequent revivals have seen the numbers grow. This Production Company adaption, written by director Dean Bryant, features 11 of Australia's top female performers – Rhonda Burchmore, Nancye Hayes, Silvie Paladino, Christie Whelan Browne, Virginia Gay, Claire Lyon, Kirby Burgess, Chelsea Gibb, Debora Krizak, Josie Lane and Natalie O'Donnell.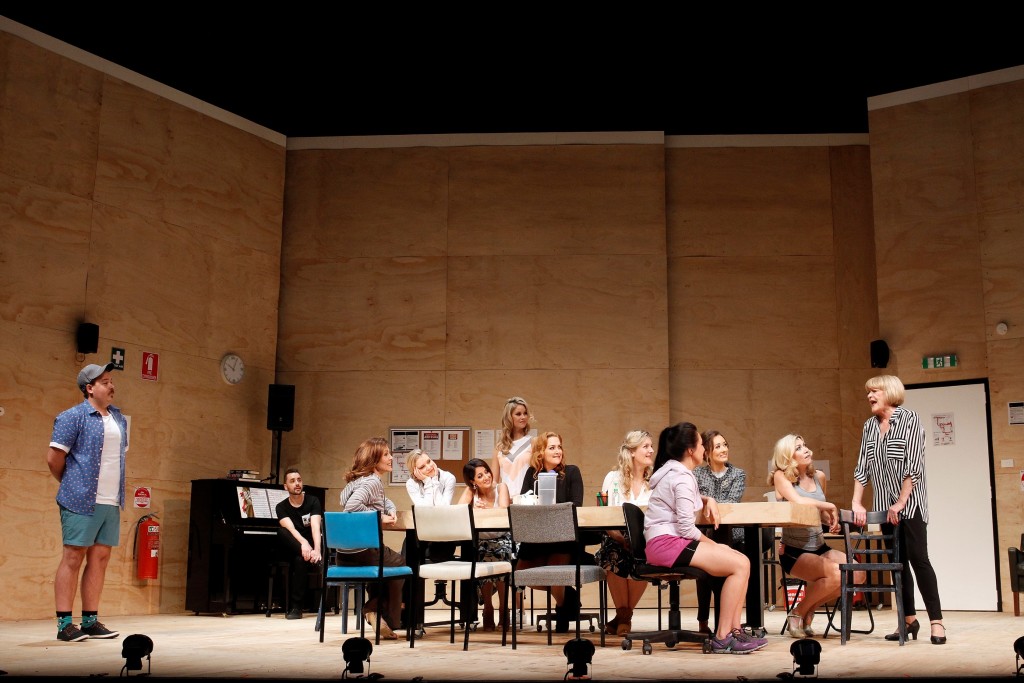 The story-line has also changed with Bryant presenting a show based around the preparation and performance of the stage show. As a result a large part of the production is set in a rehearsal room with the cast preparing for the show, of which we also see parts.
All the actresses play themselves which at times can be very funny. They seem to take great pleasure in making fun of themselves and their co-stars. While the scripting was no doubt undertaken in conjunction with the women, one does wonder how much of it is true! There were also a number of `in jokes' which I didn't understand.
Not being too familiar with Herman's music I can't comment on the songs chosen, although a couple I knew – such as We Need A Little Christmas and Mame – weren't presented in full. Instead, like several of the 32 songs featured, they were only sung in part during rehearsal scenes. These rehearsal scenes also featured some songs sung in full, while other numbers were presented as complete costumed stage productions.
All the actresses did a great job with their songs, with Debora Krizak's performance as an aging stripper providing the greatest laughs. The one male in the show Brent Hill, who played the show's director, (Dean Bryant), was also excellent.
Most importantly everyone involved looked as though they were really enjoying themselves. This is the without doubt one of the joys of the production – it's great fun.
Combine this with some wonderful songs and music, provided by Orchestra Victoria, and you have all the ingredients of a very entertaining show.
Jerry's Girls is playing at Arts Centre Melbourne's Playhouse Theatre  until December 6.  Tickets are available at Arts Centre Melbourne or by ringing 1300 182 183.
Jenny Burns attended Jerry's Girls as a guest of the Production Company.
Photographs by Jeff Busby.
live shows

,

Melbourne

,

reviews
Subscribe to my e-mail newsletter to receive updates.
We respect your privacy.
Unsubscribe at any time.