Artefact Theatre Co.'s production of William Shakespeare's Much Ado About Nothing is a fun theatrical experience thanks to an intimate setting, a comic storyline and a very enthusiastic and talented cast.
Playing in St Martin Youth Theatre, audiences have the option of sitting on plush cushions next to the stage or on seats. A couple of those on the cushions were so close to the action they became involved in the show. At the same time those of us on the seats could clearly see every actor's facial expression and actions. And those actions were mostly very humorous.
Artefact's adaptation of Shakespeare's 16th century comedy takes place in the Melbourne suburb of Fitzroy.
Leonato (Francis Greenslade), a local MP, lives here with his lovely daughter Hero (Sarah Oliver), his playful, clever niece, Beatrice (Cazz Bainbridge) and his sister Antonia (Kaarin Fairfax).
The action starts when Leonato welcomes a group of  soldiers home from war. They include his good friend Don Pedro (Tim Constantine), a prince, and two fellow soldiers: Claudio (Louis Reed), a well-respected young nobleman and Benedick (Mark Yeates), a clever man who constantly makes witty jokes, often at the expense of his friends. Don John (Thomas Henry Jones), Don Pedro's illegitimate brother, is also part of the group.
When the soldiers arrive at Leonato's home, Claudio quickly falls in love with Hero. At the same time Benedick and Beatrice resume a war of witty insults that have been the hallmark of their previous dealings.  Claudio and Hero pledge their love to one another and decide to marry. With the help of Don Pedro they then hatch a plan to bring Beatrice and Benedick together even though the two have said they would never marry anyone.
Enter Don John who wants to disrupt everyone's happiness. He pays his companion Borachio (Christian Taylor) to make love to Hero's maid Margaret (Ella Lawry) at Hero's window in the hope Claudio will believe it is Hero.  His plan initially succeeds however, thanks to the work of the night watchman Dogberry (Ross Dwyer) and Friar Francis (Annabelle Tudor), it ultimately fails. At the same time after much verbal sparring Benedick and Beatrice find true love.
While much of the dialogue is traditional, the staging is most definitely modern with mobile phones, take-away cappuccinos and even a green `wheelie' bin all featuring. Indeed the bin takes centre stage in one of the play's funniest scenes – Benedick's eavesdropping on a conversation between Don Pedro and Claudio.
Mark Yeates' performance as Benedick is one of the highlights of the show. As was the case in his role as Algernon Moncrieff in the Importance of Being Earnest, Yeates' comic timing is impeccable. He is a delight to watch on stage.
Ross Dwyer's performance as Dogberry is also another comic standout.  The role of Beatrice proves the perfect vehicle for Cass Bainbridge's acting and comic skills while Francis Greenslade is very believable as Hero's father.  There are also strong performances from Tim Constantine, Louis Reed and Sarah Oliver.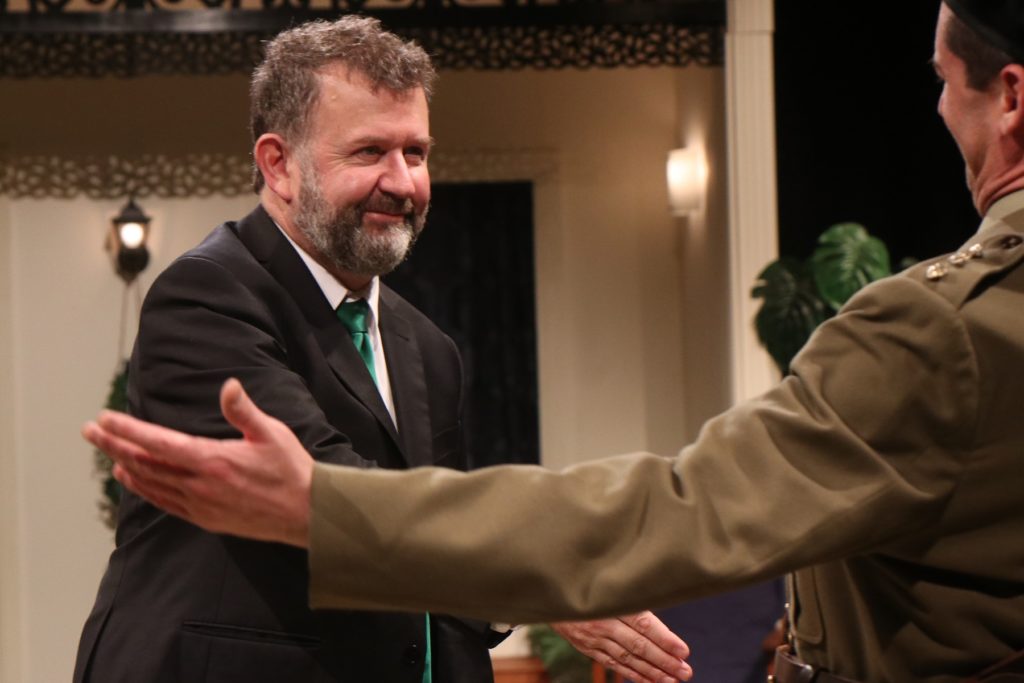 Oliver was one of several younger cast members who, as well as acting, also provided the musical accompaniment to the show's six musical numbers. Several of those numbers were written by the show's musical director Alec Steedman.
The stagecraft of both the younger and more experienced actors – under the expert direction of Matthew Cox – ensured those of us not used to Shakespearean dialogue kept up with the action.
Much Ado About Nothing is playing at St. Martin's Youth Theatre, 44 St Martins Lane, South Yarra, until November 9.  For more information and tickets visit the Artefact Theatre website.
*Jenny Burns attended the opening night of Much Ado About Nothing as a guest of Artefact Theatre Co.
Visit travelswithjb.com.au-live shows for more show reviews.
Artefact Theatre

,

live shows

,

reviews.
Subscribe to my e-mail newsletter to receive updates.
We respect your privacy.
Unsubscribe at any time.