A stay at Ramada Resort, Phillip Island offered clean, basic accommodation in an attractive bush setting.
Indeed its bush setting is the strongest selling point of the Ramada. A sunset walk revealed some wonderful views (aided by a full moon) over the surrounding countryside, while an early morning stroll was also enjoyable.
The resort features 211 studio spas, two and three bedrooms cottages, many of which are offered as holiday accommodation.
Having stayed at Silverwater, Phillip Island's other major resort, on a few occasions, I was interested in comparing the two properties. The verdict – the accommodation at Silverwater is superior while the Ramada offers more attractive surrounds. Ramada is also closer to Cowes and Phillip Island's other major attractions including the Penguin Parade.
The main disappointment of Ramada was the quality of accommodation.  While the structure of our two bedroom cottage was good (although the bathroom could be larger) the 'finish' was missing.
The floor in our cottage looked as if carpet had been removed, revealing scratched flooring underneath. The furnishings were a bit tired and the front door didn't open properly. Our cottage was, however, clean.
An outdoor table and chair setting allowed for meals or drinks on a sizeable deck, where native birds appeared.
As such the resort would seem to appeal to those looking for basic but clean accommodation in a bush setting.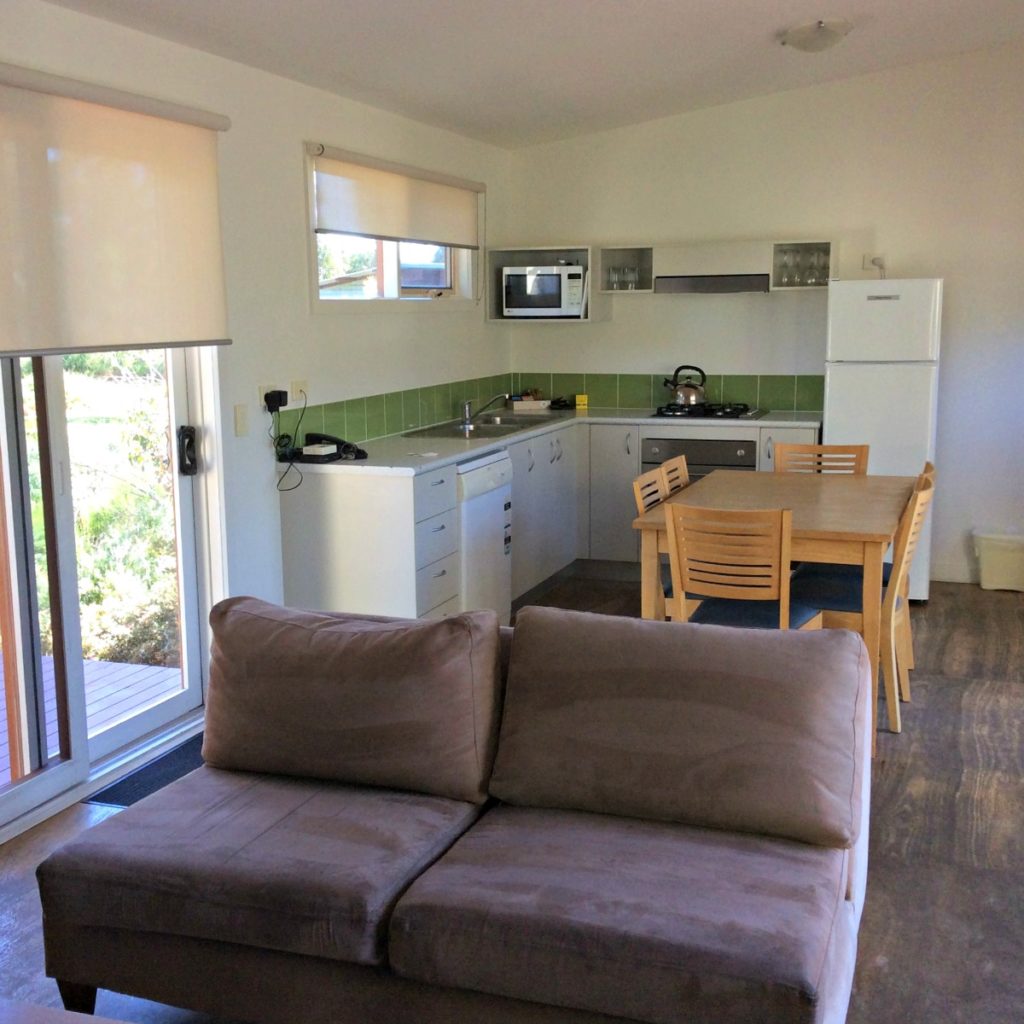 What:  Room 188, a two bedroom cottage at Ramada Resort Phillip Island
Who: Jenny Burns and Maggie Walsh
When:  December 11-13 2016
How Did It Rate
For more stories on Phillip Island see Viewing Penguins Underground at Phillip Island,   Managing Penguins and People on Phillip Island, Wildlife Always A Delight on Phillip Island, A Watery Adventure at Phillip Island, Antarctic Journey and Silverwater Resort.
accommodaition

,

Phillip Island

,

review
Subscribe to my e-mail newsletter to receive updates.
We respect your privacy.
Unsubscribe at any time.