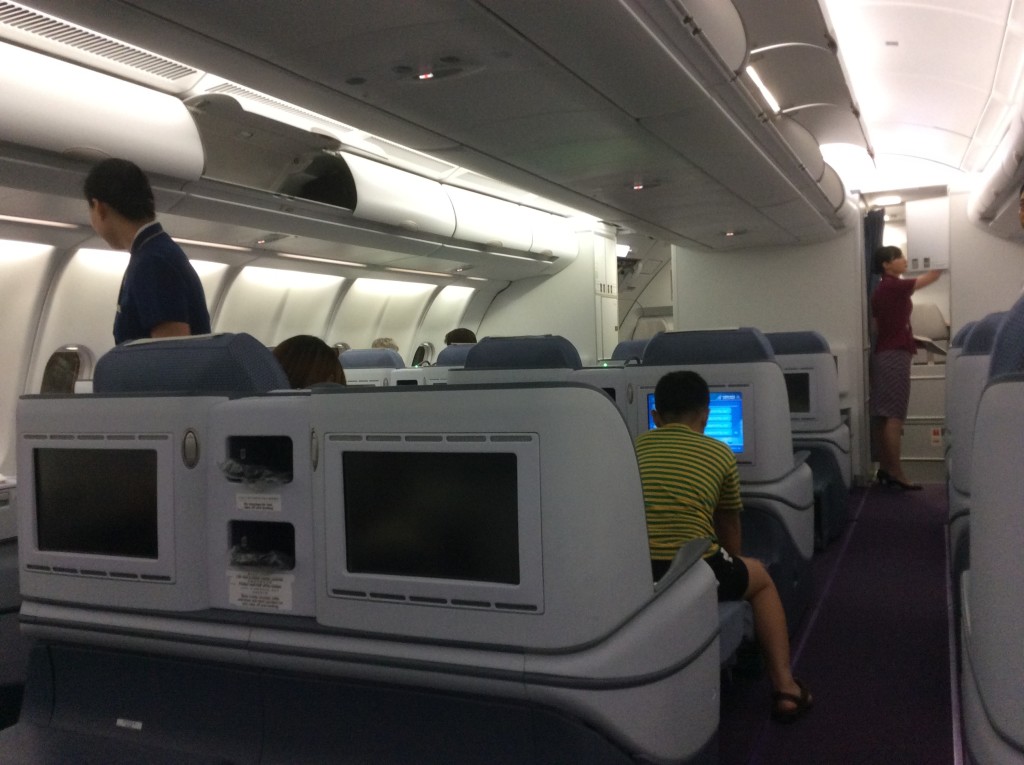 It has been a year since I last flew China Southern Airlines to London and after re-reading my review of those flights I realise little has changed.
The aircraft were the same and the skills of the flight attendants similar. Even the issues with the food were unchanged- both this year and last, the beef meal listed on the menu was no longer available by the time my order was taken. The only difference was that while last year the crew miraculously found the dish, this year I was out of luck!
Melbourne to Guangzhou
Meals
My airbus A330 flight from Melbourne to Guangzhou on August 4 left promptly at 10.30pm. Having enjoyed the hospitality of the Qantas Lounge (as do all China Southern business class passengers), I decided to forgo a full meal and just have cheese and biscuits. Had I been hungry I could have indulged in an entrée, soup and a main course which included four options- beef fillet, pan fried barramundi fillet, braised barramundi or lamb cutlets.
Breakfast the following morning included fresh fruit, cereal, yoghurt and assorted breads. The main course options were scrambled eggs, Belgium style waffles, Cantonese dim sum and beef noodle soup. Not being a fan of hot breakfasts, I opted for the yoghurt, cereal and bread.
Boarding
While the staff were a little flustered when we first boarded, the service was generally efficient and friendly, although occasionally there were some language difficulties. Slippers were proudly produced on arrival at my seat and a cold drink offered, (although no help was forthcoming with hand luggage).
My Seat
My lie flat bed/seat (4G) was comfortable and I slept for much of the nine hour flight to China, woken only by occasional 'bumps'. In the few hours between the serving of breakfast and landing in Guangzhou, I chose one of the movies on offer.
China Southern Guangzhou Business Class Lounge
The three hour layover before my London flight was spent in China Southern's business class lounge.
While not at all glamorous it provided the necessities – a shower, food, internet access and fairly comfortable chairs. The great disadvantage of the lounge was the temperature – it was extremely hot, especially in the upstairs area. There doesn't seem to be any air-conditioning, as was the case last year. The main terminal area is far cooler.
Guangzhou to London Heathrow
My flight from Guangzhou to London Heathrow in seat 14C on a Boeing 787 was probably the most disappointing of all my China Southern flights. Again there was no help with hand luggage, (desirable for shorter  ladies), and for the first time on all flights – no slippers were presented!
While the young flight attendant assigned to look after us was extremely enthusiastic and tried hard to please, there were a few issues- none of which were of her making.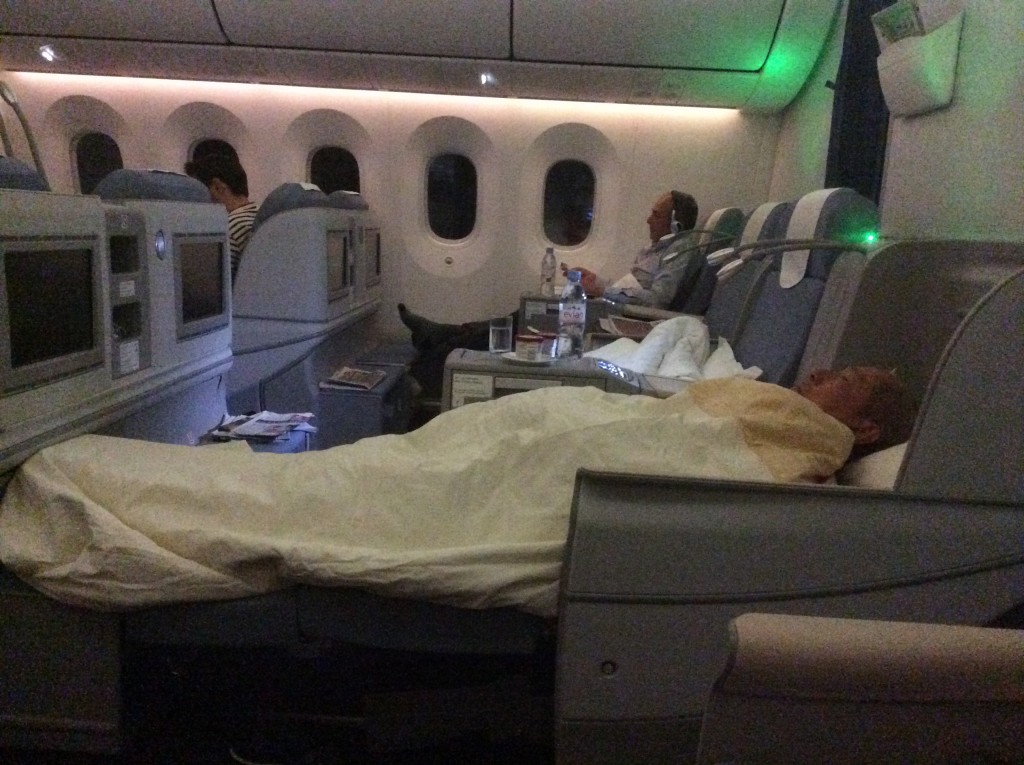 Meals
With a departure time of 9.30am and a meal service an hour later, I felt more like lunch than another breakfast. The three hot meal options – Egg Florentine with chicken sausage, plain congee or China Southern Deluxe Beef Noodle Soup Ensemble didn't inspire, so it was more cereal, yoghurt and bread! The passenger sitting next to me, a frequent business class flyer, was less than impressed with his choice- the Egg Florentine.
At the same time as ordering breakfast – (all meals and alcohol are ordered just before take-off) – I discovered my `light dinner' preference, grilled beef tenderloin, wasn't available. The other main course options of grilled sea bass, roasted pork jowl with shrimp mouse or hot pot rice with preserved meat, didn't appeal so the only option was an economy-class beef meal, which wasn't very appetising. Fortunately the cheese and biscuits and ice cream were more to my taste!
My Seat
Given the 12 hour flight was mainly during daylight, sleeping was difficult however my aisle seat/lie flat bed was comfortable. My seat – 14 C was in the second business class cabin just in front of the first row of economy seats. I preferred my seat last year  12 C- as there was less noise and `traffic.'
The entertainment program included a number of Hollywood movies (although no current blockbusters), along with Chinese, French and various world movies. There were also a number of TV series on offer.
Arrival
Our flight arrived at Heathrow's Terminal 4  around 3pm and as we were the only flight landing it was a quick trip through Immigration – always a welcome occurrence.
In summary
These latest  flights have done little to change my opinion of China Southern's business class – had I been looking for first class food or service I would have been disappointed however I was comfortable in my lie flat bed/seat and the price for the ticket was right!
Visit Review China Southern flights 2016 for an updated review on China Southern flights.  Visit travelswithjb/transport for more airline reviews.
airline reviews

,

southern china airlines
Subscribe to my e-mail newsletter to receive updates.
We respect your privacy.
Unsubscribe at any time.