The historic Rippon Lea House and Gardens is the perfect backdrop for The Australian Shakespeare Company's (ASC) latest production of Romeo and Juliet.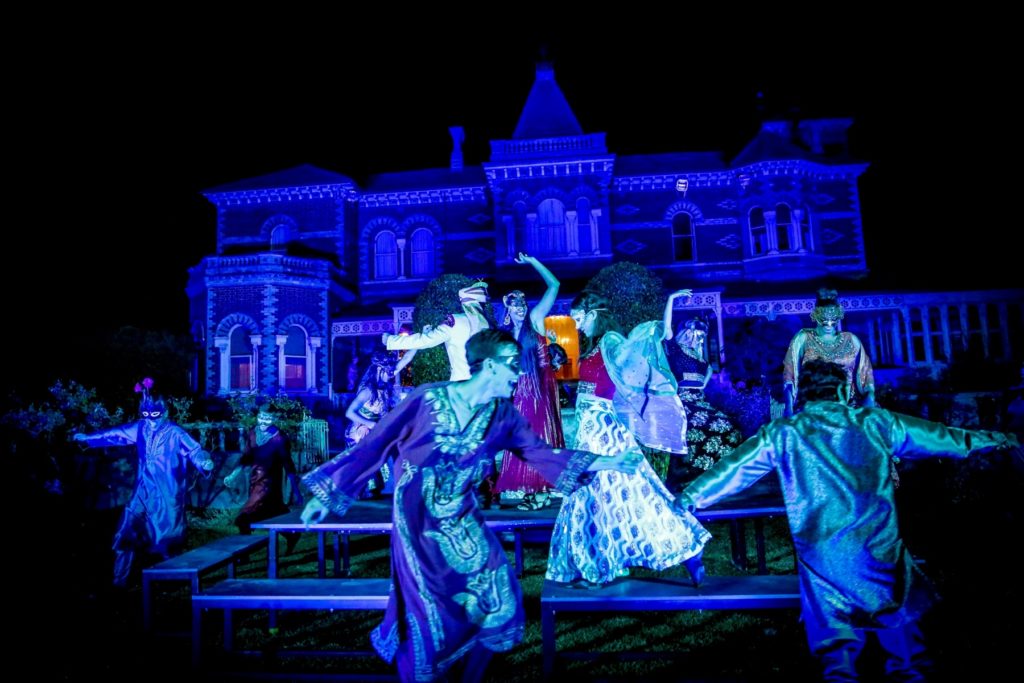 The impressive mansion is ideal for the play's famous balcony scene between young lovers Romeo and Juliet.
Director Glenn Elston also takes full advantage of the garden for this very colourful new production of Shakespeare's tragic play.
If my experience is indicative, the cast and imaginative costumes are clearly resonating with the audience, especially young audience members. The senior school students present seemed totally involved in the action and enjoyed the dialogue which mixes old with the new (including a reference to Snapchat).
At the same time older audience members also seemingly enjoyed the many action scenes, including a sword fight, undertaken in front on the mansion and on a specially built stage.
All age groups seemed invested in the great choreography, especially the big Bollywood dance number staged as part of ball scene at the Capulet house. Elston's Capulets have an Indian subcontinent heritage.
Further adding to the show's appeal was the casting of two young actors – Samuel Rowe as Romeo and Ayesha Madon as Juliet. Both graduated from the Victorian College of Arts in 2018 and their performances suggested they have successful careers ahead.
The audience, especially women in the front row, also seemed to enjoy the work of Paul Morris as Mercutio!  Like several other cast members he has been in other ASC productions and thus comfortable with the company's aim of presenting exciting, accessible and contemporary productions of Shakespeare's works.
At times it must be challenging for the actors given their surrounds.  While one of the joys of these shows is the ability to enjoy a picnic on the grass while watching a `classic', audience members, especially those enjoying a wine or two, aren't always silent!
Yet such was the performance of the cast, the setting and the story-line that by interval all were involved in this appealing presentation of Shakespeare's tale of woe.
Romeo and Juliet is playing at Rippon Lea House and Gardens on selected nights until March 21, at Hamilton Botanic Gardens on March 9, at Kilmany Park Sale on March 16 and Cruden Farm Langwarrin on March 23.
For more details visit the Australian Shakespeare Company's website.
*Photo credit:  Nicole Cleary.
Jenny Burns attended a performance of Romeo and Juliet as a guest of the Australian Shakespeare Company.
Visit travelswithjb.com.au-live shows for more show reviews.
live shows

,

Melbourne

,

reviews
Subscribe to my e-mail newsletter to receive updates.
We respect your privacy.
Unsubscribe at any time.