There are many highlights of a new production of Fiddler on the Roof with Anthony Warlow leading the way.
His performance as Tevye is fantastic thanks to his wonderful acting and singing. He portrays all Tevye's emotions – from love and anger to humour and confusion with great aplomb. Equally as enjoyable is his presentation of the songs Fiddler is renowned for including If I Were A Rich Man.
Set in 1905 in a small Jewish village in Tzarist Russia, Fiddler on the Roof tells the story of poor milkman Tevye and his attempts to preserve his family's traditions in a changing world.
Tevye and his wife Goldie (Sigrid Thorton) have five daughters, three of whom are at a marriageable age. Tradition dictates that a matchmaker should find a suitable match for marriage but Tevye's daughters have minds of their own and want to marry for love.
One of Tevye's daughters Tzeitel (Teagan Wouters) wants to marry a poor tailor Motel (Lior) instead of the middle aged butcher (Mark Mitchell) her father has chosen for her. Another daughter Hodel (Monica Swayne) falls in love with radical student Perchik (Blake Bowden) while Chava (Jessica Vickers) loves local Russian boy Fyedka (Jensen Overend).
As well as dealing with `domestic issues' Tevye and his fellow members of the Jewish community are facing great uncertainty as the Government is forcing Jews out of the surrounding villages.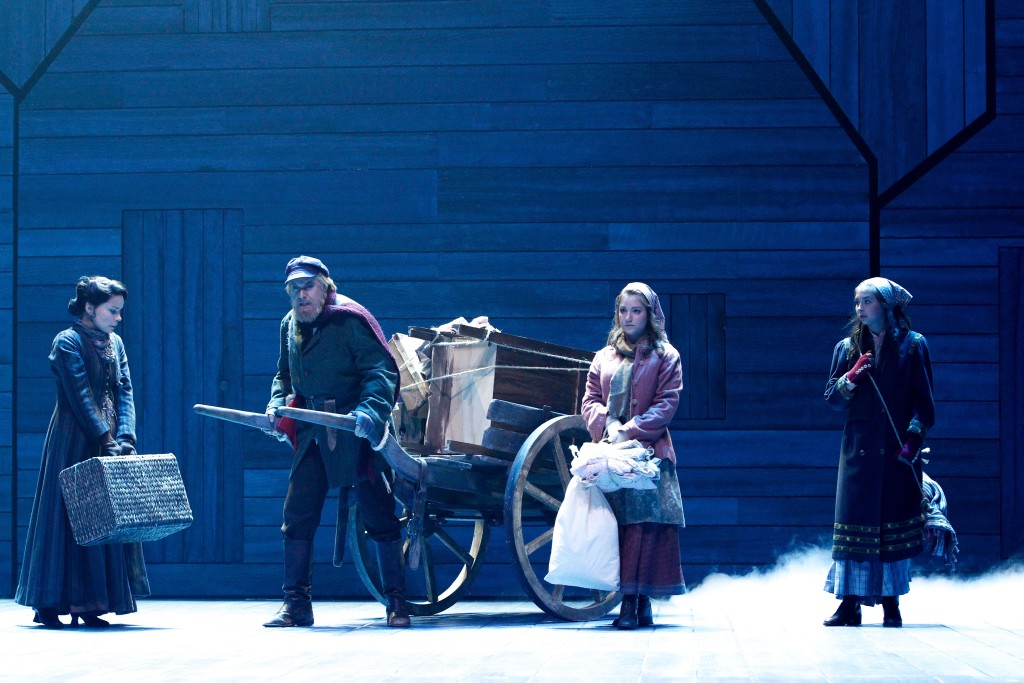 The show's final scene – when Tevye and the other villages leave – is extremely moving and memorable.
While the undercurrent of the show is dramatic and serious there are funny scenes illustrating the strength and spirit of the characters and Yiddish humour. Nicki Wendt delivers some wonderful lines as the matchmaker Yente while some of Tevye's discussions with Goldie and God are very humorous.
There are also several great dance numbers especially the bottle dance at the wedding of Tzeitel and Motel. The choreography in the opening number Tradition and Tevye's Dream are other highlights. Then there's the music. As well as If I Were a Rich Man and Tradition other stand out numbers include Sunrise Sunset, Matchmaker and To Life.
While the topics covered by Fiddler are at times very sad – poverty, people being forced from their homes and arranged marriages – the cast's performances, the music and dancing ensures there's much to enjoy.
Fiddler on the Roof is playing at the Princess Theatre until February 27. It then moves to Sydney's Capitol Theatre from March 24. For tickets and further information visit the Fiddler on the Roof website.
*All photographs by Jeff Busby
*Jenny Burns attended the opening night of Fiddler on the Roof on January 5 as a guest of the production.
Other live shows in Melbourne include Ladies in Black and Georgy Girl – the Seekers Musical
Subscribe to my e-mail newsletter to receive updates.
We respect your privacy.
Unsubscribe at any time.