The National Theatre's production of Stephen Sondheim's legendary musical, The Follies , played to critical and audience acclaim in London.
Respected publications such as the Guardian, the Telegraph, Time Out and the Independent all gave the production five stars while most other reviewers gave it four stars. Standing ovations at the end of every performance was the norm.
Australian audiences can now see why, as National Theatre Live screens a live performance of the play at selected cinemas around Australia. However it could be Australian audiences aren't going to react as enthusiastically as their London counterparts.
Quite a few audience members left the two and a half hour screening (there's no interval) I attended and didn't return.  This included my companion who found the production lacking interest explaining: "There's nothing more boring than ordinary old people reminiscing about their ordinary old lives in which nothing extraordinary happened!"
While I can't say The Follies is my favourite musical, I did stay to the end and appreciated the quality of the performances and staging.
As we learnt in an interview, conducted with director Dominic Cooke before the screening of the play, many theatre companies have shied away from staging The Follies due to the size and cost involved.
With a 37-strong cast and 21-member orchestra presenting over 25 songs and numerous glamorous costumes, Cooke's The Follies is a grand production.
The play is set in New York in 1971 at the Weismann Theatre. It's the night before the iconic theatre is due to be demolished. Some walls have already been pulled down and half the stairway has gone. Impresario Dimitri Weissman (Gary Raymond) has invited surviving stars, former chorus girls and their partners to assemble for a farewell reunion on site.
Those attending include Phoenix housewife Sally (Imelda Staunton) and her oil salesman husband Buddy (Peter Forbes) and wealthy East Coast couple Phyllis (Janie Dee) and Benjamin (Philip Quast).
As we discover through their words, actions (including actors playing the characters in their youth) and musical numbers, Sally was madly in love with Benjamin. But then inexplicably he ended the relationship to marry Phyllis. The problem: Sally has always and still loves Benjamin. Adding to the drama: none of the four characters are happy. Needless to say the reunion brings all their issues to the fore.
All four leads do a great job in presenting their anger, frustration and general unhappiness.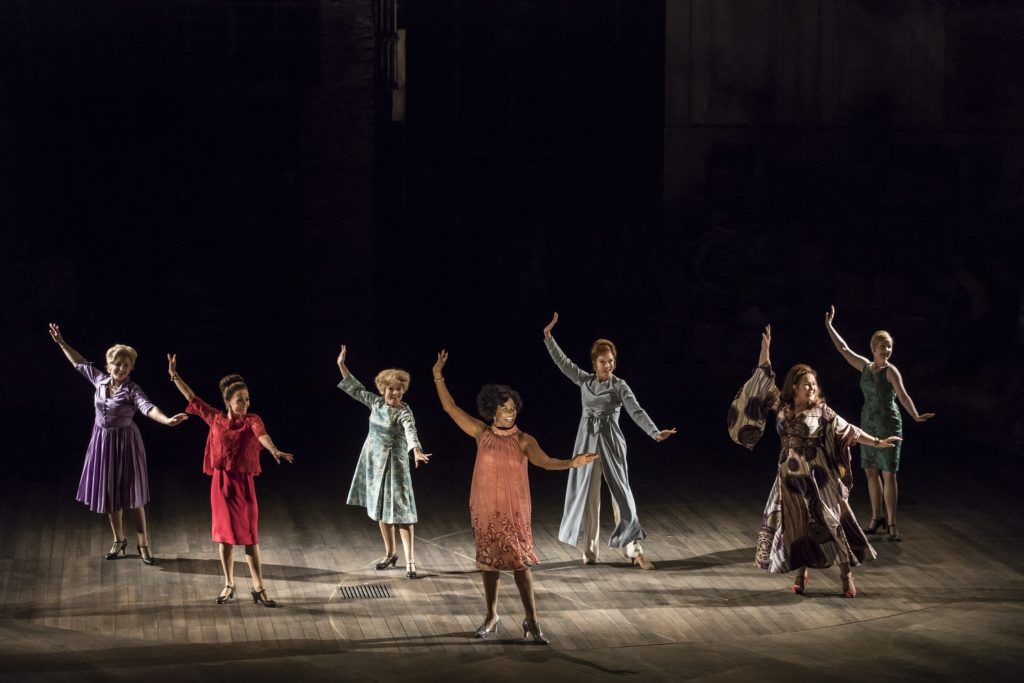 Equally as impressive are the other cast members who also reflect on their careers and life after the stage.
Di Botcher's rendition of "Broadway Baby" and Tracie Bennett's clever take on "I'm Still Here", in which she sings a list of her accomplishments, are amongst the stand-out numbers.
A musical which highlights regrets, ageing and nostalgia isn't going to appeal to everyone. However, if you're interested in seeing one of Stephen Sondheim's best known musicals, this universally praised production is well worth considering.
The Follies is screening at selected cinemas around Australia from February 17. Visit the Sharmill Films website for more information.
*Photo credit: Johan Persson
movies

,

national theatre live
Subscribe to my e-mail newsletter to receive updates.
We respect your privacy.
Unsubscribe at any time.