Over the years as a result of my work with Tourism Victoria and as a travel journalist, I have visited Phillip Island Nature Parks' attractions on many occasions.

And I have never tired of watching its wonderful wildlife. That wildlife includes penguins, koalas, seals and birds.
Penguin Parade
The Penguin Parade  is the best known of the Island's attractions- after all who can resist watching the amazingly cute little penguins waddling from the ocean, across the beach and to their burrows each night at dusk? Every time I visit I see something new – this time it was a parent feeding one chick by regurgitating its food, much to the chagrin of another chick that seemed to be equally as hungry.
Where to Watch?
The Main Viewing Stand
On my first few visits to the parade I made the mistake of spending most of my time sitting in the large beachfront tiered stand with hundreds of other people,  watching the penguins leaving the water and crossing the sand.  While interesting to see, observing the interaction of the penguins once on dry land is even more enjoyable.
The Boardwalks
Raised boardwalks follow the paths taken by the penguins from the beach to their burrows. Stand on these boardwalks and you'll see penguins waddling, stopping for a rest, interacting with their little friends (especially during mating season) and generally revealing their individual personalities. While some look very determined, others seem not to have a worry in the world.
Tour Options
There are a number of other ways to see the penguins, which also allow for a more intimate and educational experience but cost more than a general admission ticket.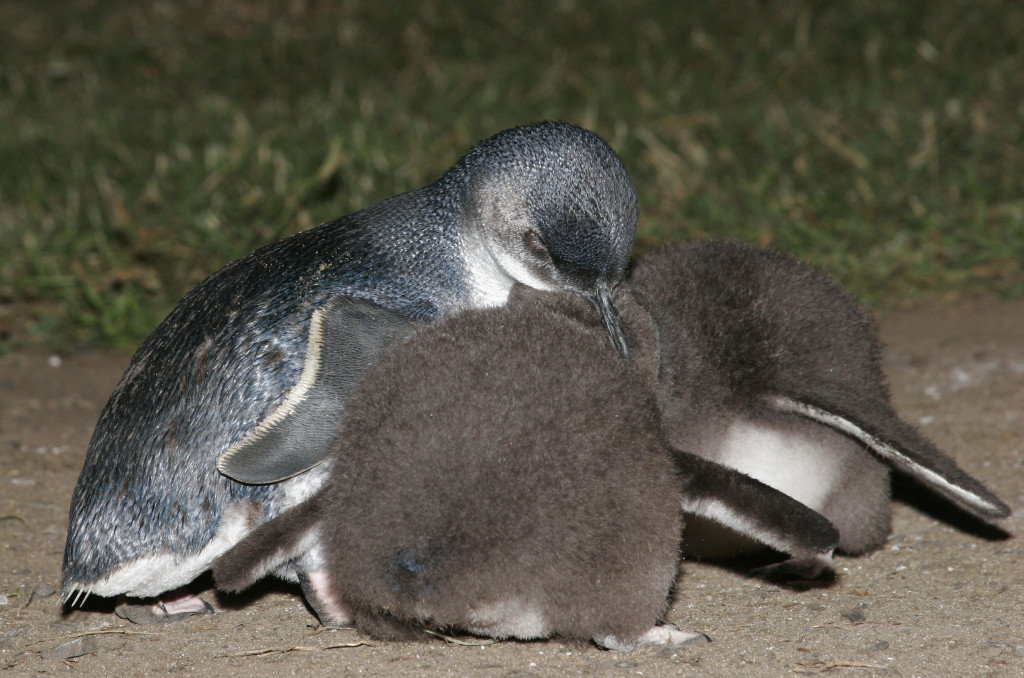 Useful to Know
*Be aware no matter what the time of year it can be very cold on the beach so rug up.
*You are not allowed to photography the penguins and this rule is extremely strictly enforced by rangers.
*The number of visitors who can watch the parade is limited. During summer months and school holidays the parade is often fully booked. While pre-booking tickets is good at any time, it is required during school holidays.
*You have 50 minutes to watch the penguins starting from the time the first penguin crosses the beach. After this the lights are turned off and visitors are asked to leave. The visitors centre stays open for longer (it opens daily at 10am).
*The penguins arrive at sunset and visitors are asked to arrive at least one hour before then.
*The number of penguins coming ashore does depend on the time of year.
*Little Penguin Nature Notes produced by Phillip Island Nature Parks provides more information on the penguins.
Koala Conservation Centre
Again, over the years I have visited this attraction on numerous occasions and every trip brings a different experience.
This time the highlight was watching a koala descend from the tree it was resting in, climb a small fence, grab some eucalyptus leaves and enjoy a snack.
The Koala Conservation Centre offers the perfect environment to see koalas close up and importantly, in their natural environment.
The Boardwalks
The centre features 35 koalas with a number located in two boardwalk areas, designed to allow close up views of both the koalas and the surrounding bushland. All animals are wild, as signs warn. These signs also stress that while koalas look friendly and cute they are known to bite and scratch anyone who gets too close. Other handy signs point to where you'll see the koalas. At times they prefer very tall trees, making them hard to see if you don't know where to look!
The Bushland
There are also koalas in the six hectares of Australian bushland surrounding the boardwalks. It's said this bushland is home to wallabies and echidnas. While I am yet to see any of these creatures, I have seen kookaburras and other bird species.
Churchill Island
While wildlife isn't the main attraction of Churchill Island, there's still plenty to see including Highland cattle, Clydesdale horses, sheep, ducks, chickens, peacocks and wallabies.
The 57 hectare island holds an important place in Victoria's European settlement being the site of the first agricultural pursuits. It has been farmed since the 1850s.
In 1872 it was purchased by a former Mayor of Melbourne, Samuel Amess, who built a substantial house and outbuildings which still stand today.
Farm Activities
A range of farm activities are offered daily including sheep shearing and milking cows.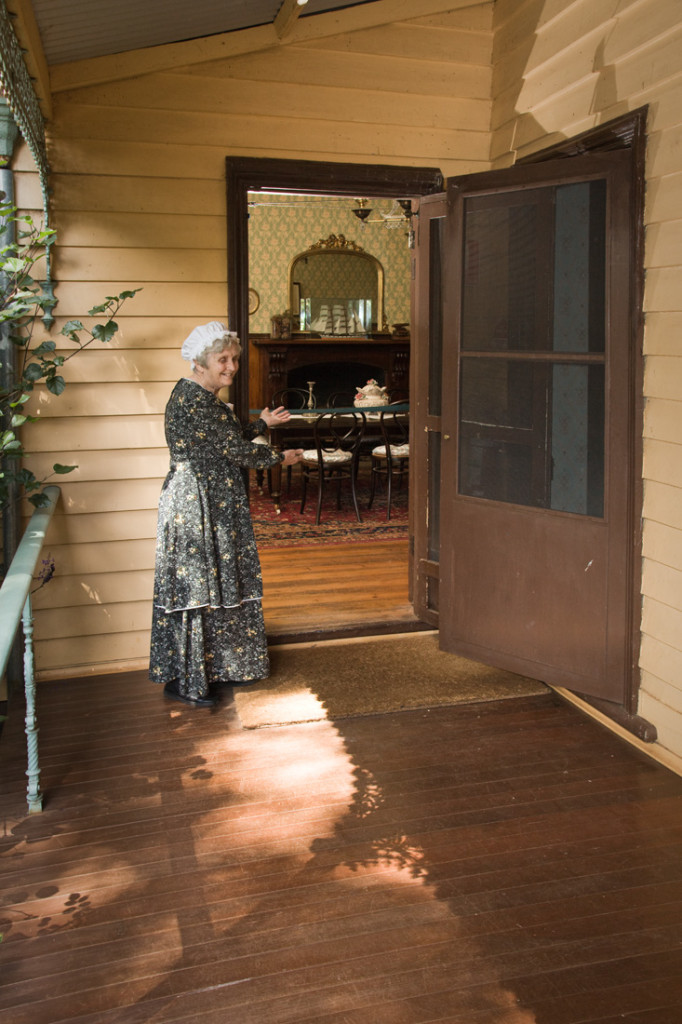 Historical Buildings
A walk around these historical buildings – complete with old farming equipment -and through the surrounding grounds, which include kitchen gardens, lemon, fig, olive and mulberry trees and an orchard, provides the perfect introduction to the early days of farming in Victoria.  Produce from the island is still used extensively in the island's café, which is a great place to sit and admire the views over Western Port Bay.
Trees Abound
Moonah trees, which are thought to be at least 500 years old, are another highlight. A walk to these trees is one of several marked around the island.
The Moonah Forest and Monument loop is the shortest walk and provides a good introduction. The `around the island' walk is about five kilometres and is great for anyone interested in birdlife. The waters and mudflats surrounding Churchill Island are listed under the Convention on Wetlands as being of International Importance.
The cost
An entry fee applies to both the Churchill Island and Koala Conservation Centre, however those who purchase a Three Parks Pass can visit both attractions together with the penguins for one discount rate. Tickets can be purchased at any of the attractions.
The Nobbies and Seal Rocks
Seal Rocks is another of the natural attractions on Phillip Island.  Located just under two kilometres off-shore from the Nobbies , Seal Rocks is home to one of the largest colony's of Australian fur seals There are two ways to see the seals – either visit the Nobbies or join one of the two cruises which depart from Cowes – Phillip Island Nature Park's own EcoBoat Tours and Wildlife Coast Cruises.
At the Nobbies' Information Centre you'll find  interactive displays which explain more about the local marine life and the `Just for Pups' playroom.  The centre also features a restaurant area. Cliff top boardwalks are another highlight of the Nobbies.
Other Places to See Wildlife
A number of the island's other natural attractions do not require entry fees. These include Rhyll Inlet ,a great place to see birds from all around the world including migratory shorebirds, which visit from Arctic Siberia.
As the name suggests Swan Lake is a good spot to see black swans together with other wetland birds.
Phillip Island is around a two hours drive from Melbourne. Visit Victoria,  Phillip Island Nature Parks and Destination Phillip Island provide more information on Phillip Island.
For more stories on Phillip Island see Viewing Penguins Underground at Phillip Island,   Managing Penguins and People on Phillip Island,  A Watery Adventure at Phillip Island , Silverwater Resort  and Ranada Resort Phillip Island.
natural attractions

,

Phillip Island

,

wildlife
Subscribe to my e-mail newsletter to receive updates.
We respect your privacy.
Unsubscribe at any time.