There were plenty of laughs and a few screams on the first official practice run of a the new EcoBoat tour  operating at Victoria's famous Phillip Island.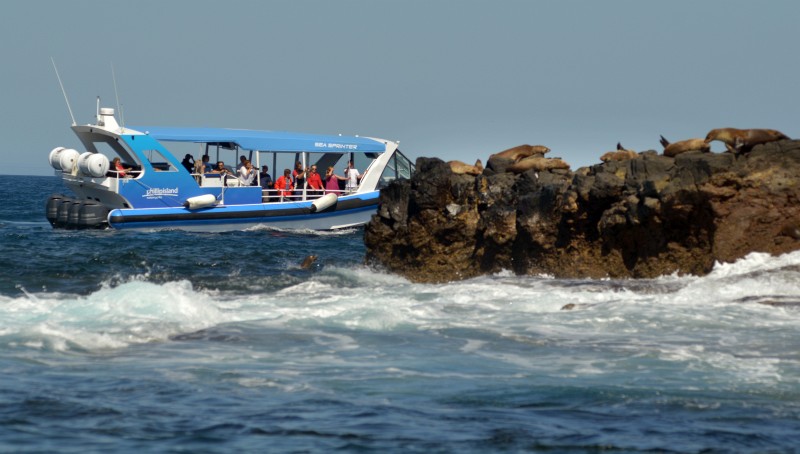 Phillip Island Nature Parks has joined forces with John Dickie, the island's long-time local boat tour operator, to offer tours in a high speed boat resulting in a quicker trip to a few of Phillip Island's most popular attractions, including Seal Rocks and the Nobbies.
At the same time John is continuing to run his well-known Wildlife Coast Cruises. These cruises are in a bigger boat, take more time and include complimentary morning and afternoon tea.
As my trip to the island coincided with this first run of the new tour, I was invited, along with the staff from the Phillip Island Nature Park, to try it out.
While there are likely to be some modifications, as our timing seemed to be somewhere between the 60 minute EcoBoat Express tour and the 90 minute EcoBoat Adventure tour, the trip was great fun combining wildlife watching with a roller coaster ride across the waves.
What: Phillip Island Nature Park's EcoBoat Tours
Who: JB
Why: Updating information on Victoria's Phillip Island.
When: November 11, 2014.
How Did It Rate:

For more information on Phillip Island see Wildlife Always a Delight on Phillip Island, Managing Penguins and People on Phillip Island,  Phillip Island Guided Ranger Tour and Silvewater Resort Phillip Island
natural attractions

,

Phillip Island

,

seals
Subscribe to my e-mail newsletter to receive updates.
We respect your privacy.
Unsubscribe at any time.