Uncertainty about the Isle of Skye's one-lane roads led to most enjoyable half day tour with Skye Minibus Tours.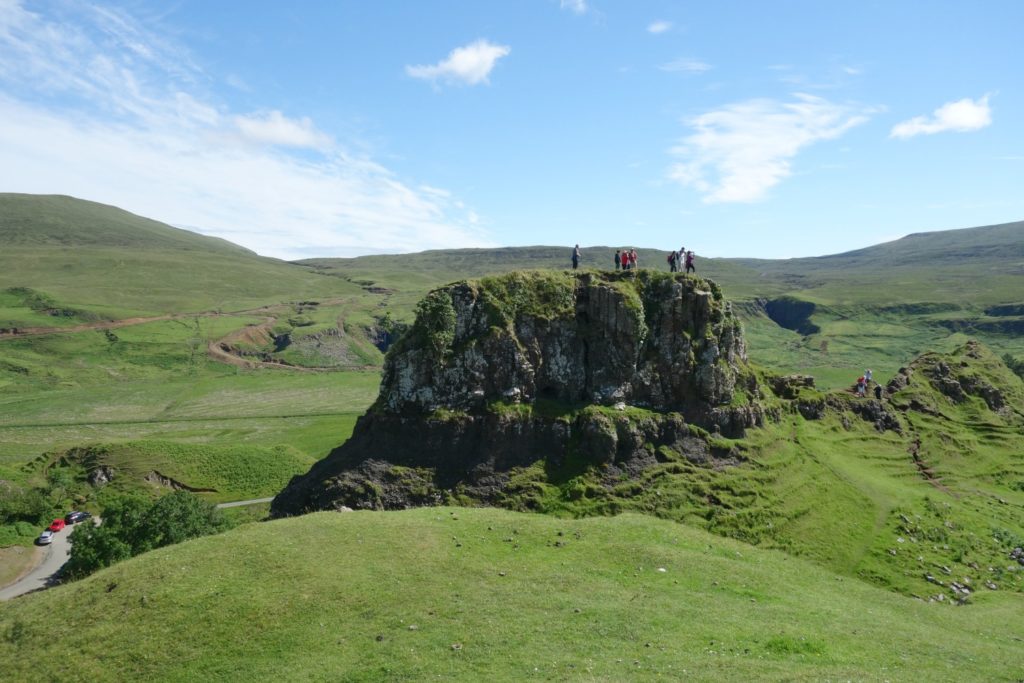 Having watched drivers struggle to reverse along narrow single lane roads to passing areas, I wasn't too keen on driving our hire car on such roads. This was especially so as many of these roads lead to Skye's best- known tourist attractions in the north and thus are very popular with cars of all shapes and size  including some very large motor homes and tourist buses.
We also thought a tour would include information on the island's history and attractions and an insight into what it's like living here. Our guide and owner of the company, Robert Kyle, did just that.
As we were staying in Dunvegan (Robert's home town) he picked us up at our accommodation (for an extra fee) and drove us to Portree where the tour officially started. Having driven this road on several occasions it was good to sit back and enjoy the scenery, much of which is dominated by the towering Cuillin mountains.
Once in Portree we were joined by six Canadians who came from one of the many cruise ships which visit Skye during the summer months.
Although all seats were taken on the eight-seater coach there was still plenty of room and several of the Canadians took fully advantage of the free wi-fi offered on board!
On leaving Portree we headed towards Uig and then to the very picturesque Fairy Glen. While we didn't see any fairies (and no one is sure why the name) we did see a very green landscape dotted by numerous grassy cone-shaped hills and small ponds.
Our next stop was The Museum of Island Life and the Flora MacDonald monument. Here we learnt that MacDonald was famous for helping Bonnie Prince Charlie escape from Scotland after the defeat of the Jacobites at the Battle of Culloden in 1746. The cemetery is also the final resting place of famous UK fashion designer Alexander McQueen.
Our next stop and walk was at the Quiraing, which many regard as one of the most spectacular landscapes on Skye.
Part of the Trotternish ridge, the Quiraing was formed by a massive landslip which has created high cliffs, sweeping pinnacles of rock and hidden plateaus. As was the case at Fairy Glen a quick walk around the Quiraing was a photographer's delight.
Kilt Rock was our next stop. The rock is said to look like a kilt thanks to its vertical basalt columns which form the pleats and intruded sills of dolerite forming the pattern. Mealt Waterfall, which freefalls off the cliff for 60m into the Sound of Raasay below is another attraction which proved most photogenic.
There was one more photo stop before our return to Portree- the Old Man of the Storr – an array of rock features which look over the Sound of Raasay.
While our stops highlighted the best-known attractions in Skye's north just about all the tour was a scenery lover's delight. Often the road followed the coast, sometimes it went by lochs and then there were the sheep filled paddocks. Being able to enjoy this wonderful scenery without worrying about what may be on the road ahead ensured an enjoyable and stress-free few hours.
For more stories on Skye visit https://travelswithjb.com.au/review-painters-house-skye and https://travelswithjb.com.au/review-dunvegan-castle-skye/
Subscribe to my e-mail newsletter to receive updates.
We respect your privacy.
Unsubscribe at any time.