A return business class flight from Melbourne to London via Guangzhou on China Southern Airlines showed exactly why airline reviews can vary so greatly.
So much depends on the individual flight attendants and any `technical problems' such as a lack of menus! Despite the differences in service I was comfortable and slept well – the main reason I pay for a business class ticket. If, however, I was looking for a gourmet wine and food experience or first class service I could have been disappointed.
Fortunately I wasn't, and if the price was right I would certainly buy another China Southern business class ticket.
WHY CHINA SOUTHERN?
I chose China Southern for several reasons. Firstly the price was good – at the time I purchased my ticket the airfare was one of the cheapest on the market.
Secondly I knew very little about the airline which, as a travel writer, is 'poor form' especially given its increased presence in the Australian market!
BUYING TICKETS
Booking my ticket on-line was easy. The challenges came when trying to request an aisle seat, and the many emails which arrived regarding changes in flight times. These time changes were only minor, however as the messages initially arrived written in Chinese, understanding them proved a challenge!
Fortunately when I responded in English, explaining my lack of Chinese, return emails in English soon arrived. As a result I was also able to successfully request my preferred aisle seat.
DIFFERENT EXPERIENCES ON DIFFERENT FLIGHTS
My flight experiences varied. On the first leg between Melbourne and Guangzhou (July 5) the staff were extremely friendly however there were some communication issues. There were no menus and due to language difficulties I didn't understand the meal options. To this day I'm still not sure what I ate!
On the flight between London and Guangzhou (August 10), the best of all the flights, attendants spoke English well and were efficient (without some of the warmth I've experienced on other flights).
The lack of knowledge by flight attendants in regard to European food and wine was obvious on most of the flights. On some flights hot towels appeared before meals, while on others they didn't.
SIMILARITIES
There were some similarities between flights. These included the distribution of slippers which were offered with aplomb by flight attendants on all flights, along with an amenities kit. The kit included bio-essence Tanaka White moisturiser and lip gel, a comb, ear plugs, toothbrush and toothpaste.
As most of my flights were at night I chose to either sleep or read, thus I didn't use the in-flight entertainment. However there seemed to be a good collection of English movies and television shows.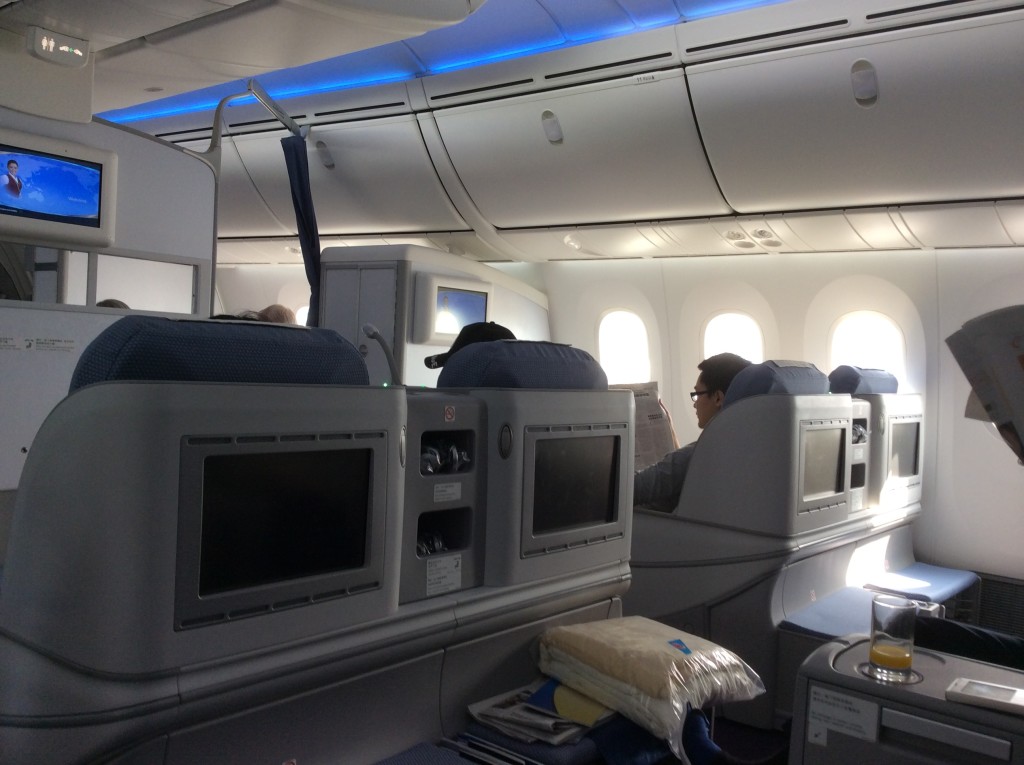 Each seat had a blanket and pillow. On all flights I was fortunate enough to have an empty seat next to me which meant I had two blankets and pillows. I used one blanket to sleep on and the other to cover me making a very cosy comfortable bed! It also meant I could move to the window seat to ensure a quiet sleep – and sleep I did on all flights.
No newspapers were handed out on any flights but they were at the door for all passengers on embarkation.
THE AIRCRAFT
The business class cabins on both the A330 which flew between Melbourne and Guangzhou and the Boeing 787 which flew between London and Guangzhou had a 2-2-2 seat layout.
The A330 business class cabin featured 24 seats. My seat, 4H, was fine.  It was far enough from the galleys and toilets to ensure minimal kitchen and 'passenger traffic' noises.
The business class cabin on the 787 was divided by a galley. My section included a first class row of seats and two rows of business class seats.
My seat, 12H, was in the row next to the galley. I didn't hear any noise but there may be a better choice for 'light sleepers'.
THE MEALS
If you're looking for a gourmet experience then China Southern probably isn't the airline for you, especially if you prefer European style food and wine. Having said that, all dishes apart from the first meal on the Melbourne to Guangzhou leg were pleasantly edible and some were quite tasty. And there were plenty of courses.
The main meal from London to Guangzhou included one hors d' oeuvre, five main course choices, two dessert options and fresh fruit. Breakfast included fresh fruits in season, cold cuts and assorted cheeses, four main dish options and bread.
The Guangzhou to Melbourne flight offered one hors d'oeuvre, a choice of three soups, four main courses, two deserts and fruit. It did seem that passengers' first preferences weren't always available, with flight attendants seemingly returning to passengers on several occasions once their order was initially taken. This happened to me on the Guangzhou to London leg when I ordered the only meat dish on the menu, only to be told there were no more left. When I explained I didn't eat seafood – the only other main courses on the menu – a meat dish appeared, apparently from first class.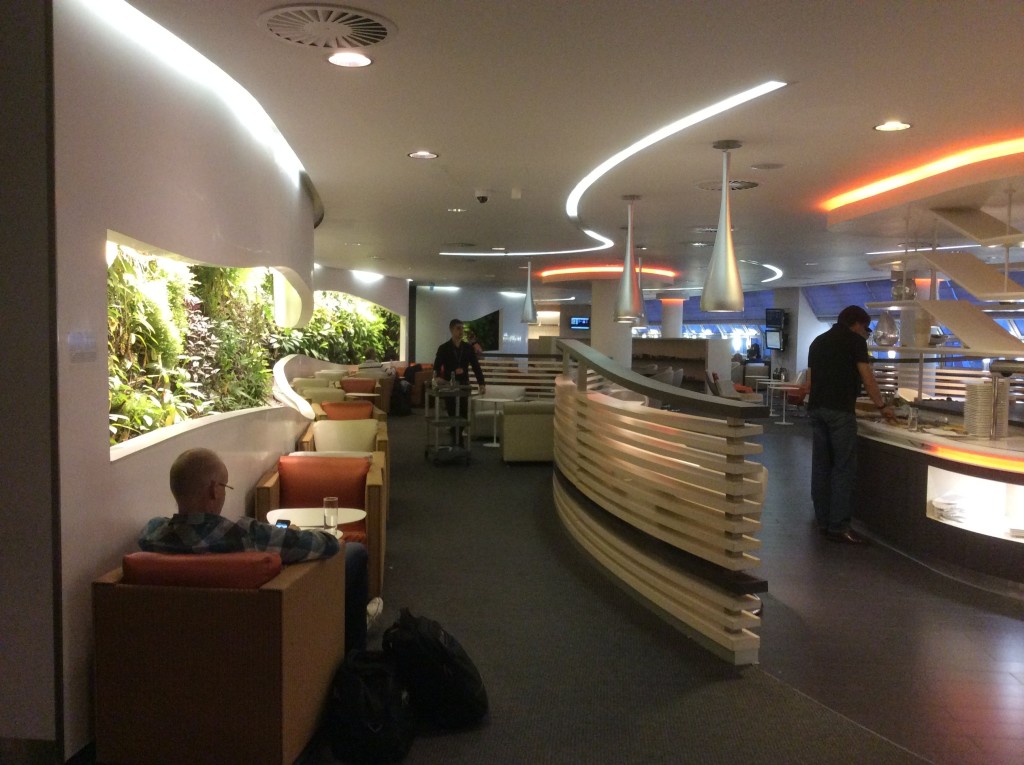 ON THE GROUND
In Melbourne passengers have access to the Qantas lounge, in Guangzhou China Southern's lounge and at Heathrow the Skyteam Lounge.
As a result of the flights I selected and early flight arrival times, I had a three and a half hour layover in Guangzhou which I spent in the lounge. On arrival at the Guangzhou terminal I was escorted through the transit process to the lounge.
Our London flight arrived at Heathrow Airport's terminal 4 at around 3.35pm  and as we were the only plane to land at that time there were no queues at immigration and our bags were cleared very quickly.
Visit travelswithjb/transport for more airline reviews.
Subscribe to my e-mail newsletter to receive updates.
We respect your privacy.
Unsubscribe at any time.