The movie The Old Man & The Gun suggests age is no barrier to pursuing your passion.
The movie spotlights the actions of Forrest Tucker who was still robbing American banks in his 70s. Robert Redford, now aged 82, plays Tucker.
If we are to believe The Old Man & The Gun, Tucker robbed banks because he enjoyed it. And it's clear that Redford still loves acting. Having announced that this was to be his last acting role, latest reports suggest Redford might change his mind. Clearly any decision will be his alone as, given his performance in The Old Man & The Gun, Redford is still at the top of his game.
The same couldn't quite be said of Tucker, who escaped from prison 18 times, suggesting he often got caught!
The film is based on an article written about Tucker by David Gann in the New Yorker in 2003. It concentrates on the early 1980s when Tucker and several other seniors (played in the movie by Danny Glover and Tom Waits) went on a bank robbing spree across America's Southwest. They were dubbed the `Over-the-Hill Gang'.
Needless to say the film's writer/director, David Lowery, has taken a number of liberties with Tucker's story. At the start of the movie it states: "The story is mostly true" – but the general gist suggests Tucker wasn't a violent man. Indeed he is portrayed as being extraordinarily polite, and while he carried a gun he never used it.
As such there's no shooting in the movie, and although there is one rather sedate car chase, no real action. The Old Man & The Gun is very much a character driven movie.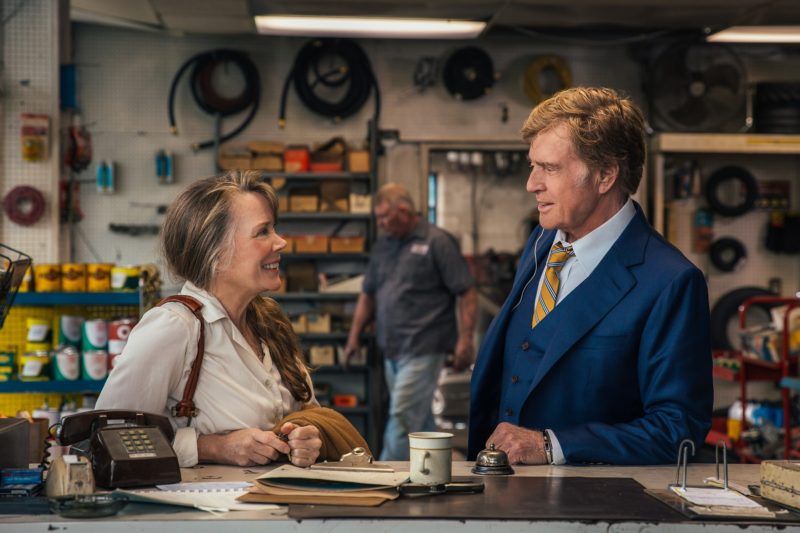 Redford portrays Tucker as a charming, very polite man who just can't resist robbing banks (leading to some criticism that the movie glorifies crime).
He is always extremely stylishly dressed and also very cool and smart, as shown by his stopping to help an older woman who has broken down on the freeway. At the time he's being pursued by the police after one of his bank robberies. Sparks fly between Tucker and that woman, a widowed rancher named Jewel (Sissy Spacek). Their relationship is one of the movie's key themes and, thanks to the acting abilities of both, a highlight of the movie. Their interaction perfectly illustrates Tucker's life-long decision to choose the thrill of robbing a bank over any relationship.  Another scene featuring Elizabeth Moss, as the daughter he never knew, further reinforces this decision.
The movie also highlights the thoughts and moods of the Texas police detective, John Hunt (Casey Affleck), who is determined to identify and catch Tucker. As we discover through his actions and conversations with his wife Maureen (Tika Sumpter), Hunt is fascinated by Tucker and while wanting to catch him, also grudgingly respects him and finds the chase gives his work meaning.
In many ways The Old Man & The Gun is the perfect swansong for Redford. It cleverly features images of Redford from some of his better known movies, providing the perfect reminder of the great roles he has played. His acting and on screen charisma suggests if this is indeed his last role he will be leaving with his fans still wanting more.
*Photo credit: Eric Zachanowich. © 2018 Twentieth Century Fox Film Corporation
Visit travelwithjb-movie-reviews for more film reviews.
Subscribe to my e-mail newsletter to receive updates.
We respect your privacy.
Unsubscribe at any time.