Combine some of Australia's most talented performers with a touch of Hollywood charm to tell a story of sweet revenge and you have the fun stage show 9 to 5 The Musical.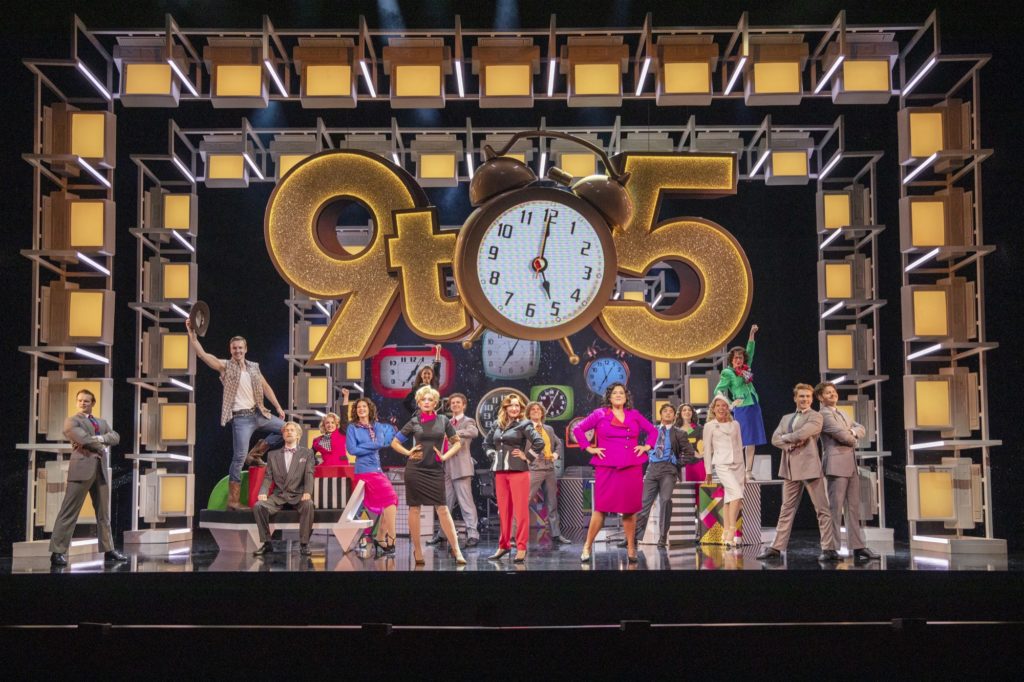 Watching both the cast and audience on opening night at Melbourne's State Theatre it was hard to determine who was having the most fun.
There's no doubt the audience was loving the show, but in parts the cast looked as if they were also enjoying themselves – even the 'evil' Eddie Perfect.
An opening video from an enthusiastic Dolly Parton in a narrator's role set the scene for the fun feel of the evening.
Parton, who starred in the 1980 hit movie of the same name, wrote all the songs for the stage show, which has played to packed audiences around the world.
Hers is not the only movie involvement. Patricia Resnick wrote both the movie and this stage show, explaining the many similarities between the two.
As was the case in the movie, 9 to 5 The Musical tells of three women Violet (Marina Prior), Doralee (Erin Clare), and Judy (Casey Donovan), pushed to the edge by their mean-spirited and very sexist boss Franklin Hart Jnr (Eddie Perfect).
While all three women are at different stages of their working lives they also have much in common. All have suffered as a result of Hart's bad behaviour, they all need their jobs and are good people.
Violet, a widow, is also extremely smart and caring and has some great management ideas. Yet she is continually overlooked for promotion with Hart always promoting men – many of whom Violet has trained.
Doralee is Hart's secretary and more than any other woman in the company has to put up with his sexist ways. As a result of his behaviour many believe the happily married and very attractive Doralee is having an affair with Hart, resulting in her being ostracised by the other women.
Judy is new to the company, having been forced back to work after her husband ran off with his younger secretary.  Having never worked in an office before she is lacking in confidence, ensuring she is easy prey for Hart's mean and nasty ways.
Hart's actions eventually bring the three women together which results in his kidnapping and the three taking control of their workplace with stunning results.
One of the joys of 9 to 5 The Musical is watching the leads in action.  All are given a chance to shine and they take full advantage of these opportunities.
Prior shows why she is regarded as one of Australia's best musical performers, expertly combining her singing with acting and comic timing.
Clare is totally believable as the sweet and sometimes naive Doralee who continually has to deal with Hart's sexist ways.
Donovan shows both her singing and acting talents as her character morphs from being timid and insecure to being strong and confident. Her power ballad, Get Out and Stay Out, earned a standing ovation on opening night.
Equally as impressive is Caroline O'Connor's performance as Roz, the personal assistant who worships Hart. Her presentation of the song Heart to Hart, where we learn of her love for Hart, is true show stopper  thanks to her raunchy dancing, singing, and physical slap-stick comedy.
Perfect is equally believable as the obnoxious Hart in a role which must have been quite demanding, given the amount of time he spends hanging from the ceiling in a rather 'interesting' outfit! The role allows Perfect to demonstrate both his excellent acting and singing skills.
A hardworking ensemble add to the show's colour and energetic feel through numerous dance numbers.  The costumes (especially those worn by Clare) and the use of lighting further add to the show's light, bright and entertaining vibe.
While it could be argued the basic storyline of 9 to 5 is rather political – that is the unacceptable treatment of women in the workforce, it doesn't have that tone. Having said that, given the storyline dates back to the 1980s, after seeing the show many  may reflect on how things have or haven't changed over the years.
9 to 5 The Musical is playing at Art Centre Melbourne's State Theatre until September 18.  It then moves to Adelaide's Festival Theatre from October 8.  For more information and tickets visit the 9 to 5 The Musical website.
*Photo credit: David Hooley.
Jenny Burns attended the opening night as a guest of the producers.
live shows

,

Melbourne

,

reviews
Subscribe to my e-mail newsletter to receive updates.
We respect your privacy.
Unsubscribe at any time.