If I ever talk about a tree-change, slap me.  Then remind me of our family's spellbinding ten weeks in Victoria's capital city.  A lockdown had been announced, so a city break in Melbourne was hardly on the agenda.
That changed the day an official notice turned up in the letterbox advising we had to pack our bags.  The family was aghast.  We were in the way of a level crossing removal construction blitz.  No ifs or buts, the 24/7 pounding of pile drivers and earth movers meant relocating was unavoidable.  But never in our wildest dreams did we figure on being captivated by our destination.  And certainly not with Delta surging: who would be happy, locked away in a high-rise apartment?  Lucky we had no clue a magnitude 5.9 earthquake was coming.  Or the many protesters in the streets.
There's simply no words to describe walking into a deserted CBD.  Apocalyptic news images provide something of a clue; however, they don't prepare you for the eerie silence that had descended upon normally bustling streets.  We returned to our Southbank Quest apartment feeling empty, unsure if in our lifetime, the city's recovery would be complete.
The despair was short lived.  Later the same day, I crossed St Kilda Road to Kings Domain looking for a spot on the grassy expanse to exercise, when a barefooted twenty-something caught my attention.  Heaven only knew why he'd strung a line between two trees.  Then, as if it were nothing, he climbed onto the giant elastic band, making his way along the makeshift high-wire – arms outstretched, smiling.
After this morning's dystopian vision, here in the late-afternoon sun I was treated to my very own circus performance.  Just the tonic to convince a heavy heart – pandemic or not, youth and vitality would live on. We had of course relocated to the land of all things creative, Melbourne Arts Precinct, where a beguiling surprise is never more than the next street corner away.
A shortcut behind the National Gallery of Victoria would seem uneventful.  Until you reach an inconsequential section of lawn and bump -wtf?- into five life-sized bronze sheep springing from the ground.  We walked away delighted, but it took minutes of head scratching to fully take in Coming and Going by the late Les Kossatz.
Similarly, at Eureka Towers, home to Skydeck – a structure built to look down over the world's eighth most liveable city – the best view might come from casting your eyes upward.  Stealing the show are a swarm of monster golden bees crawling up the side of one of Australia's tallest buildings. In fact, the entire precinct has been designed to mesmerise.  Architecture's best and brightest have turned sky-high structures of concrete, glass and steel into massive works of art.
Just ask the tai chi practitioners we watched sway like pond reeds to a recording of Asian flutes at the entrance to Melbourne Conservatorium of Music.  They'd taken refuge at the rear of the Potter Southbank Centre, a building of wild overhangs, port-holed walls and textured surfaces, the perfect setting for practising an ancient, meditative martial art.
There was also plenty to feed the mind.  Look closely and the city centre becomes a history lesson.  You can stand by the Yarra and read information boards, imagining what nineteenth century life was like in the early port town that was young Melbourne.
As for a past that is more recent, Vault sits in Southbank looking just as lonely as when it was first installed and caused a public stink.  Late 70s, Melbourne turned into a town of art critics as the polygonal, yellow sculpture became a tea room talking point.  Eventually, the unpopular artwork was banished from the CBD; although, not before disparagers dismissed Ron Robertson-Swann's creation with a racist nickname.
Lose your way near the Paris end of Collins Street and you might stumble into a tribute to a locally-grown, famous rock band.  Above the AC/DC Lane sign is an image of the iconic group's original lead man, the late Bon Scott, who for a short time attended primary school in Melbourne's west.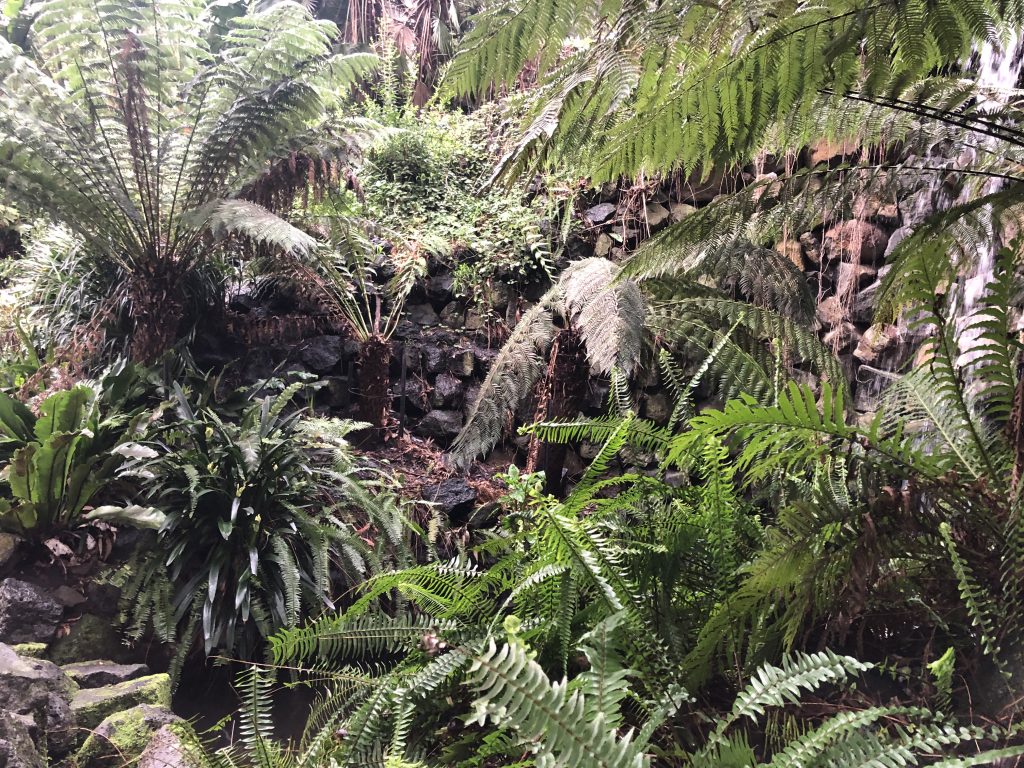 Learning for nature?  Vertical gardens protrude unexpectedly from walls.  There's an even more expansive experience across St Kilda Road.
Stand by one of the many gentle evergreen giants in Kings Domain, eyes closed, as the screech of cockatoos fill your ears.  Tell me you're not transported kilometres from any sign of civilisation in the Australian Bush.  Walk a little further past Sidney Myer Music Bowl and be lost in a lush fern forest, resting on a moss-covered rock beside a waterfall.
It was never my intention to cast aspersions on Australia's breath-taking country-side.  But our city has a unique vibe too, unmistakable in the calm of a twilight stroll when coloured lights flicker on.  As the concrete jungle settles into stillness we're dwarfed under an imposing skyline of construction triumphs.
The irony isn't lost on me: it took a city stay in a pandemic to see my hometown Melbourne for what it truly is.
*Photo credit: Peter Dewar.
Peter Dewar switched a successful business career for writing and has completed a Graduate Certificate in Communication.  He lives in Melbourne's West, currently contributes to Maribyrnong News and has written articles for Japan in Melbourne; Victoria University's Rotunda in the West; and Around Williamstown.  Peter believes family life is enriched by visiting exciting places and encountering different cultures.  He enjoys writing about his more memorable travel experiences in Africa, South America, East Asia and Sri Lanka.
Subscribe to my e-mail newsletter to receive updates.
We respect your privacy.
Unsubscribe at any time.