A long time dream to see puffins well and truly came true on a visit to England's Northumberland coast.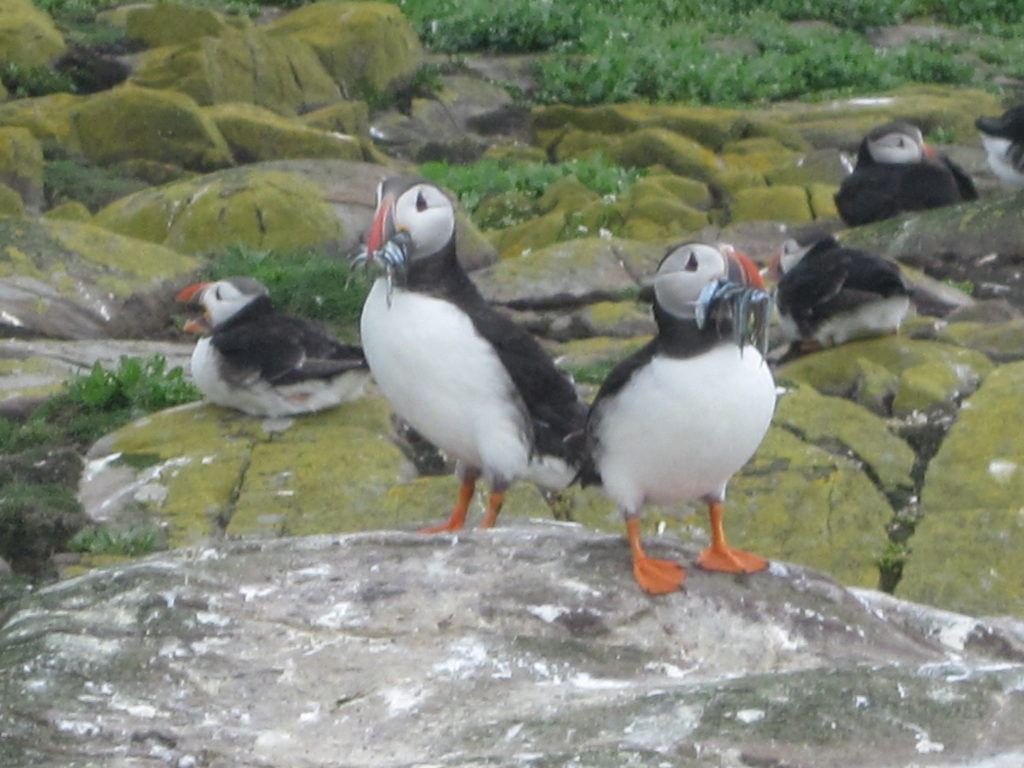 Having spent many years in search of these extremely cute seabirds and frequently being told that speck in the distance, which I couldn't really see, was a puffin, I feared my dream would be unfulfilled.
Then an English friend told me about the Farne Islands located around 530 kilometres (330 miles) from London. During the breeding season, from May to July, these islands are home to 23 species of birds including around 39,000 pairs of puffins.  So it was off to Seahouses to join a boat tour to the Farnes.  There are several companies offering such trips. We chose Billy Shiels Farne Island Boat Trips all day Two Island Excursion and weren't disappointed.
Although the wind was blowing and there were a few bumps, the sea crossing from Seahouses to the Farnes wasn't too rough. As we discovered between 15 and 28 islands make up the Farnes depending on the tide.  The islands are located around three miles from the coast and during the breeding season over 100,000 pairs of birds, including guillemots, razorbills, kittiwakes and eiderducks, breed here.
We started with a tour around several of the islands which revealed thousands of birds nesting on the cliffs.  We then went in search of the large grey seal population. They weren't hard to find either especially given over a 1000 pups are born each year! As is always the case with seals they really looked as if they were enjoying themselves.
Our first landing was on Staple Island and it was here I saw my first puffins up close. The wait was worth it as there really is something very appealing about their behaviour – whether it be getting ready to fly or standing with a mouth full of fish. A little confusion about the type of footwear needed for the island (it's very rocky and slippery) meant I spent much of my two hours here in the one area watching a couple of puffin groups on the cliffs.
Walking around Inner Farne, the second island on the tour, was far easier. But there was another hazard- aggressive arctic terns.  The terns attack anyone who they see as a danger to their eggs and chicks- so basically any human!  Fortunately the terns are located near the visitors centre so once you survive the initial onslaught of dive bombing and being pecked on the head, wearing the hat you are advised to bring, isn't as imperative.  Although thanks to hundreds of birds who call the island home during the breeding season there's plenty other things dropping from the sky!  So as well as a hat wearing the oldest clothes possible is also recommended.
Our stay on Inner Farne was my tour highlight. There were hundreds of puffins chicks, some just emerging from their burrows, others standing around waiting for their parents to return from fishing.  The challenge for the parents was getting to their burrows without their fish being stolen by aggressive gulls.  It was fascinating to watch.  Inner Farne is also far larger than Staple and has more to see.  From 678 to 687 St Cuthbert lived on the island and the 1370 church constructed in his memory is open to visitors.
There's also a lighthouse although it is not open. The National Trust which owns and manages the Farne Islands (and charges an entry fee which must be paid in addition to the boat tour) has an information centre here while it's the only island with toilets. There are no other facilities so bringing your own lunch is essential if you are on an all day trip.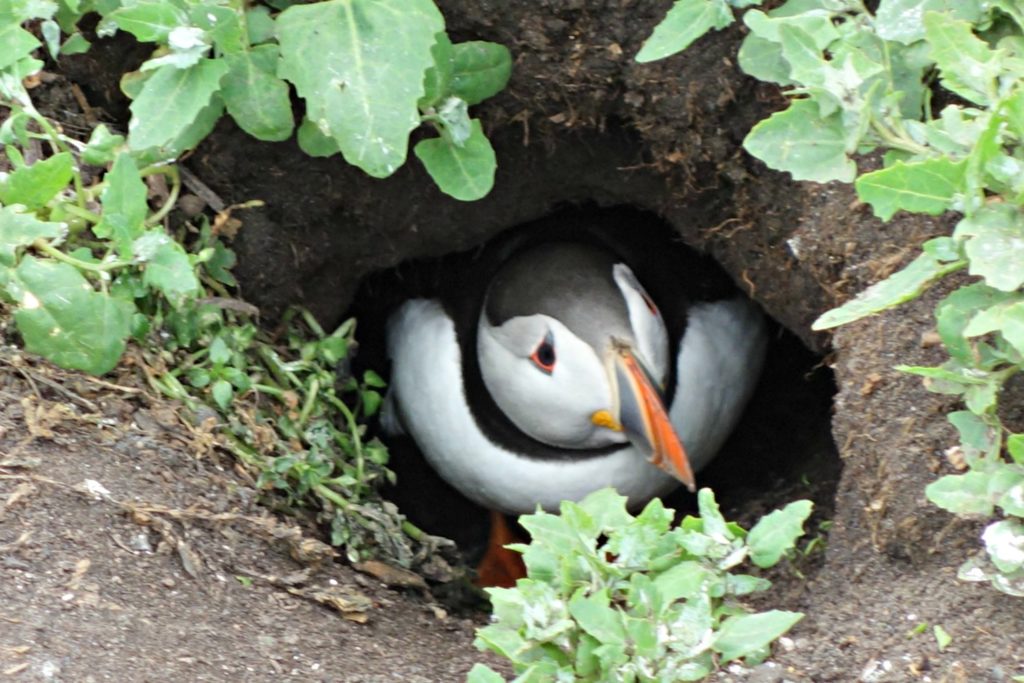 After several hours spent exploring the island I felt my quest to see and learn more about puffins was well and truly satisfied although I could have happily returned to Inner Farne for another day of puffin watching!
*More information on the Farne Islands, including the bird watching season, can be found on websites of  The National Trust, Visit Britain  or Visit Northumberland . Visit Billy Shiel Tours for information on boat tours.
Visit travelswithjb/ England for more reviews and stories about the UK.
England

,

puffins

,

reviews
Subscribe to my e-mail newsletter to receive updates.
We respect your privacy.
Unsubscribe at any time.