Death-defying stunts, glamorous locations and star power ensure Mission: Impossible – Dead Reckoning Part One offers plenty for fans and newbies to the franchise.
AI dominates the seventh instalment of the box office juggernaut that is Tom Cruise's Mission Impossible series. The eighth outing, or Mission: Impossible –Dead Reckoning Part Two, is due to be released next year which will no doubt tidy up a few loose ends from Part One.
Mission: Impossible – Dead Reckoning Part One tells of the search to find a key that should control a rogue AI known as The Entity, which is threatening the future of the world. It's hacking government, security and banking systems and has already led to the death of a Russian submarine crew.
It seems the AI can be manipulated with the key which has two parts. For control the keys have to be united. Needless to say numerous governments and criminal enterprises are looking for the parts.
Enter the Impossible Mission Force (IMF) team led by Ethan Hunt (Tom Cruise). It has been tasked by the US Government, through IMF director Eugene Kittridge (Henry Czerny), with obtaining one part of the key which is about to be sold on the black market.
The key is in the hands of Hunt's longtime cohort and former MI6  agent Ilsa Faust (Rebecca Ferguson). On obtaining the first part of the key in a Lawrence of Arabia type battle in the desert, Hunt decides to search for the second part.
This search takes him and his faithful team of Benji (Simon Pegg) and Luther (Ving Rhames) to numerous locations in the Middle East and Europe.
It also brings the group in contact with numerous characters, most of whom aren't at all friendly towards Hunt!
Leading the way is Gabriel (Esai Morales), a morally corrupt mercenary and Hunt's long-time nemesis. Deadly assassin Paris (Pom Klementieff) is assisting Gabriel in the hunt for the key. Arms dealer Alanna, (Vanessa Kirby), known as the White Widow, is also pretty ruthless.
US agents Degas (Greg Tarzan Davis) and Briggs (Shea Whigham) are searching for Hunt and his team after they are considered to have gone rogue by not turning over the part of the key they have.
Then there's expert thief and pickpocket Grace (Hayley Atwell), a new addition to the IMF franchise. Smart, beautiful and resourceful she has no idea what she's signed up for when she agreed to pick the pocket of a man at Abu Dhabi airport.
Far from backing down when confronted with the truth by Hunt she becomes even more determined to complete her mission. Her determination and street smarts ensure she's often a match for Hunt and their interaction provides much of the movie's comic moments as does Hunt's interaction with his team.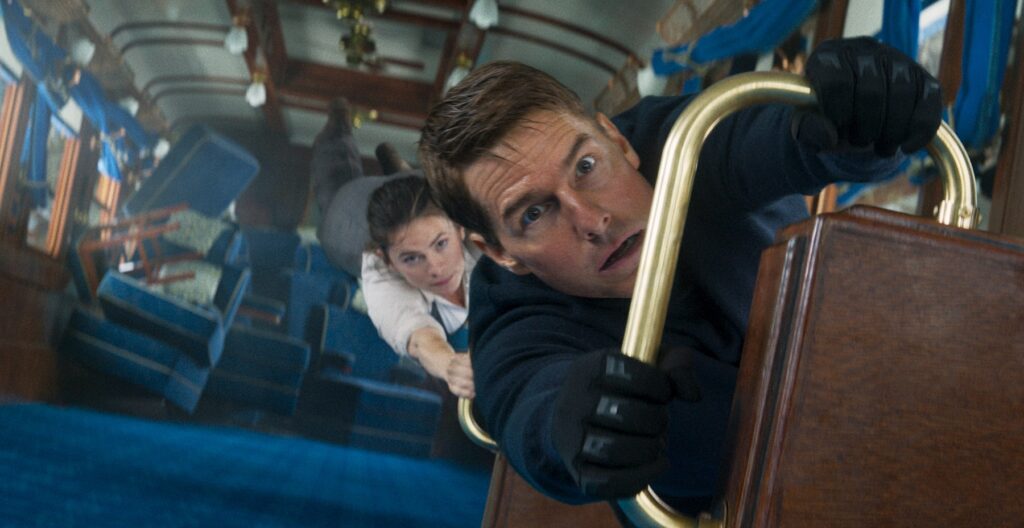 Together with Hunt and Ilsa, Grace also features in many of the movie's most spectacular chase and fight scenes. Those scenes include a death-defying jump off a mountain cliff on a motor bike, fights on top of a runaway train, a train crash, destructive car chase through the streets of Rome and a fight to the death in Venice.
Given the pre publicity in the lead up to the movie's release, many of the stunts have already been seen. However, they still look amazing and are truly awe-inspiring.  As a result, this 163-minute thriller from Cruise and writer-director Christopher McQuarrie is most definitely a movie to be seen on the big screen.
Mission: Impossible – Dead Reckoning Part One is now showing in cinemas around Australia.
*© 2023 Paramount Pictures.
Subscribe to my e-mail newsletter to receive updates.
We respect your privacy.
Unsubscribe at any time.