There were plenty of laughs and cheers on the opening night of The Production Company's Hello, Dolly! at Arts Centre Melbourne's Playhouse Theatre.
The musical's light-hearted script and songs provided the laughs while the cheers were for the performances of the cast and 14 piece orchestra.
Written by Jerry Herman and Michael Stewart in 1964 and based on Thornton Wilder's 1955 play The Matchmaker, Hello, Dolly! tells of the cheery Dolly Levi, the irrepressible matchmaker from Yonkers, New York who tries to help everyone she meets. She has an idea for the perfect match for local merchant Horace Vandergelder – herself!  But the money pinching, bad tempered and chauvinistic Horace is having none of it.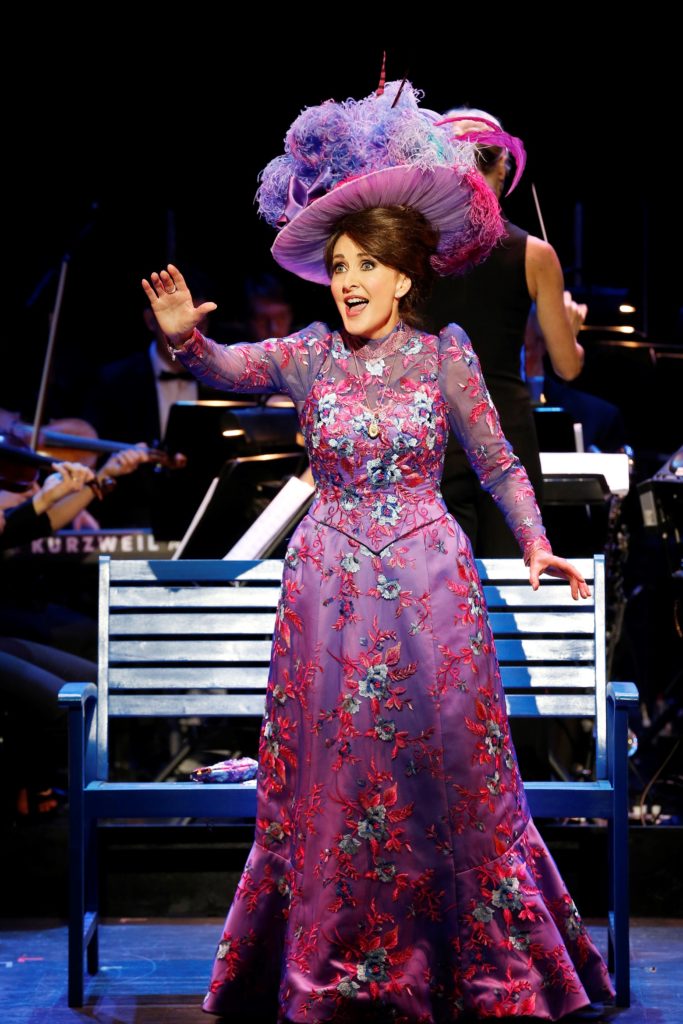 Marina Prior is an enthusiastic and fun loving Dolly.  She really seemed to be enjoying herself and her ability to ad lib, during what seemed a slight prop malfunction on opening night, showed just how comfortable and confident she is on stage.
Grant Piro is equally as enjoyable to watch as Horace Vandergelder. Not surprisingly, given Piro and Prior are a real-life couple, they have a great chemistry.
Verity Hunt-Ballard gives a strong performance as Irene Molloy, the milliner who Dolly initially match-makes Horace with. Glenn Hill is great as Cornelius Hackl, Horace's senior clerk who falls in love with Irene. Alana Tranter also does a great job as the Dolly' raucous romantic decoy, Ernestina Money.
They are well supported by Baylie Carson as Ermengarde, Nigel Huckle as Barnaby Tucker, Imogen Moore as Minnie Fay and Jack Van Staveren as Ambrose Kemper.
The ensemble sang and danced with great gusto. Indeed some of the biggest cheers on opening night were for the numbers featuring the ensemble including the very funny Waiters' Gallop.
The musical's iconic number Hello, Dolly! was equally as spectacular thanks both the costumes and the choreography. Extravagant costumes are a stand-out feature of the show with Prior's outfits particularly stunning.
Having not seen a previous stage production of Hello, Dolly! I wasn't sure what to expect. According to those who have, this is a scaled down version of what's often  presented.  Thanks to its sumptuous feel and the chance to hear and see some of the musical's best known songs performed by a talented and enthusiastic cast, I found this version funny and very entertaining.
Hello, Dolly! is playing at Arts Centre Melbourne's Playhouse until June 11. For more information and tickets visit The Production Company's website.
*Photo credit: Jeff Busby.
Jenny Burns attended the opening night of Hello, Dolly! as a guest of The Production Company.
Visit travelswithjb.com.au-live shows for more show reviews.
live shows

,

Melbourne

,

reviews
Subscribe to my e-mail newsletter to receive updates.
We respect your privacy.
Unsubscribe at any time.