It's been 36 years since Maverick, Iceman and other top American trainee navy pilots graced our movie screens in Top Gun.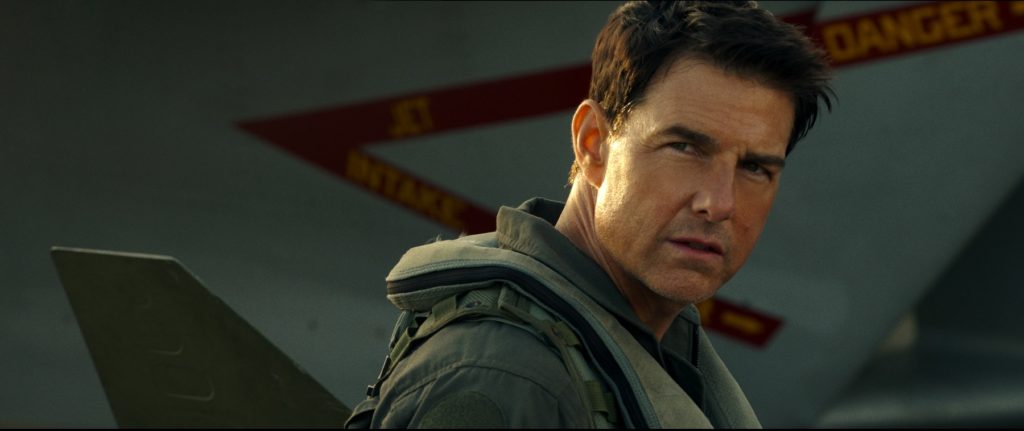 Top Gun: Maverick updates fans on what's been happening since then through a storyline which sees the navy's top aviators saving the world from a nuclear disaster.
While there are a few surprises awaiting fans of the original Top Gun it seems our hero hasn't changed much at all. Neither have the confidence levels of the latest generation of pilots. For those who haven't seen the original movie fear not – flashbacks do provide the basics.
Despite his age our hero Pete "Maverick" Mitchell (Tom Cruise) is still a risk taker both in the air and on land.  He remains confident in his own ability and is his own man, thus upsetting the navy's hierarchy.  Because of this, and his wish to continue to fly, he still holds the rank of Captain.
His latest job is as a navy test pilot where he manages to again upset his superiors with his actions. Believing these actions will end his career he is surprised when he is reassigned back to Top Gun, the San Diego-based training facility for elite Navy fliers.
His assignment is to select and train a team from the 12 best recent graduates for a near impossible mission.
A rogue country (which isn't named in the movie) has built a uranium enrichment plant that's about to go live. It's hidden in a valley between dagger-like mountains, and is guarded by surface-to-air missile systems and fifth-generation fighter jets. The admiral who has requested him for the assignment is Iceman (Val Kilmer). Despite their conflict in the first movie, the two have become lifelong friends.
Graduates assembled for the mission include Lt Bradley "Rooster" Bradshaw (Miles Teller) the son of Goose, Maverick's best friend whose sudden demise dominated the first movie.
Rooster harbours great anger towards Maverick firstly for the death of his father and secondly for what he sees as Maverick's efforts to hold back his career.
Rooster is also in conflict with Hangman (Glen Powell), one of the best pilots in the group and certainly the most confident. This conflict has many similarities to that between Maverick and Iceman and, needless to say, Hangman isn't a great fan of someone as old as Maverick.
This time around the best of the best also includes a woman (Monica Barbaro) who can more than hold her own.
While Maverick doesn't want to teach the group, and his commanding officer (Jon Hamm) also doesn't want him in that role, a terminally ill Iceman encourages him to continue with the assignment.
Maverick eventually agrees but then tragedy and an act of insubordination results in him switching from trainer to flying the treacherous mission as team leader.
The return to the base also sees Maverick reconnect with an old flame Penny (Jennifer Connelly). A single mother and manager of the local bar, Penny and Maverick have had an off-again on-again relationship over the years.
While much of Top Gun: Maverick is spent exploring the relationship between the main characters there's also plenty of aerial action. This is where the movie really shines.
Apparently, the navy assisted with the movie's filming and as a result the action above the ground is simply stunning.
Often you feel you are in the cockpit as our heroes, chase and are chased by other fighter planes, fly between mountain ranges, spin in and out of control and face numerous 'gravity' challenges.
There's no doubt Top Gun: Maverick is very much Tom Cruise's movie  – he appears in just about every scene.  However, there are some other memorable performances.
Kilmer only has a small role but it's extremely touching given his medical condition.  Connelly and Cruise are believable together as a couple who have had their challenges while the interaction between Teller and Cruise is another highlight.  All do a great job with a storyline which, to be honest, is often totally implausible.
However, thanks to the choreography of the stunning aerial sequences and the chance to relive some memorable experiences from the past (fast motorbikes, magnificently toned bodies playing sport on the beach and atmospheric bar scenes all again feature) Top Gun: Maverick offers a couple of hours of entertaining high-flying escapism.
Top Gun: Maverick releases in Australian cinemas on May 26.
*© 2022 Paramount Pictures. All Rights Reserved.
Subscribe to my e-mail newsletter to receive updates.
We respect your privacy.
Unsubscribe at any time.