Watching The Australian Shakespeare Company's performance of A Midsummer Night's Dream is a magical experience in many different ways.
There's the magic within Shakespeare's classic comedy. Then there is the magic of sitting in the Royal Botanical Gardens on a balmy Melbourne evening watching the play and, at sunset, bats and birds returning `home'.
The company's new production of the play is also magical. While modern costumes abound and the jokes and antics are 21st century, traditionalists should leave the performance contented.
Given most of the action in A Midsummer Night's Dream takes place in the forest there's probably no better location in Melbourne than the Gardens to stage the show.
It's to the forest that Lysander (Joshua Orpin) and Hermia (Elizabeth Brennan) escape. They love each other and want to marry. But Hermia's father wants Hermia to marry Demetrius (Ash Flanders) and asks the Duke of Athens to enforce his wishes upon his daughter. Given the law, Hermia must choose between marrying Demetrius, a life in a nunnery, or a death sentence. The couple are joined in the forest by a distraught Helena (Madeleine Somers) who tells Demetrius of their plans in the hope of winning his heart.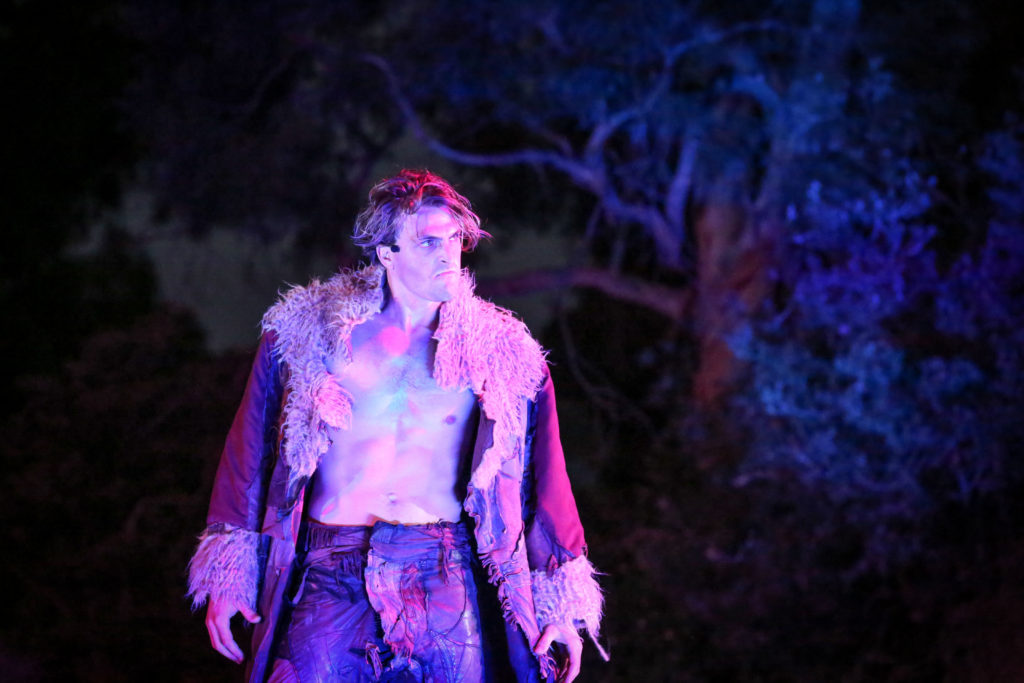 As it happens there's lots happening in the forest that night!  Five tradesmen (The Mechanicals) are rehearsing an abysmal play. And the Fairy King Oberon (James Biasetto) and his Queen Titania (Anna Burgess) are having `a few issues'.
When Oberon instructs his mischievous elf Puck (Benson Jack Anthony) to use a magic potion to ensure Demetrius falls for Helena, confusion abounds.
At the same time Puck turns one of the Mechanicals – the weaver Bottom (Kevin Hopkins) – into an ass as he's such a bad actor. Then Oberon uses some of that magic potion to ensure Titania falls for Bottom. But all is resolved, and Lysander and Hermia are allowed to marry. The show finishes with the extremely humorous presentation of the Mechanicals' amateurish play.
A very energetic cast bring the characters to life with Benson Jack Anthony's acrobatics a highlight. Importantly all the cast members look as if they are enjoying themselves – and their enthusiasm is contagious.  Clever use of lighting and music further enhance the show's appeal.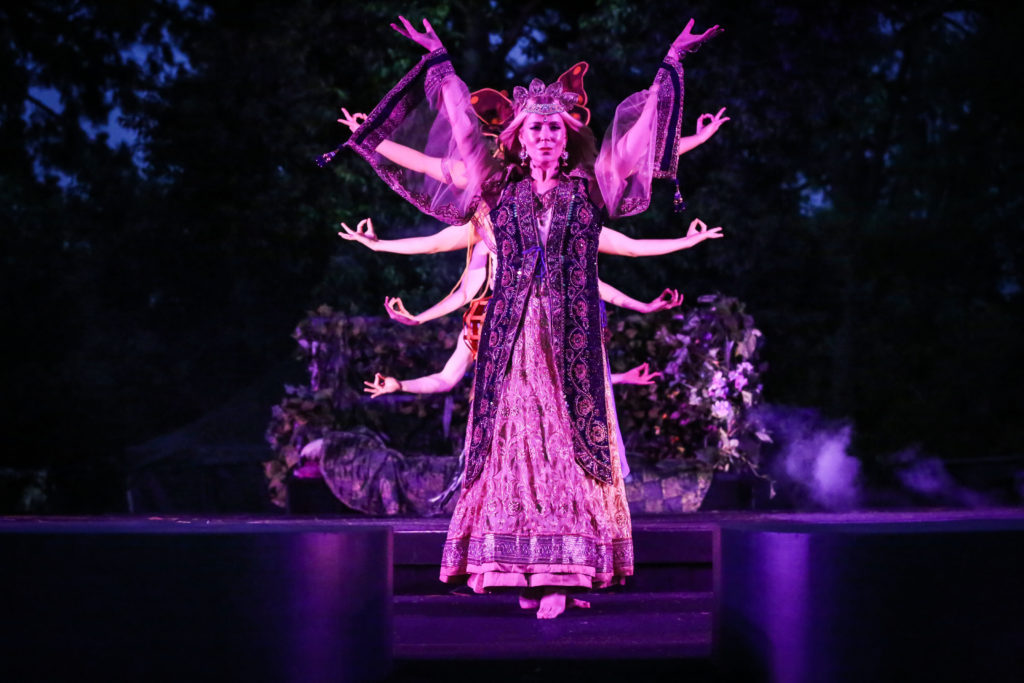 ASC productions of A Midsummer's Summer Night's Dream have been wowing Melbourne audiences for many years. This new production is set to ensure that love affair continues.
As an added bonus you are welcome to bring your own food and drink (and there were some pretty impressive picnics around us) or you can order hot food online and have Italian food delivered to your picnic rug. You can also bring your own chair or hire one.
A Midsummer Night's Dream is playing at the Royal Botanic Gardens until March 3. Visit the Australian Shakespeare Company website for more details and tickets.
Jenny Burns attended a performance of A Midsummer Night's Dream on Friday January 5 as a guest of the ASC.
*Photo credit: Nicole Cleary
Visit travelswithjb.com.au-live shows for more show reviews.
live shows

,

review

,

Shakespeare
Subscribe to my e-mail newsletter to receive updates.
We respect your privacy.
Unsubscribe at any time.