Melbourne Museum's latest touring exhibition- Bug Lab: Little Bugs, Super Powers is like its subjects. It's not huge but it certainly packs a punch!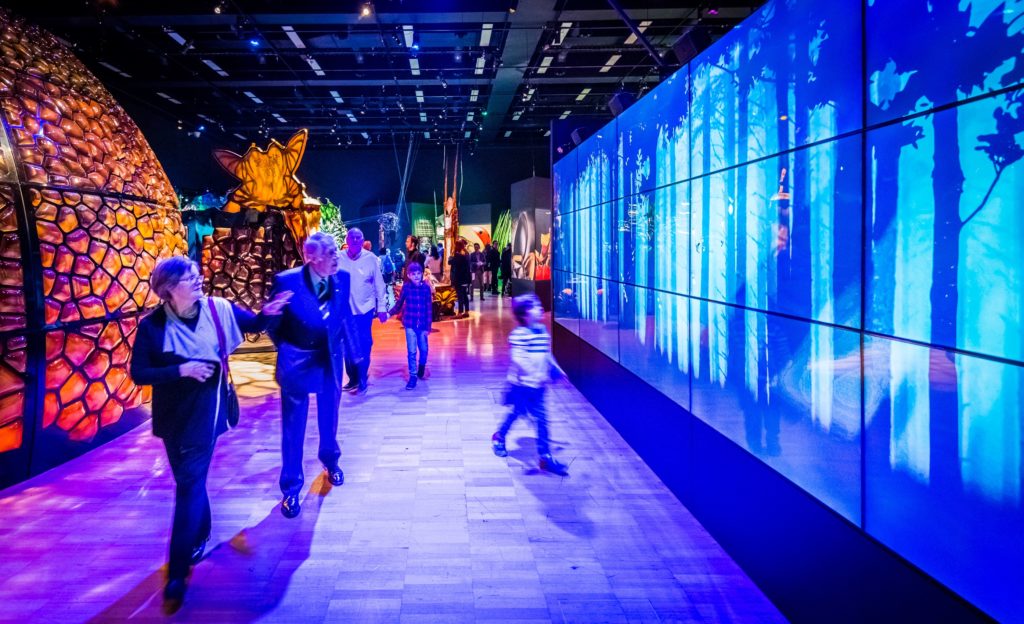 The exhibition is divided into six zones which showcase six bugs and their incredible superpowers.
The Orchid Mantis is used to explain why bugs look the way they do (the Display Zone), the Jewel Wasp spotlights how bugs use venom for attack and defence (the Venom Zone)  while Bombardier Beetle investigates what makes bugs powerful and ready for anything (the Exoskeleton Zone).
Dragonflies are used to uncover the secrets of insect flight (The Flight Zone),  Japanese Honeybees shows how bugs follow rules that give rise to complex group behaviour (The Swarm Zone) while Katipõ Spider (Latrodectus katipo) explains silk is one of the most incredible materials that bugs can make (The Silk Zone).
Each zone features lots of information about the bug and includes large scale models and supporting audio visuals. Explaining how humans are using bugs as an inspiration for science and technology is an important component of the exhibition. Numerous hands on physical and digital interactive activities illustrate this theme and also allow visitors to test their skills against the bugs.
During my visit these hands on activities were proving very popular with young children and older school groups.. I was more fascinated by the information on what the insects could do. Particularly amazing is the Jewel Wasp which can inject venom into a cockroach's brain, turning it into a 'zombie' incubator to feed its offspring.
Then there's the Orchid Mantis which, as the name suggests, looks like a flower but has a deadly bite.  Japanese Honeybees have a remarkable heat-balling defence that traps hornets by engulfing them in a quivering ball of bees and 'cooking' them by heat convection.
What's also amazing is the amount of work that has gone into the exhibition which is imagined and conceived by Weta Workshop (the five time Academy Award-winning creative studio behind The Lord of the Rings trilogy, Avatar and District 9) and the Museum of New Zealand Te Papa Tongarewa.
It took around 200 Weta technicians over 40,000 hours of work over six months to put together the 2,000 individual pieces which feature in the exhibition.
This attention to detail has paid dividends- it would be near impossible to spend time at this exhibition and not be in awe of some truly amazing bugs!
Bug Lab: Little Bugs, Super Powers is on at Melbourne Museum, 11 Nicholson Street Carlton until 15 October. For tickets and more information visit Melbourne Museum's website.
*Photo credit: Stewart Donn
Jenny Burns visited the exhibition as a guest of Melbourne Museum.
Visit travelswithjb,com.au-exhibitions for more exhibition reviews.
exhibitions

,

Melbourne

,

reviews
Subscribe to my e-mail newsletter to receive updates.
We respect your privacy.
Unsubscribe at any time.