Artefact Theatre Co's production of The Importance of Being Earnest is back after a highly successful season last year.  And it's just as entertaining.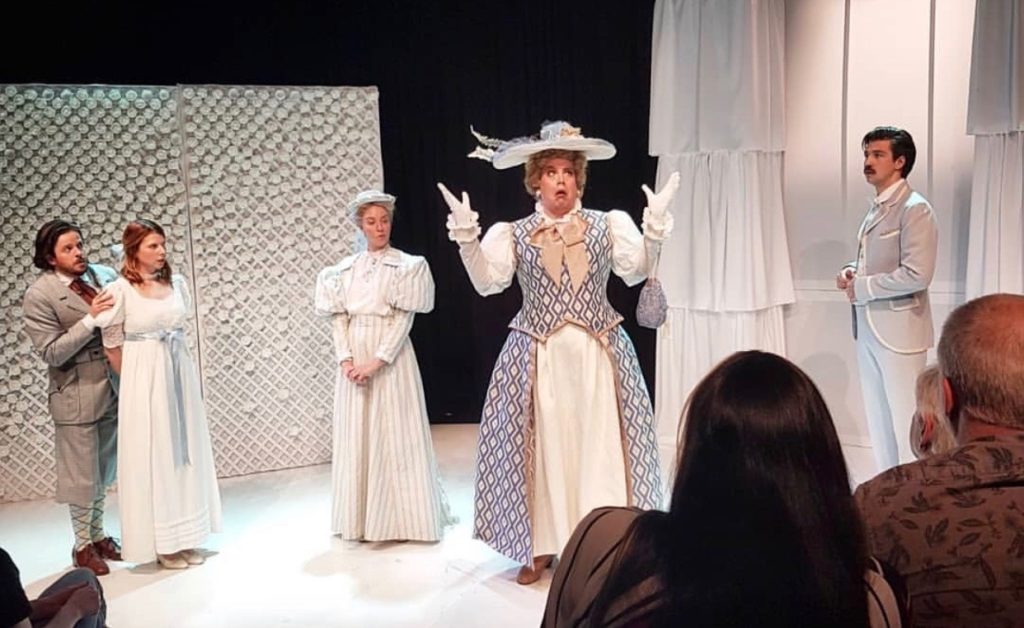 All the original cast feature in the new show with one exception – there's a new Lady Bracknell.  Ryan Murphy is the new 'lady' and he carries the role off with aplomb.
Also new this year is the venue – the show is being staged at Chapel off Chapel as part of the Melbourne International Comedy Festival.
What hasn't changed is the cast's great work in bringing Oscar Wilde's funny and often biting words to life.
The Importance of Being Earnest tells the story of two bachelors, John 'Jack' Worthing ( Ross Dwyer) and Algernon 'Algy' Moncrieff (Mark Yeates), who create alter egos named Ernest to escape their tiresome lives.
Their attempts to win the hearts of two women Gwendolen Fairfax (Olivia Solomons) and Cecily Cardew (Cazz Bainbridge)  – who claim to only love men called Ernest is at the core of the story.
Algy and Jack struggle to keep up with their own stories and become tangled in a tale of deception, disguise and misadventure, all under the watchful eye of the extremely snobbish and mercenary Lady Bracknell.
As was the case last time I saw the play, the comic timing of all cast members is spot on.  All are totally believable in the roles they play.
Yeates  makes a great crafty and underhand Algernon while Dwyer expertly portrays Jack's complex life. The two work well together bouncing off each other's words and physical actions. Solomons and Bainbridge also have a great on stage rapport and seem to have fun with their characters.  Ryan Murphy makes a believable pompous Lady Bracknell and expertly delivers some of the play's best known lines.
Suzanne Sandow's portrayal of Miss Prism (Cecily's governess) and Frank Handrum as Rev Chausible (Miss Prism's love interest) provide excellent support to the leads. Thomas Jones' physical moves as the butler Lane in Algernon's home and Merriman in Jack's country establishment prove actions can be just as effective as words.
It's easy to see why The Importance of Being Earnest is regarded by many as Wilde's most enduring and popular play – it's great fun!
The Importance of Being Earnest is playing at Chapel off Chapel until April 6. Visit the Chapel off Chapel website for tickets.
Jenny Burns attended a performance of The Importance of Being Earnest as a guest of Artefact Theatre Co.
Visit travelswithjb.com.au-live shows for more show reviews.
Subscribe to my e-mail newsletter to receive updates.
We respect your privacy.
Unsubscribe at any time.