Scienceworks' latest exhibition –'Tyrannosaurs – Meet the Family' is a dinosaur lover's delight.
Together with a `static display' of dinosaurs, the exhibition features augmented reality-experience technology. As a result you feel as if you are  interacting with these prehistoric giants. Various scenes also suggest dinosaurs are taking over the museum.
Large–scale immersive projections show dinosaurs running through the streets of Spotswood, the home of Scienceworks.
The exhibition, developed and toured by the  Australian Museum, is designed to highlight new insights into the tyrannosaurus family of dinosaurs. It features seven life-sized dinosaur skeletons including  a Tyrannosaurus rex, Albertosaurus, Dilong and Daspletosaurus and a range of fossils including a Gorgosaurus half skeleton and jaw, tooth, claw, hip and tibia specimens.
My `companion' for the media opening of the exhibition was five year-old Andrew who loves dinosaurs. At first I was a little concerned as he walked through the exhibition fairly quickly. However, having done the `quick run through' he returned to spend more time enjoying the interactive displays and was happy to play and explore. And that's one of the joys of the exhibition-  the number of hands- on exhibits.
Proving very popular was a Tyrannosaur family tree interactive board/game – which allows kids to hatch dinosaur eggs and use clues to place the dinosaur into the correct position on the family tree before a 'mass extinction event' comes through and wipes them all out. Andrew's greatest joy seemed to come from `cracking the eggs'! An older child was taking the project far more seriously, even videoing his results.
Andrew also enjoyed jumping up and down to create meteorites and testing his arm's strength against that of various animals and Tyrannosaurus Rex.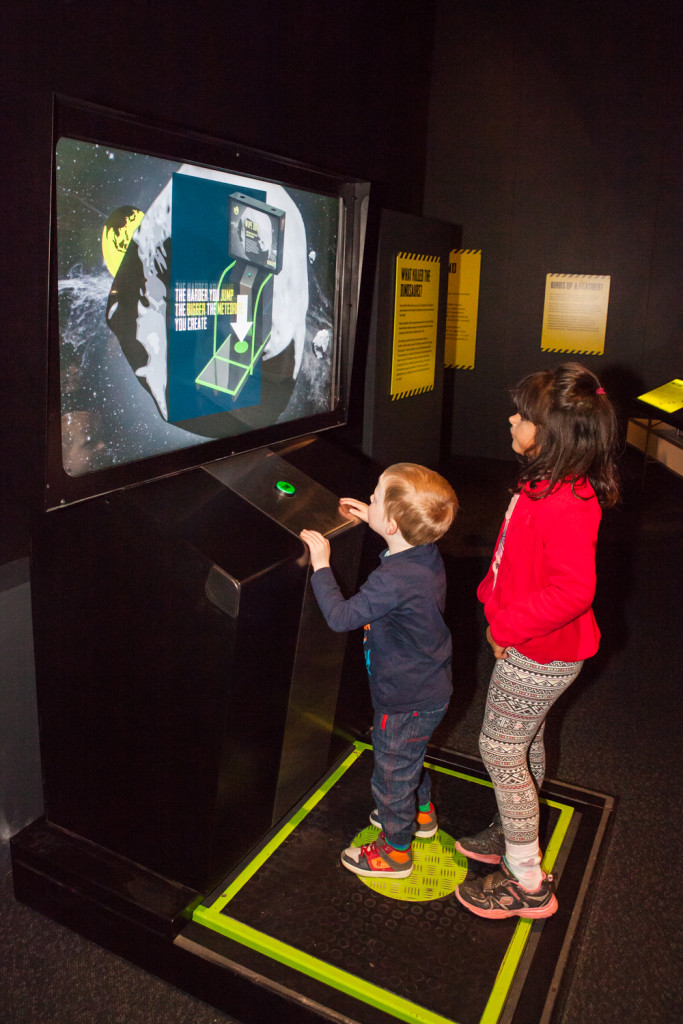 At first he seemed a little apprehensive about the `immersive projections' but as time passed he looked far more confident and even tried to touch the dinosaurs that seemed to surround him and follow his moves.
Sadly he wasn't as interested in the descriptions accompanying the exhibits but my brief glance suggested they were highly informative! And some of the skeletons were very impressive especially Scotty, the 5 metre high and 11 metre long Tyrannosaurus rex.
And that's the great benefit of the exhibition- it offers something for all ages, from older people interested in learning more about dinosaurs to youngsters who love interactive displays.  However if you are particularly interested in taking advantage of the very informative components of the exhibition and have a few young children in tow, two adults may be needed!  Of course this maybe why Scienceworks says the exhibition is ideal for children aged 5 years and over.
Tyrannosaurs – Meet the Family is on at Scienceworks until October 4.  Tickets cost $22 for adults, $8 for children and $9 concession which includes general entry to Scienceworks.  Museum Victoria members pay $8 for adults, $6 for children and $7 concession.
Scienceworks is located at 2 Booker Street Spotswood and is easily accessed by car or public transport.
*Jenny Burns and Andrew attended the media briefing of Tyrannosaurs – Meet the Family  on May 22 as a guest of Scienceworks.
Dinosaurs

,

Melbourne

,

Museum
Subscribe to my e-mail newsletter to receive updates.
We respect your privacy.
Unsubscribe at any time.