Violet offers an enjoyable night out for music theatre lovers thanks to a moving storyline, good music and some strong acting performances.
Playing at Melbourne's Chapel off Chapel, the musical is set in America's South during the early 1960s. It follows Violet, a young woman with a prominent facial scar who travels via Greyhound bus from North Carolina to Tulsa. She believes a TV preacher who claims to have the power to heal the sick and wounded, can transform her appearance. People rarely hide their shock when looking at her face and despite the resulting hurt she readily talks to strangers and befriends two young soldiers – the handsome and overly-confident Monty and Flick, an African American young man.  Through a series of flashbacks featuring a young Violet and her father we learn of Violet's early life, the cause of the accident that scarred her and the aftermath.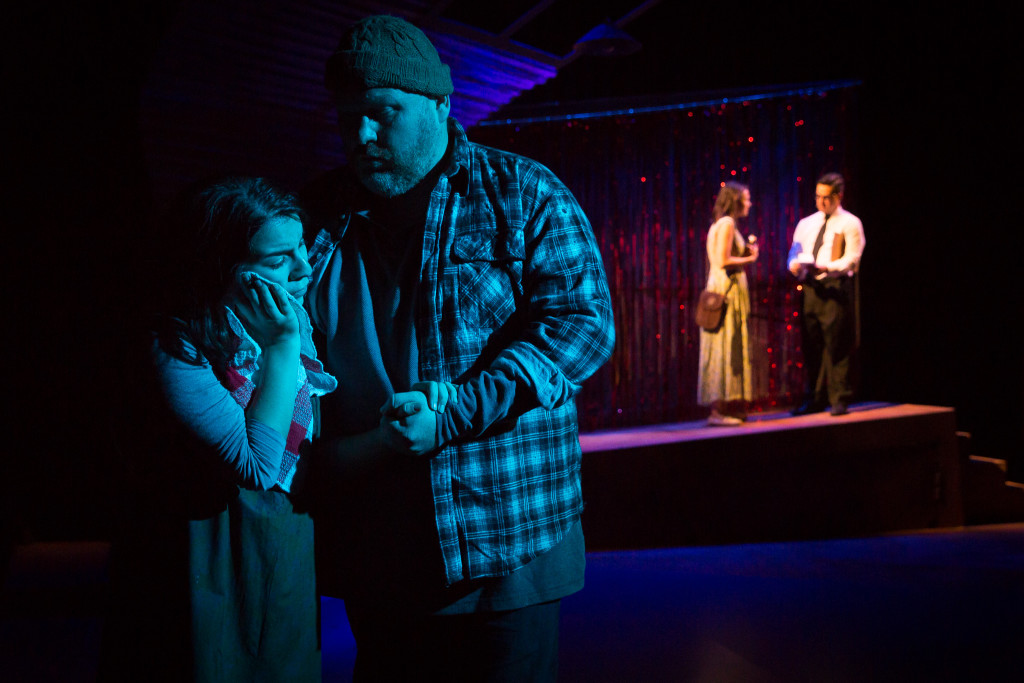 While Violet's encounter with the TV preacher isn't what she wanted or expected, she discovers a different and far stronger type of healing, one that helps build resilience and self esteem.
Based on a short story The Ugliest Pilgrim by Doris Betts, much of the story  is communicated through the music written by Tony Award winning, Jeanine Tesori and Brian Crawley. There's a lively mixture of country, blues and gospel sounds of Middle America from the early '60s. Delivering these songs with great skill and enthusiasm are the cast and a six piece orchestra (which performs off stage).
Sam Dodemaide is excellent as Violet. Even though she doesn't wear make-up to define any kind of scarring, her performance was so convincing that you think it is there. The audience thus empathises with her pain, fear, embarrassment and vulnerability while cheering her inner strength and feistiness. There's a similarly strong performance from Luisa Scrofani as the young Violet.
In his role as her father, Damien Bermingham conveys the challenges of a widower and backwoods man raising a young girl in very difficult circumstances. Steve Danielsen (Monty) and Barry Conrad (Flick) give strong, believable performances as the two soldier buddies. The ensemble cast of six play several roles. Standout performances include Jordan Pollard as the preacher and Cherine Peck as a member of the preacher's gospel choir. Indeed on the opening night I thought some members of the audience were going to ask the preacher to heal them!
The production is the first showing of Violet in Australia after a 2014 Broadway revival. Understandably, it has already won several Sydney Theatre Awards.
Running for 105 minutes without an interval, it's an ideal production for the intimate Chapel off Chapel. The standing ovation at the end of the performance was immediate and heartfelt. It's easy to understand why – Violet is most entertaining and at times moving, ultimately emerging as a feel good story.
Violet is playing at Chapel off Chapel until 20 March. For tickets and more information visit the website or ring 03 8290 7000.
Jenny Burns attended the opening night of Violet as a guest of Blue Saints Productions.
live shows

,

Melbourne

,

reviews
Subscribe to my e-mail newsletter to receive updates.
We respect your privacy.
Unsubscribe at any time.